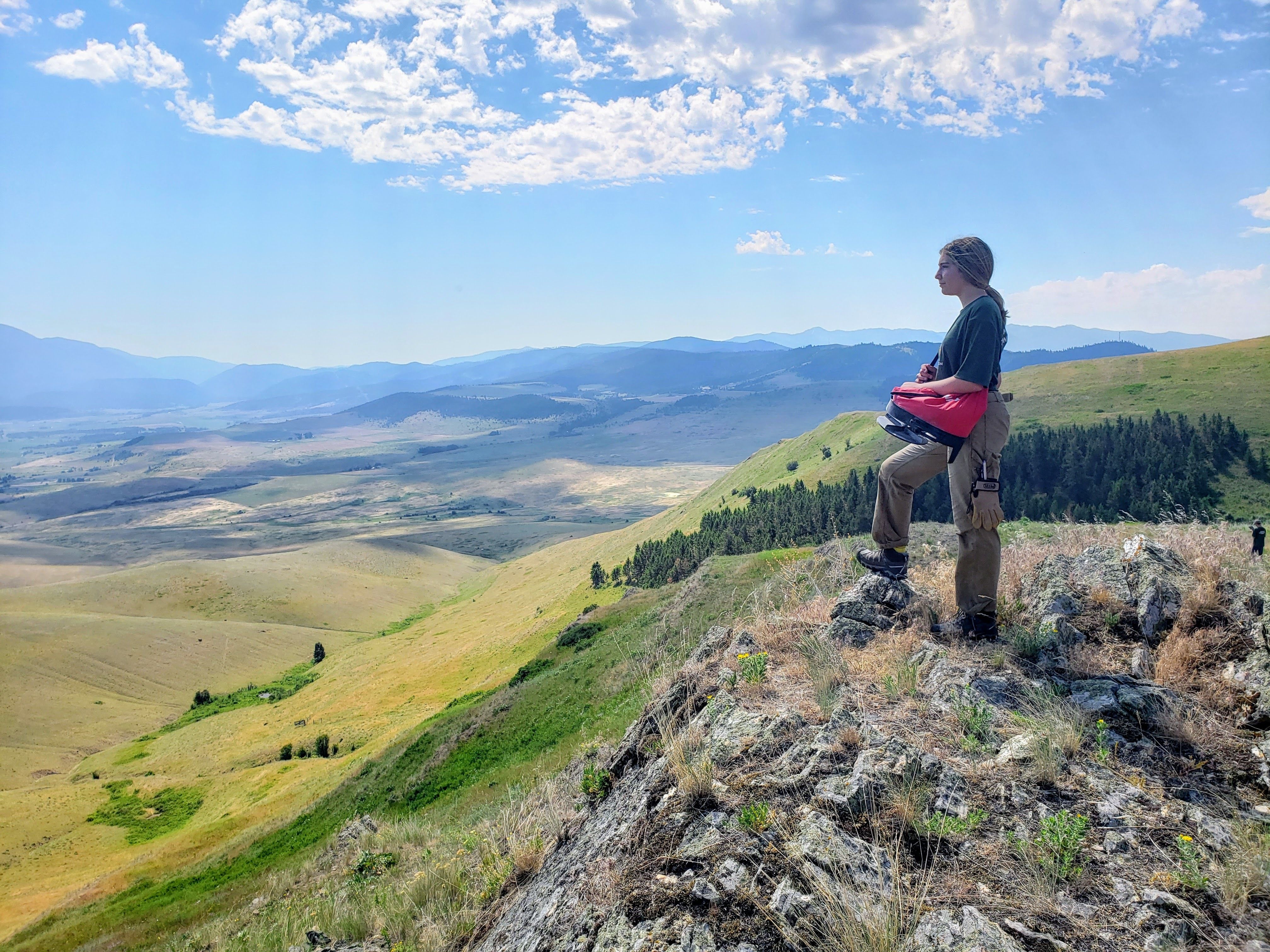 MCC is known for our transformational experiences, and our newly re-launched youth expeditions are no exception. Recently, one of our youth crews returned from a two-week expedition to combat invasive weeds on the 18,766-acre Bison Range managed by the Confederated Salish and Kootenai Tribes. This culturally significant area set the stage for the crew to connect with place beneath their boots, their inner power, the people around them, and their future pathways into high school and beyond.
While reflecting about the range, crew leader Nicole said, "After roaming many of the hills searching for the invasive Ventenata grass, we felt as though we got to know the range in a special way." Her crew members remarked that they, "gained an overall awareness of giving back to the land." Crew leaders Nicole and Kyle also facilitated a discussion about the stewardship of the range by the Confederated Salish and Kootenai Tribes. Nicole said, "We discussed how we could continue to acknowledge this information throughout our time there. This included taking time in the field each day to self-reflect on our privilege of being able to work here while also thanking the natural world for letting us spend time among its organisms. The participants wanted to help create justice for this land."
Throughout their hitch, the crew experienced high temperatures, steep hills, and lots of ground to cover. However, the participants felt a sense of power in their ability to steward the land despite these challenges. One crew member reflected, "we all learned we were stronger than we thought we were." Nicole believes that with this new strength and knowledge, they are empowered to become more involved with environmental movements, clubs, and activities within their communities.
Along with this newfound empowerment, they realized they can lean on each other for support. "It's okay to not feel great all the time, the crew can help support us through those times," one youth crew member observed. The participants connected with a diverse group of personalities and backgrounds throughout the hitch and learned to, "share more with those around them, while working on their active listening too. This helped the group form fast bonds that created a supportive community away from home," said Nicole.
The skills they learned on this hitch extend far beyond the Bison Range. During their de-brief the group discussed newly acquired hard skills they could take into future experiences, like plant identification, treating weeds, and tracking plots treated on an app. Meanwhile, participants felt like they strengthened their leadership, communication, and perseverance. Reflecting on this discussion, Nicole said, "They were also excited about the new pathways that could extend from this experience. They felt more prepared and excited to participate in another program like this in the future."