"I think one thing I've learned about all the places collectively is that in order to conserve the things that are important to you, you must be willing to do the work yourself. I also learned about the history and significance of each place. I've always had an appreciation of these places, but now that I've lived and worked at them I feel as if they have become a part of who I am."  MCC Expedition member
---
 Are you looking for a different kind of opportunity, one where you can build new relationships, learn meaningful skills, and explore Montana all while challenging yourself personally and as a leader?
Ignite your summer with the Montana Conservation Corps Youth Expedition Program. We have options across the state for you to choose from, all centered around service projects in Montana's great outdoors These programs send you on 11-day trips around the state for conservation work including but not limited to trails, invasive species management, habitat restoration, and recreation development and improvement.
Combining this work with our CORE curriculum, we strive to cultivate communities of young people empowered and inspired to build a brighter future.
Expeditions are for Montana high schoolers ages 14 to 18 and run during the summer months of June - August. We run these expeditions as 2 or 4-week sessions.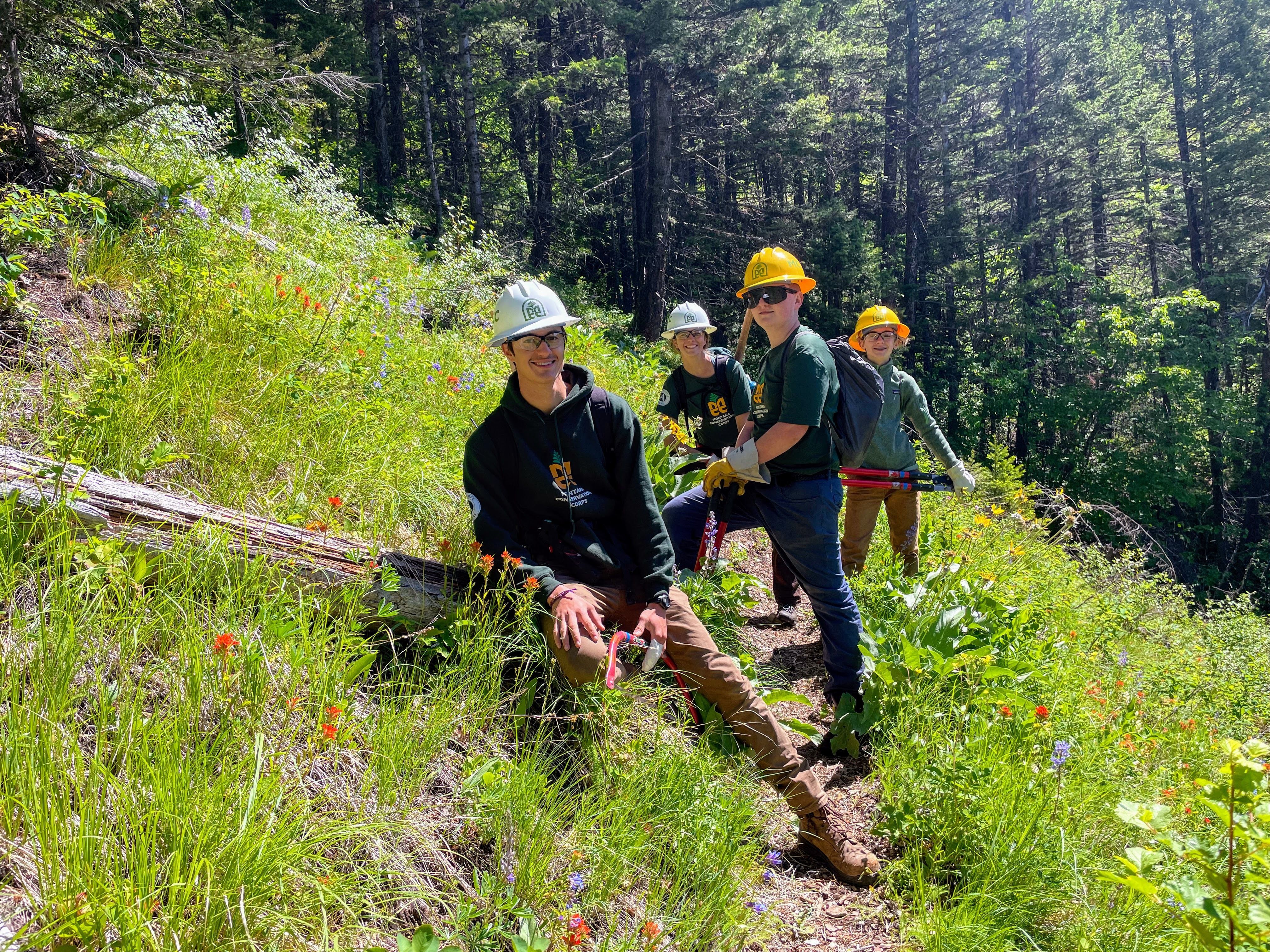 2-week expeditions - A 2-week expedition is made up of 1 11-day hitch running Sunday to Wednesday. Expedition Members will spend most of their time outdoors, camping, working, and exploring all while working through our CORE curriculum.  Upon completion of your expedition, all participants receive a $100 service award. 
4-week expeditions - Looking for a more in-depth experience? Our 4-week expeditions might be for you! 4-week expeditions are comprised of two 11-day hitches with a brief 3-day return to home in between.  Participants experience the same types of work as 2-week participants but are likely to engage in a greater variety of work overall.  Finally, these longer-term participants earn a service award of $270.
Program Benefits- Here is what you can expect to walk away from your expedition with 
72 + volunteer hours 
Leadership and communication skills
Technical skills
Connections to each of the 4Ps (People, Power, Place, Pathways; see our CORE curriculum page)
New relationships 
Diversity, Equity, and Inclusion Fund
The Montana Conservation Corps is able to assist some participants with portions of the financial costs associated with serving with MCC. These funds are designed to offer financial assistance for youth to serve with MCC.
Anyone serving in an MCC expedition can apply. These funds are made available through a generous grant from the Kendeda Foundation as well as other donors. For more information, you can email Stephanie Beeman, stephanie@mtcorps.org
"Thank you so much to the Kendeda Fund for helping make my transition into Montana Conservation Corps significantly easier. The fund helped me with travel costs and essential gear. I'm very grateful to have gotten the opportunity to be a part of a community that truly cares and invests in the inclusion of members from diverse backgrounds. It encourages me to invite everyone into the world of outdoor recreation and pass on knowledge on environmental conservation." ~ Priscilla Sallas
---
Qualified individuals with disabilities and those from diverse backgrounds are strongly encouraged to apply. We provide reasonable accommodations for qualified individuals.
Montana residency is required to participate in this program.
Click below to be notified for 2022 sessions.