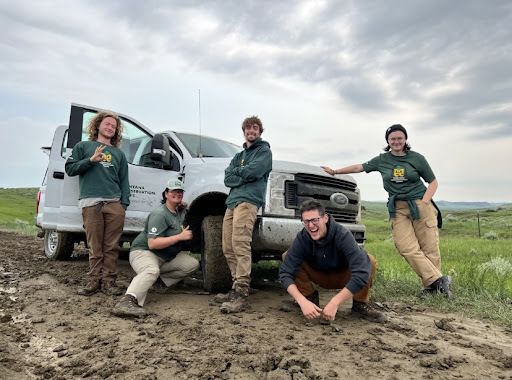 On our first hitch, we successfully learned how to construct wire fences and Jack-leg fences. A big thank you to Jack and Trevor from crew #3 for teaching everyone the basic idea of wire fence construction.
Everyone was in high spirits as it was our first hitch even though we got rained on for about 3 days straight. We got to practice camp basics such as dinner/dishes, sumps, and other essential things.
The second half of the hitch was mostly sign maintenance as well as the demolition of a horse corral!
---
The second hitch was our first full crew hitch as Thomas didn't join us on the first one. We removed about 3 miles of barbed wire fence. Working on the prairie gave us beautiful views and some wild weather changes. The work was very fulfilling considering we were removing potentially harmful boundaries for grazing animals and the history that went into the old fences.
I think it is safe to say everyone thoroughly enjoyed the first ⅕ of the season. We all learned new work skills and intrapersonal skills as well as a basis of what it takes to do conservation work and the flexibility that is needed. The Rocky Mountain Ranger District brought us endless views of magnificent rock formations, valleys, streams, and wildlife. Our project partner Barbara went above and beyond making us comfortable and she even brought us homemade tortilla soup and treated us to ice cream. Although the prairie was much more flat and a bit barren, it made us appreciate the simpler things such as rolling bushes of wild sage and juniper, peeking prairie dogs, and the relief of finding a nice shady spot for lunch.