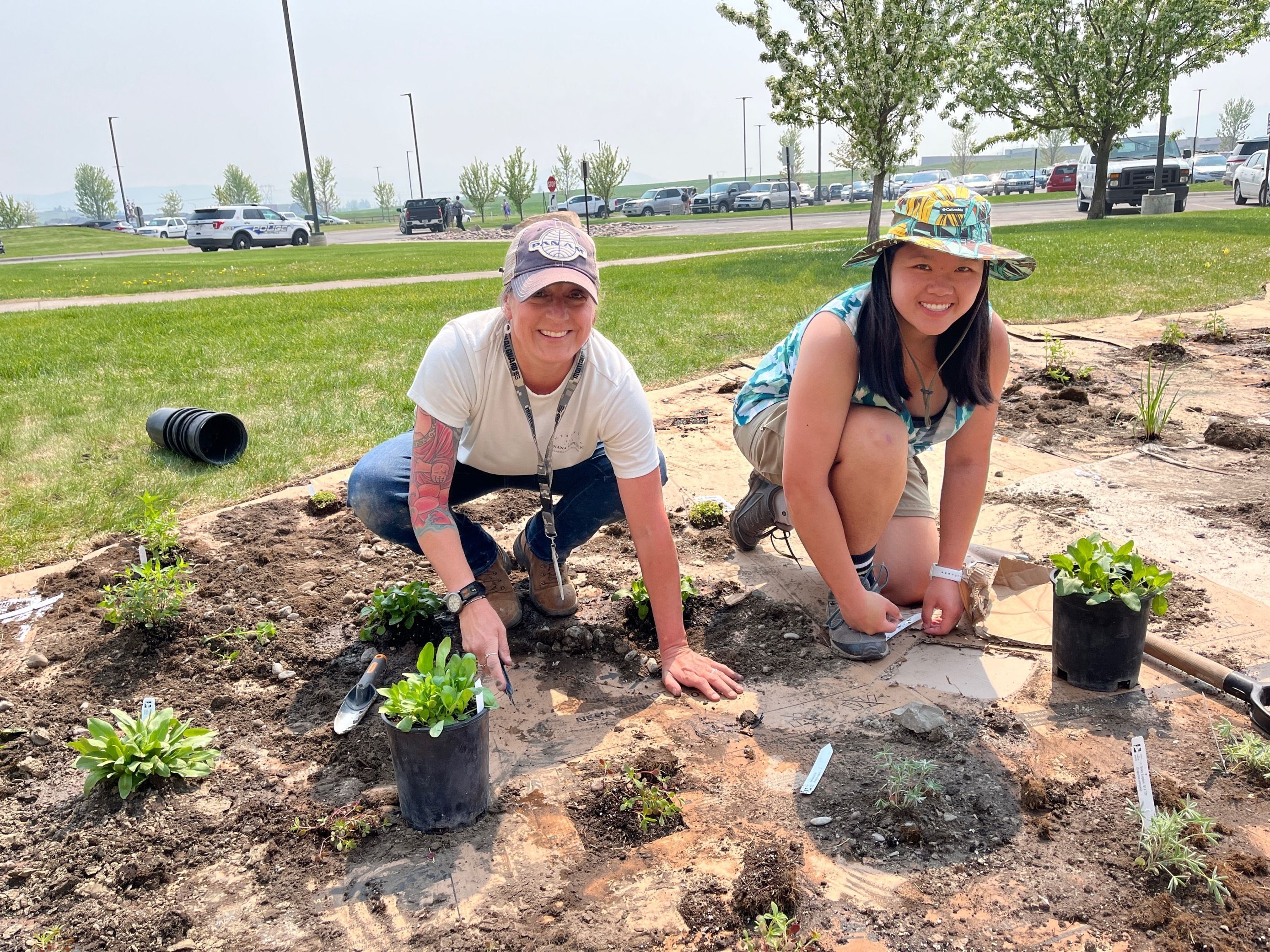 Grey clouds huddle in the sky over northwest Montana and as if on cue, release their burdened load of raindrops onto Flathead Valley. You see puddles begin to form on the side of neighborhood roads as you drive home. Once you arrive, you help yourself to a hot beverage and watch the rain decorate your windows. Pitter-patter go the raindrops as they hit the roof. Outside, your blanket flowers and wild roses thirstily drink up the much-needed moisture after a dry summer.
This season you worked with the Flathead Rain Garden Initiative, a collaborative initiative between the Western Montana Conservation Commission, City of Kalispell, and Flathead Conservation District that provides the knowledge, resources, and support for landowners to build rain gardens on their properties. Therefore, you sit contently knowing that the rainwater from your roof is draining to your native plants instead of going down the storm drains that flow into rivers and eventually Flathead Lake. From the very first rain garden workshop at the Center for Native Plants, you learned that rain gardens are bowl-shaped native plant gardens that infiltrate rainwater back into the ground and filter any pollutants that may be present. Your rain garden not only provided an aesthetically beautiful habitat for Montana pollinators this summer, but is now one solution to stormwater pollution.
Stormwater pollution is a form of nonpoint source pollution- pollution that you can't exactly point to where the source is coming from because it presents itself all over the landscape. When it rains and hits surfaces like roads and parking lots or even your grass lawn, it picks up pollutants such as residual road salts, fertilizer, pesticides, pet waste, and oil and grease. In addition to building a rain garden with the Flathead Rain Garden Initiative, community members can also participate in the City of Kalispell's Adopt-a-Drain program and volunteer to regularly remove debris from the surfaces of local storm drains near their homes. Debris such as sediment, litter, and leaves can clog the drain and pollute local waterways. Throughout my Big Sky Watershed Corps term of service with the Western Montana Conservation Commission and the City of Kalispell, I became an expert on collaboration-based stormwater management and their education and outreach initiatives.
This year, I gained a lot of new knowledge about stormwater, storm drains, and rain gardens. Not only that, but I learned a lot about myself. From dipping my toes into public speaking at an introductory rain garden workshop to presenting a 20-minute presentation at the 2023 Montana Lakes Conference, my confidence in communicating has grown tremendously. Additionally, I had many opportunities to teach community members about the Flathead Rain Garden Initiative, Adopt-a-Drain, and other ways to improve local water quality including maintaining your septic tank and to Clean-Drain-Dry all watercraft. I did table outreach at Free the Seeds, an educational and seed-saving event put on by Land to Hand, and the Northwest Montana Fair and Rodeo. Overall, I interacted with over 800 attendees over the course of six days. One of my favorite activities, however, was teaching youth. I had the opportunity to demonstrate the importance of wetlands, riparian areas, rain gardens, and pollinators to elementary students at various hands-on field trips and summer day camps. Students in the valley are incredibly smart and aware of what goes on in their environment!
My journey serving the Flathead Valley community has been a remarkable and enlightening experience. It has not only allowed me to contribute to the preservation of beautiful Montana but has also been a profound learning opportunity, both personally and professionally. Through my work with the Western Montana Conservation Commission and the City of Kalispell, I have not only expanded my knowledge about stormwater, storm drains, and rain gardens but have also grown as a communicator and educator. As I reflect on this term of service, I am filled with gratitude for the opportunity to make a positive impact on our local environment and inspire others to join in the effort to improve water quality and protect our beautiful surroundings.