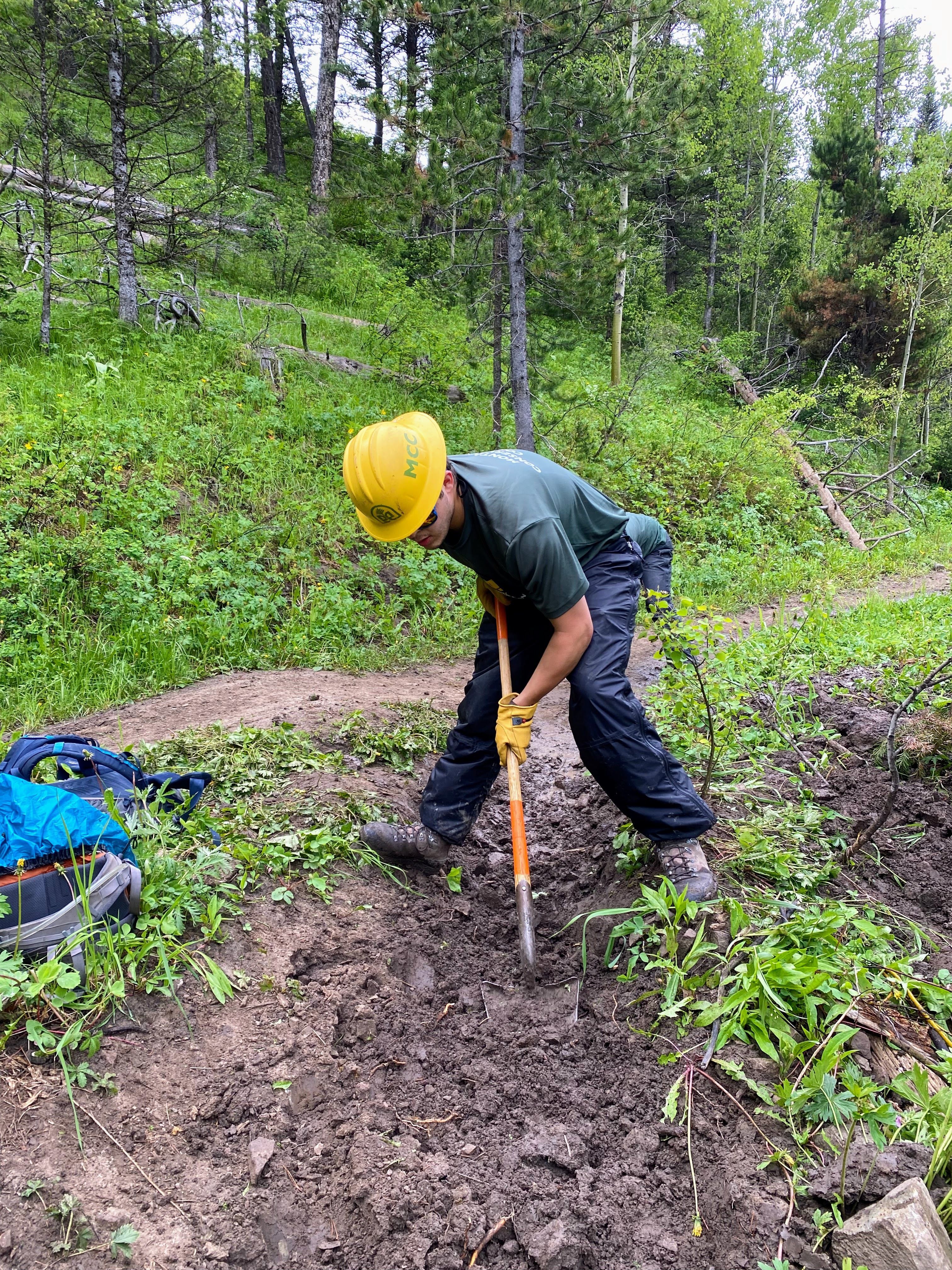 Oh was this hitch a fine example of a rollercoaster! We rolled in on a beautiful day, the whole crew found themselves mesmerized of the view of the Tetons. We met up with our project partner Kevin, who was tremendous and kind throughout the whole hitch. He took us to our campsite, which was luckily right next to the trail we would be working on for the whole hitch (Horseshoe Trailhead). We were doing primarily drains and tread work, though my co-lead Sasha and I found ourselves on the chainsaw for a big stretch of the hitch.
During our 9 days here, we fixed 62 drains, sawed over 200 trees, did a total of 2 miles worth of brushing/tread, and decommissioned a 2-mile trail! Though we accomplished these great numbers, it came with a cost. The average hike every day was over 10 miles with a decent incline, and we found ourselves with only one member who hadn't gone to urgent care by the last day. This was easily the hardest hitch I have had, but it was easily the most rewarding one too. The work was not easy, but working with the Forest Service every day was a treat. Jefferson, Nikki, and Ethan, some of the Forest Service trail folks that worked with us on the daily, kept the morale high and the work fun. It rained about every night, and some of us found ourselves sleeping in drenched sleeping bags every night.
The number of blisters and aches we had were countless, and the mental and physical boundaries we had to cross were tough to navigate. With that, we all put all we had into this hitch, and it made us 100x stronger in the end. The beautiful town of Driggs, the Forest Service bringing us donuts and offering their shower space to us, and the amazing crew we are able to have made finishing this hitch possible, and it will definitely be one that will not be forgotten.