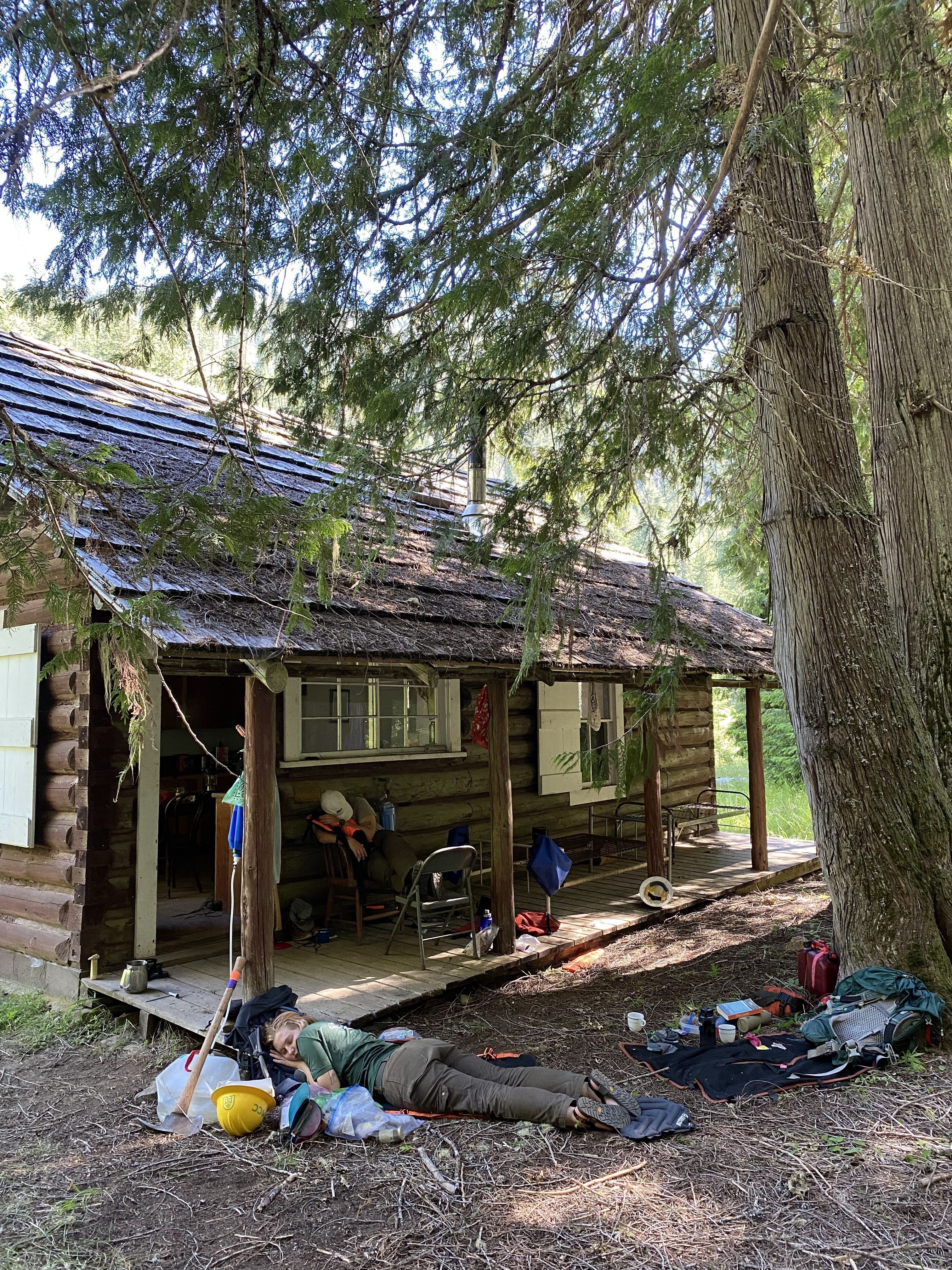 The WW Women's+ crew has had a kick-butt season so far! As in, we're kicking butt, but also the season is kicking OUR butts. We've been working over in what's generally called the South Zone of the Nez-Perce Clearwater National Forest, a little south of Kooskia and a lot east of Grangeville. We've done a crosscut hitch and a digging hitch in the Gospel Hump Wilderness, another crosscut hitch on the Salmon River, and most recently, a chainsaw hitch in the Meadow Creek drainage just east of Elk City. It's true canyon country out there--deep drainages, long, meandering ridgelines, and doug firs as far as the eye can see.

Red River--the official name for our district--has a poster on the wall in the cookhouse. It's hand-drawn on a big post-it paper, yellowed and wrinkled a little bit. It's got a drawing of a ridgeline, some trees, and in the middle, it says "Red River: Where distance has no meaning, only time." This, we've found to be true. Two miles can take half an hour or three hours, seven miles can go by in a morning or a day, and whatever distance it is is compounded by whether or not you have a chainsaw on your back.

Through it all, though, we've loved this season. On our second hitch, after days of rain, we watched the sun break through the clouds over the Salmon River and a rainbow burst into color over our camp. We've listened to overflowing creeks tumble boulders on the creek bed, fed apples to our pack mules and heard a pack of wolves hunting in the drainage far below. We've gotten soaked and dry again, eaten our weight in gummy candies and cheese, and laughed hard enough to scare all the birds from the trees around our camp.

This is what we know so far. That gummy worms can get you up any hill. That mice WILL eat your work boots if you leave them outside your tent. That collecting rocks is still fun, that chainsaws are even more fun, and having a project partner's dog on hitch is the best morale booster there is. We know that nothing beats a river bath after a hot day, and that the sight of the rig at the end of a hitch feels like coming home. We also know that there's a hard lesson hidden in every one of these things we've come to understand and that as we cross the halfway mark of the season, the things we have to learn will find us as long as we're willing to listen.