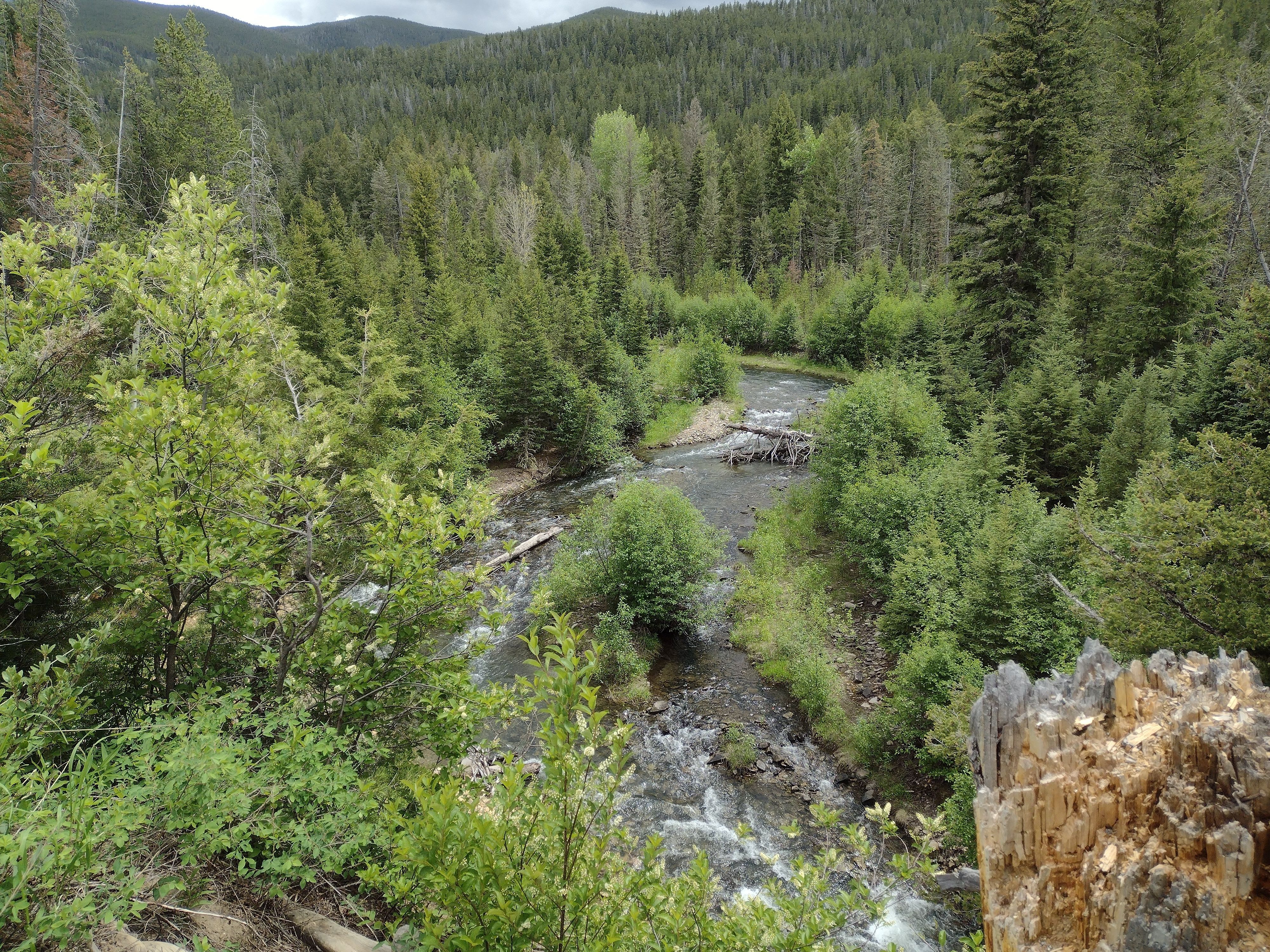 After an hour and a half of maneuvering winding highways and dirt roads and exercising patience while waiting at a highway construction site, the White Sulphur Springs YCC crew pulls up to a vacant camping spot deep in the forest on the north end of the Little Belt Mountains. This campsite sits just above the flowing Dry Fork Belt Creek and looks out to a series of rock faces that shoot straight up amongst the trees and rolling hills. It's a busy time for recreation. We passed what felt like a dozen sites that were occupied as we kept our eyes peeled for empty spots just like this one.

Today's task was to identify vacant campsites, clean fire rings, and collect "microtrash". My co-leader Kayli pulls into our first spot and parks the rig. We all hop out and collectively examine the fire ring and surrounding area. A quick glance revealed that we had a job to do. The fire ring was nearly full to the brim with ash, charcoal, and charred paper. However, after an hour and a half car ride, there was a sense of excitement among the crew to finally pull the tools and gloves out and get to work. Our crew jumps right into shoveling out the ash from the fire ring and picking out every scrap of trash we are able to find. Finding microtrash is a bit like a treasure hunt, and reminds you that even the simplest of tasks are important in our work.

After cleaning out the fire pit and grabbing every piece of trash we could find, we take a moment to soak in the view. We overlook the flowing creek that winds in between the rolling hills and brush. We then reload the tools and the beginnings of our trash collection into the rig and head on up the dirt road that meanders through the Little Belt mountains where we eventually stumble across another vacant campsite. Then, fire pit cleaning and trash sweep commence.

With 4 youth members, our YCC crew is small but mighty. At this point, it's just the first week of the season, yet it's clear that everyone plays an important role in our work whether we are cleaning cabins and campsites, or repairing fences. There's a variety of tasks and projects our crew takes on. And that is perhaps one of the most exciting parts of the season; seeing where the day will take us and what kind of new skills and experiences we will have gained by the time we return to the White Sulphur Springs Ranger Station in the evening. There's so much to learn and do, and I am looking forward to seeing what July will bring us!