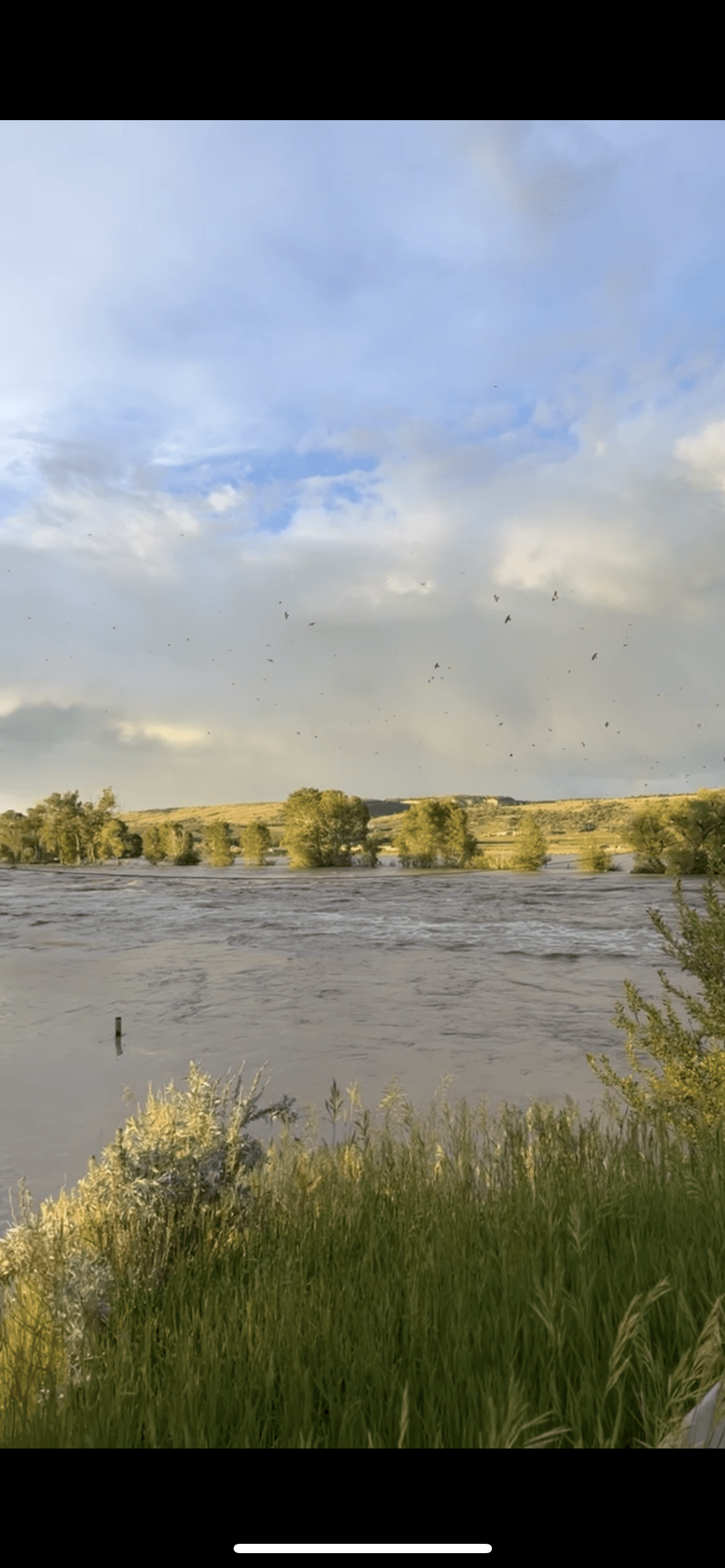 The week started with excitement. Though we were down a crew lead, it was our first full 9-day hitch with no training, lectures, or holidays to shorten the week. We were all excited to go out to the Pryor Mountains and potentially see some of the last wild-ranging horses in the United States. When we first arrived in Laurel, Montana to meet with our BLM project partner, we were greeted by the nicest man we've ever met. Don, our project partner for the week was a kind man full of jokes, stories, riddles, rhymes, and puns. It was never a boring time with Don around. Don also taught us how to build jack-link fences with "wings," something we all were new at. Furthermore, while we were working, he would take pictures for both MCC and his BLM office but would call them "happy snaps."
The first few days were hot and dry as we worked around the Acton Recreation area and as we moved to the Pryor Mountains to install some new signs and fences. However, the weather had a change in plans for us. We were experiencing downpours daily and were no longer able to do any work up in the Pryor's. When the dirt roads got wet they were too slick to drive on, especially with a trailer full of supplies and tools. Thus, we were stuck inside. We did a lot of maintenance work in the BLM garage. On Sunday, we started to realize that the Yellowstone River, and many others nearby, were reaching levels we had never seen before. A local even told us that in 78 years it's never been this bad.
Then on Monday, severe flooding started to occur. Farther upstream we had heard that the Yellowstone River had taken out roads, bridges, and even homes. Then, on Tuesday, we found out Yellowstone National Park had closed due to roads collapsing and power outages across the park. Even Gardiner, the small town just outside the northern entrance, was isolated and people were stranded. It was crazy! An unreal event that has not happened in any recent past.
When we were driving from Bridger (where we were camping Monday night) back to Laurel we saw that the town of Fromberg and most of the farms along the Clark Fork River had to evacuate. When we were driving back to Bozeman at the end of the hitch, the Yellowstone River looked as of it was 1/4 mile wide, if not wider, leaving many homes and farms submerged, and even some cows stranded on an island in the middle of the newly widened river. The bridge on Highway 90 over the Yellowstone river in Livingston was closed to one lane on either side (the inner lanes), and the soil around the pillars was nearly eroded completely away. We had witnessed one of the most catastrophic weather events on Montana's recent history with our own eyes. This last weeks weather proved to us both its control over what we can do, and how powerful it truly is.

The image below was taken in Bridger Montana on Monday evening at 8:30 P.M..