"I think one thing I've learned about all the places collectively is that in order to conserve the things that are important to you, you must be willing to do the work yourself. I also learned about the history and significance of each place. I've always had an appreciation of these places, but now that I've lived and worked at them I feel as if they have become a part of who I am."  MCC Expedition member
---
 Want to make new friends, learn new skills, explore Montana's wildest places, challenge yourself, and have an awesome summer?
Ignite your summer with the Montana Conservation Corps Youth Program. Through service, projects find an adventure with purpose in Montana's great outdoors. We have options across the state for you to choose from.
MCC youth programs work to cultivate a community of young people motivated to improve themselves, their communities, and their environment. Expeditions are geared for Montana high schoolers, ages 14 to 17.
This program is all about hard work and even more fun! All experience levels are welcome. From newbies to experts there is something to learn!
---
---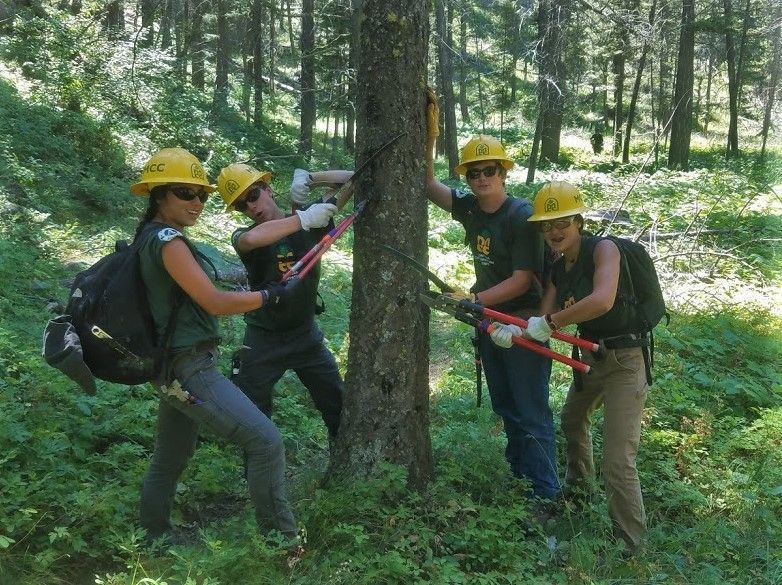 ---
2-week expeditions - Expedition Members will spend most of their time outdoors, camping, working, and exploring.  Project work includes fencing, trail work, wildlife surveys, invasive weed removal, planting native plants, historic preservation, campground maintenance, and more! Plus earn a $100 service award.
4-week expeditions - Looking for more of a challenge? Our 4-week expeditions might be for you! Throughout the program, participants are exposed to challenging physical work and the rigors of camp life. The weekends give crews a chance to explore, recreate, and relax. Plus earn a $270 service award.
Additional Benefits- This is an excellent way to get volunteer hours, leadership development, technical skills development, and make new friendships/connections.
---
| Northern Branch Expedition Dates (Kalispell based) | Southern Branch Expedition Dates (Bozeman based) |
| --- | --- |
| 2 Week Programs | 2 Week Programs |
| | June 27th--July 7th |
| 4 Week Programs | 4 Week Programs |
| June 27th—July 21st | |
| July 18th—August 11th | July 18th—August 11th |
---
Qualified individuals with disabilities and those from diverse backgrounds are strongly encouraged to apply. We provide reasonable accommodations for qualified individuals.
Montana residency is required to participate in this program.  
We are only offering High School Expeditions at this time.
Please only apply for one session!
Write down which session you apply for.
---