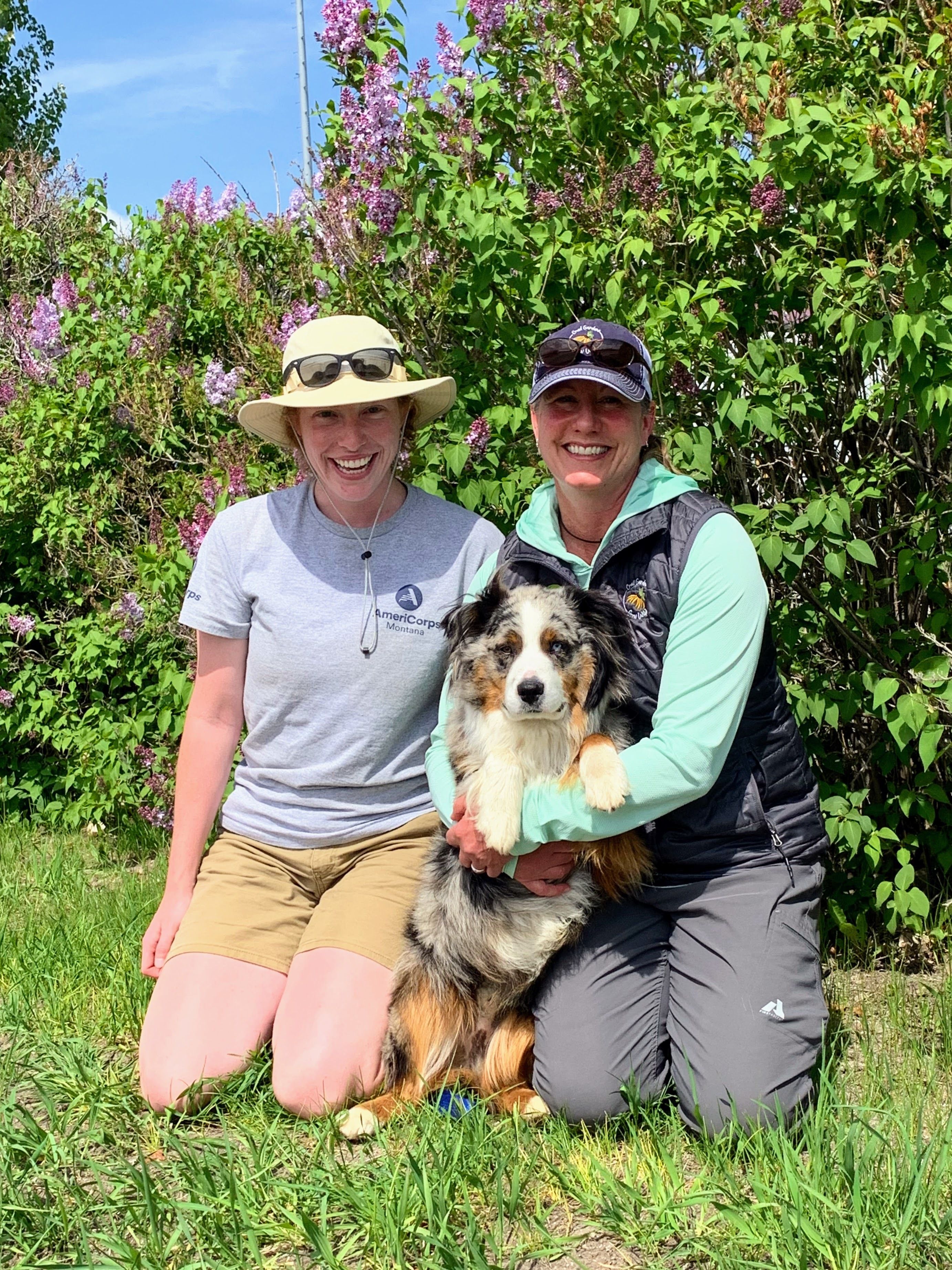 While working in a pharmaceutical laboratory, Sean Simpson found herself longing for a more fulfilling and hands-on experience related to environmental stewardship. While thru-hiking the Appalachian Trail that previous year, she realized she craved independence and wanted to make an impact at conserving the natural places she held dear. Fast forward a few months and Sean is now an AmeriCorps member serving through MCC's Big Sky Watershed Corps program - a program that places members with a host site for 11 months. Sean serves with Grow Wild, a nonprofit working to conserve a healthy watershed in the Gallatin Valley. Reflecting on her service so far, Sean expressed, "My experience has exceeded all expectations! I have learned so much about watershed health and noxious weeds."
Sean's experience has been shaped by her site supervisor, Jen Mohler, Executive Director for Grow Wild. Jen recognizes the value that AmeriCorps members bring to organizations and commends Sean for her work ethic. "Sean's maturity and her willingness to serve is brilliant. I'm eternally grateful!" Jen's dedication to fostering a collaborative environment has been pivotal in Sean's growth and success at Grow Wild. Reflecting on her journey so far with Grow Wild and the budding relationship with Jen, Sean shared, "Hopefully others have supervisors as nice and welcoming as I do. She doesn't have to ask my opinion on everything, but she does. [Jen is] educating me so much, and we are working together to make a small difference one plant at a time."
Both Sean and Jen share a deep understanding of the significance of watershed health and the impact of invasive species on ecosystems. They both highlighted the importance of early detection and response to invasives, as they can have cascading effects on our food systems and biodiversity. Sean emphasized the important role native plants play in our ecosystems, and encouraged everyone to, "...plant for the landscape you live in." Jen added, "I can't unsee it, and I know I can't unlearn it, so I have to take action."
---
"[Jen is] educating me so much, and we are working together to make
a small difference one plant at a time."
---
Together they are dedicated to serving the public across Montana. You can find them educating others about native plants and how to remove invasive species this year and beyond. Recently, they participated in the Earth and Environmental Summit organized by the Gallatin Gateway Youth Group, and the Farm Fair in Manhattan organized through the Bozeman and Belgrade Chamber of Commerce agriculture committee. About these experiences for local youth, Jen observes, "It's amazing seeing little seventh graders remembering the information we've shared years before," she said.
Sean's journey with MCC's Big Sky Watershed Corps program and Grow Wild is a testament to the remarkable power of a successful mentor-mentee relationship. Jen's unwavering support and guidance provide Sean with a sense of purpose and fulfillment throughout her term of service. Reflecting on their work together Sean shares, "(Jen) is exceedingly selfless. She's interested in you and your journey, and that's how you get others motivated to be part of a team."