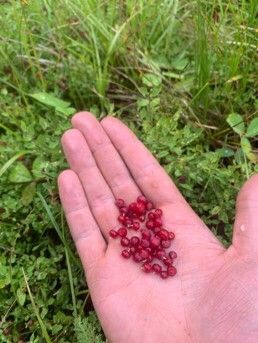 Hitch 5:
For this hitch, we had the pleasure of doing invasive species removal. Our primary focus was knapweed, houndstongue, and spurge brush. It was a nice change of pace compared to campsite beautification and everyone enjoyed the fulfilling work and getting to know the land better. We were located in the Rocky Mountain Ranger district working with some pleasant project partners, Becca and Will.
On Saturday, the 22nd of July we participated in the Teton County Weed pull, it was a fun community event that raised awareness about the dangers of invasive species. The following Monday, the 24th we harvested spurge bugs to be released elsewhere where spurge brush had taken over. Overall this hitch was very fulfilling and everybody liked working directly with the land. Got to make it to Hour lake one day looking for nap weed along the trail.
---
Hitch 6:
Trail work! It was fun to learn about the process of building a turnpike.. Working in the Elkhorn mountains was very serene. Although we got hailed on we all had a good time. We broke a few tools due to the harsh nature of rock work. It was also one of our summer-only members last hitch so we had some fun reminiscing on the first half of the season.
For this hitch, we did get lucky and get to use the many amenities of a forest service cabin. No one slept in it but we took full advantage of a fridge/freezer, stove and oven and just a dry place to be at the end of the work day. Everyone was living in luxury, we were even so blessed to enjoy fresh dwarf huckleberries from our cabin!