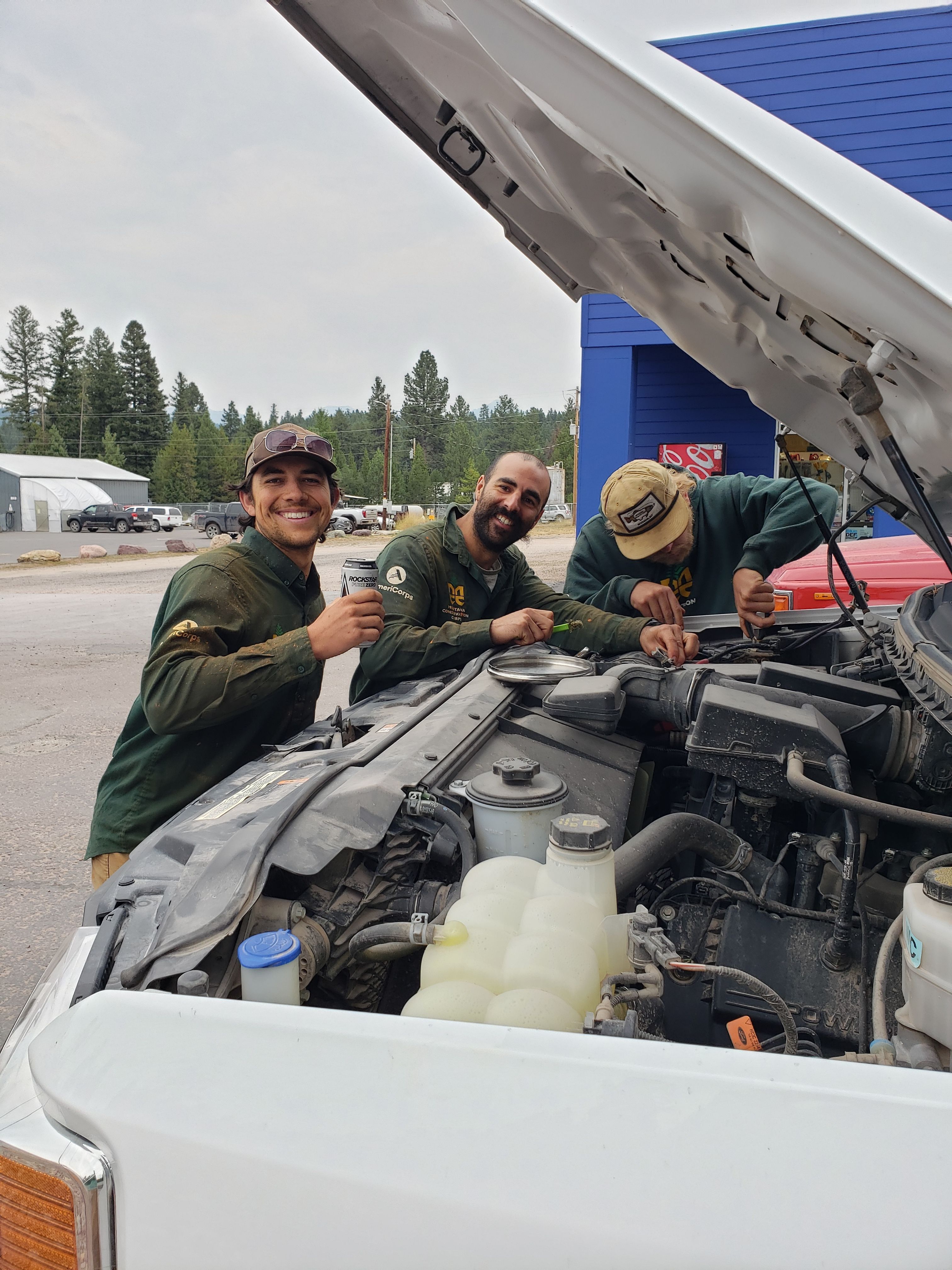 Anyone who has spent even a week or two working for a conservation corps will likely be able to tell you that there are good days and bad days; times when things go to plan, and times when plans go to hell; memories you will cherish and memories you wish you had never made. Conservation work is, in a word, chaos - maddening, delightful, and, at times, senseless chaos. Some thrive in the chaos, others crumble but in my experience, some of the best hitch memories are made by choosing to embrace the nonsense and pandemonium.

Up until this point in our season, Crew 8 had been cruising. There had, of course, been a few bumps along the road but when it came to the work, we were never late and we had been consistently meeting and even exceeding our project partners' expectations. Hitch Seven was a curveball.

When we met our project partners, Mark and Eric, at the Swan Lake Ranger Station on our first day, they, in between recommending the sidewinders (a "cross between a curly fry and a tater tot") to be found at a local convenience store, promised us a quick four days of work, apologizing that they did not have more tasks for us. We were to be repainting trees that had been marked for timber harvest over ten years ago. The proposed harvest had been challenged by groups concerned about the area as grizzly bear habitat and, caught up in litigation for the past decade, the paint had drastically chipped and faded in the rain and sun, resulting in paint lines so dim the loggers were having trouble identifying them.

Armed with approximately $5,376 (16 cases) worth of tree-marking paint and paint guns that barely worked, we set off on our mission. Day One, Day Two, Day Three - all on one unit. Every tree was dutifully painted. 9 of 10 cases of orange paint (the color used for marking the borders of units and trees that are not to be harvested) consumed. "This is definitely going to take longer than four days," Crew Member Margaret Judge may or may not have been heard to mutter in a slightly bitter tone. By the middle of Day Three, Unit 66 (our personal hell by this point) was finally complete. Earlier that day Eric had come out to check on our progress and informed us that we were not, in fact, required to paint every single tree, only the ones in truly desperate shape. Looking forward to quickly completing one (or maybe even two!) of the small units that afternoon and being supplied with an additional $6,720 worth of paint, we ate a quick snack and jumped in trusty Truck Norris, Ole #43.

He spat and sputtered but refused to start.

Eyes sharp with accusation, Crew Leader Anthony Lombardo asked who had left the lights on (the lights were off), if anyone had left charging cords plugged in (no one had), or if we had left a door open (wrong again). Out of ideas, he and our other fearless leader, Ben Beese, set off down the road towards the campground, fortunately, less than a mile away. Meanwhile, Crew Member Rory Miller tried to flag down a speeding Jeep but they were going so fast he didn't even have time to fully put up his arm before they had whipped past, leaving us alone and abandoned in the dust.

Soon enough our leaders returned with our friendly campground neighbors, who gave us a jump. Back on the road to a mercifully tiny unit - painting completed in a mere twenty minutes. By then it was the end of the day so we headed off to camp; to water coloring and journaling and eating pancakes.

The next morning we dutifully stretched in the cold and smoky air, reminding us of the Colt Fire burning just across the lake. Sipping the last of various caffeinated beverages, we rallied into trusty Truck Norris.

He spat and sputtered but refused to start.

So we made some more coffee, another cup of tea, and awaited the arise of our good neighbors. Ben, possessed with "the most friendly face" of the group was elected to ask for another jump. Once we were running, he then proposed we drive into town and find an auto shop, as the battery was clearly going to be an ongoing problem. Jubilant over the delay and excited for the opportunity to use a real toilet, we piled in, cranked the tunes, and made the most of the forty-five-minute trip to nearby Seeley Lake.

The battery was tested and I could not tell you what was wrong with it - something about the volts being too low when the motor was initially cranked? - but it, in short, meant that we needed a new battery. We Crew Members (Taylor, Rory, and Margaret) could not have cared less. We busied ourselves with photographing the event, purchasing even more caffeine, and using the nearby gas station restroom.

"Did hitches at your other conservation corps ever go like this?" Anthony asked Margaret as they were, at last, pulling out. "Honestly, more often than not. I'm surprised things have been so smooth up to this point," she replied, privately and discreetly elated by the disruption and chaos. (Editors Note: Her elation was not so private, really, and she maintained not a hint of discretion.)

By noon, Crew 8 was back in the field. Half an hour later, it was time for lunch.