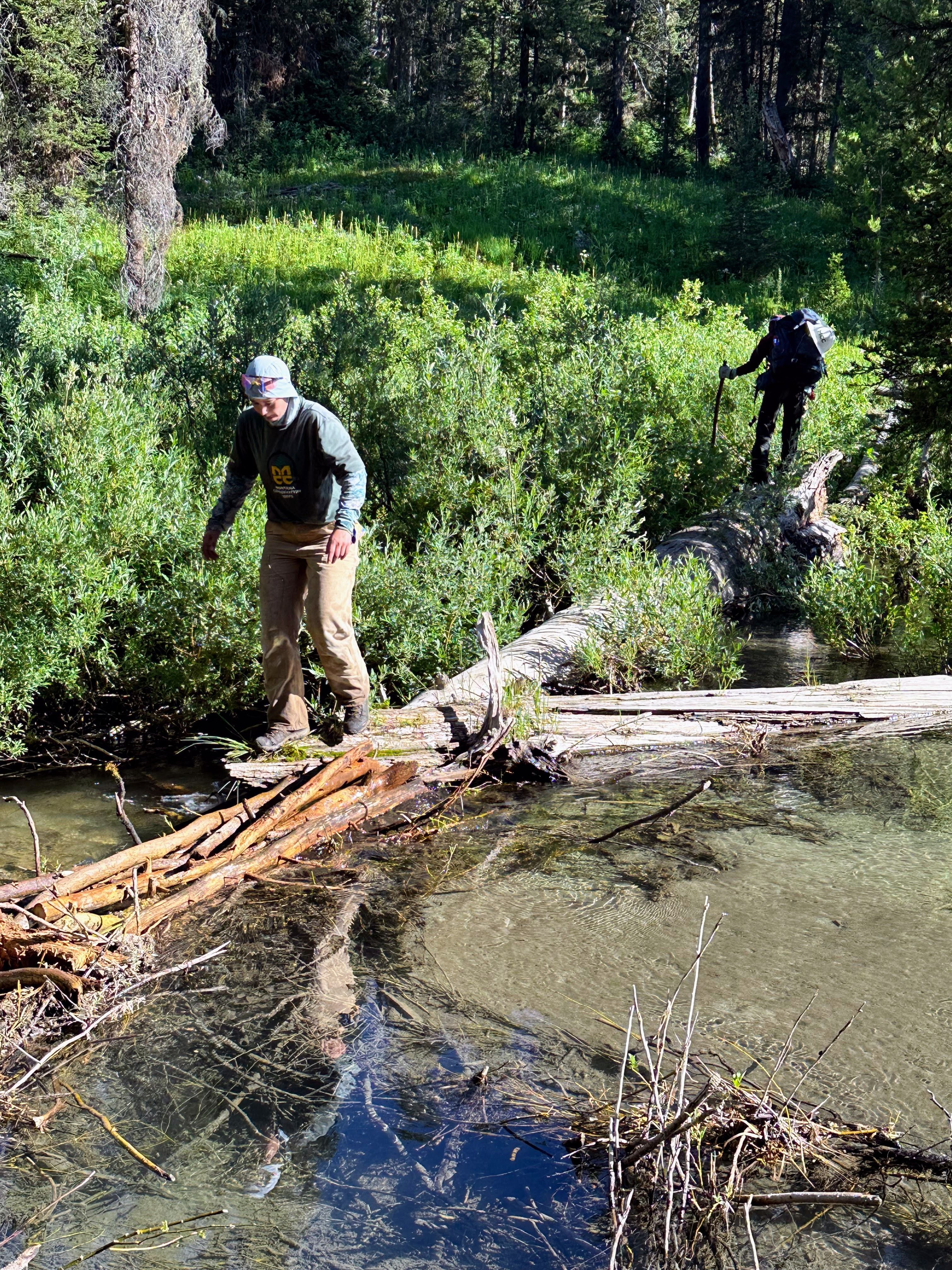 This Hitch we were back in Driggs, Idaho for the third time in a row but this time deep deep in the backcountry. With a 5-mile hike in, this was our first hitch where we didn't have cell service or the sanctuary of the rig in order to hide away from the cold mornings.
This hitch we had help from the Forest Service for the first few days but during the second half we were left to our own devices and had to decipher the instructions given to us at the beginning of the week. The first two days, we used cross-cut saws for the first time and cleared two massive trees from the trail which took longer than expected. We also cleared some other smaller logs that were much less of a hassle. When one of the trees became too complicated to saw we had to cut it the old-fashioned way, taking turns with an axe and a Pulaski to get that tree down and out. The day after was the hardest of all when a 6-mile hike turned into an 11-mile hike around "The Loop" which was painful and agonizing in the sweltering heat and intimidating elevation. One part was called the Devil's Slide with a steeper than 45% incline with tread made of loose gravel. But after those hard days, we were back to the same old stuff we had been doing for the past 2 hitches, which was lopping and clearing drains. It looks like that is also what we will be doing for our last hitch and in the same spot.
This was our first and only backcountry hitch and we were packed in using pack mules and horses which was really cool but also really convenient because it took about 200 pounds of gear off our backs. The views from the trail included waterfalls and scenic views of the mountain ranges.
The last day of our hitch was the most surprising, with meeting a new friend and a massive thunderstorm. While getting ready in the morning, a squirrel came down from a tree a ways away and kept running around the tree and getting different looks at me. lt was close enough for me to grab, but I didn't. The massive rain storm that came through was very exciting coming with lightning that lit up the sky and torrential rain and hail which unfortunately destroyed some work we had done the day before. Upon getting back to the parking lot, we found that our rig had gotten a flat tire while we were away. But we changed it super fast so we could get back to Bozeman.