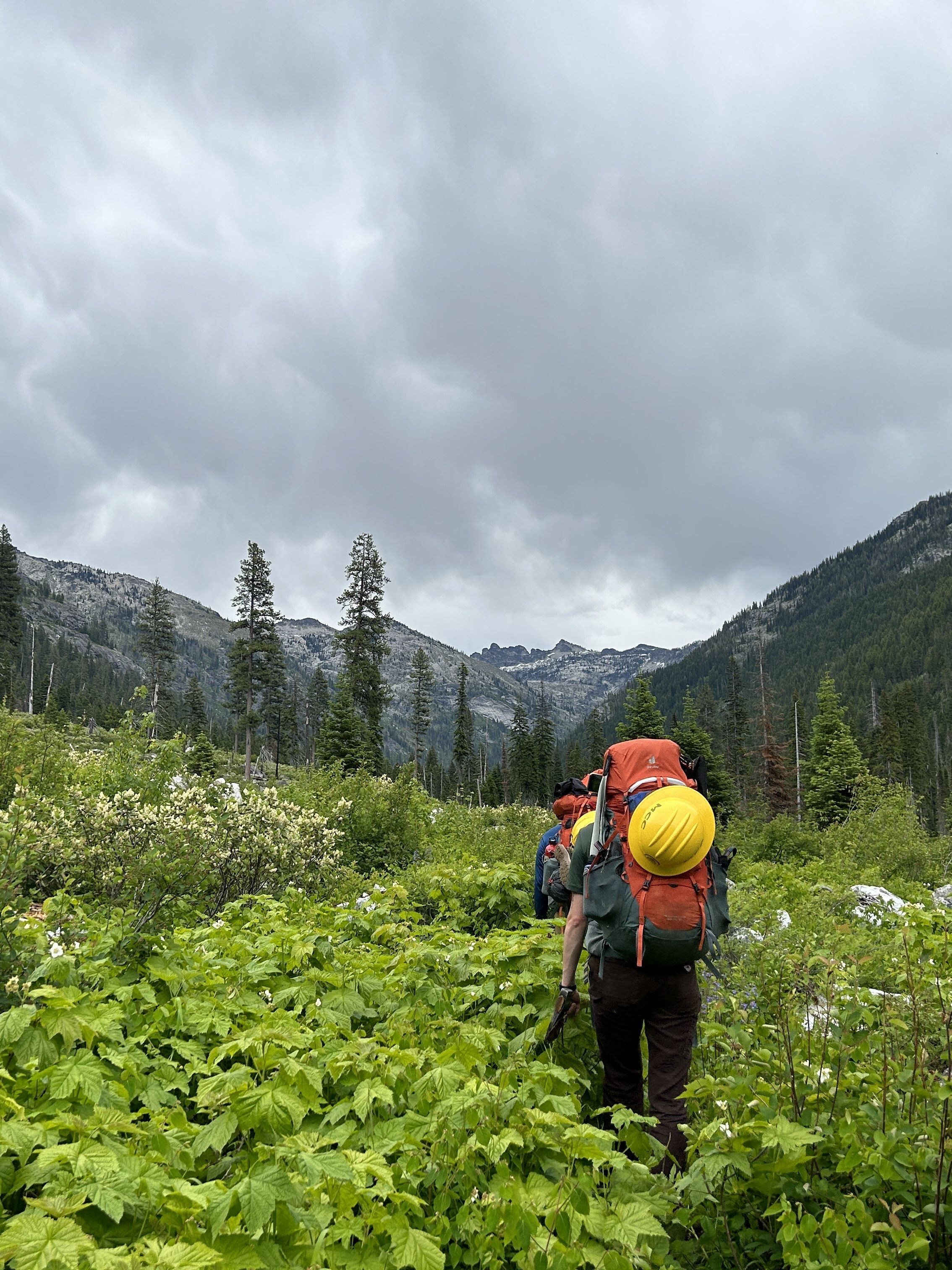 The drive from Missoula to the Bitterroot Forest's West Fork Ranger District has become one that I have learned to treasure. We have finished our first three hitches and with it have finished our time in the Bitterroot. We got to have some awesome times learning the ropes and realizing how skilled and talented we are as a crew.
The three trails we worked on were all in wilderness areas, which was somewhat of a learning curve from the comfy front-country lifestyle we were living during orientation and training, but the Bitterroot is amazing and lightened our loads with the pack mules. With the pack mules came an amazing packer who taught us about what she does and let us help with the mules and hang out with her dog. She even helped us out when we had different end dates on our schedules, opening a bunk house and finding sleeping bags to lend us since ours were still out in the wilderness with our tents. We learned a lot from one another about using the tools and understanding the land we were working in. Everyone in our crew comes from different backgrounds that were able to provide unique perspectives on everything aspect of life on hitch. We hiked far and cleared miles of trails, growing together and becoming a crew.
As amazing as the Bitterroot was, being a Women's+ crew has meant we have had to deal with some less-than-ideal interactions with people underestimating our abilities. We were told we had to "get used to it" when it was pouring rain, and we wanted to eat lunch under the patio instead of eating soggy PB tortillas, or that we "need to invest" in a chainsaw while we're clearing trees off roads with our crosscut. These little interactions, I'll admit, are kind of funny and bring our crew together with their absurdity, but they also make it harder to feel like we have proven we are capable. Is it so unreasonable that we want to take advantage of small things like avoiding the rain while we can, or to take only the tools we need? On one hitch we cleared almost 20 miles of trail and on another, we cleared over 200 trees off the trail, but the people that say these things to us will never see our project accomplishments and know how much we can do. No matter what we hear, I believe this crew has more than proved itself. We are strong and skilled. That's why spaces like this in conservation are valuable because we have been able to prove that we belong in a male-dominated field, independently as women. That's also why I know this season will only go better from here on out because we have grown closer and grown stronger together.