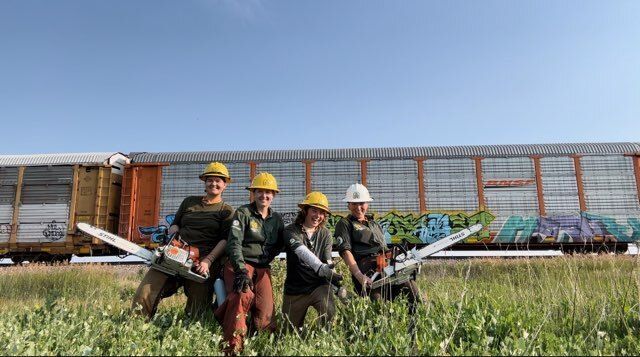 We had heard the stories of Bowdoin, but you only know Bowdoin when you have stories of your own. Our main objective on our crew's two, consecutive hitch projects, was to cut down as many Russian Olive trees as we were able to: there was no wrong Russian Olive to cut down. For those unfamiliar with the tree, they are a hardwood tree with thorn-adorned branches. The mosquitos on our first hitch were relentless: on some days, the only clouds in the sky were those of mosquitos. When we first began cutting, progress was halted soon thereafter, by the discovery of baby birds (the frogs!). We relocated those that we could and left any branches that held unreachable nests standing. On our second hitch, the heat had heightened exponentially. We began starting work at four in the morning, doing our stretches under the light of the moon. But through it all, there were uplifting moments, smiles shared, and memories made. Everyone became stronger spiritually and physically (especially after running and starting the 461's) during our time in Bowdoin. We were too tired to go to the fireworks, or the rodeo, but we always had the energy to chase snakes, the sunset, and the porcupine.
Here are two poems I wrote during my time in Bowdoin:
(untitled)
tried to work out
how i'd explain it
in a conversation,
but
the words just
wouldn't align
in the air.
just how does one
make sense
of being alive,
when they don't yet
know
what it's like
to be so?
death
is not a concern,
because
you're not dying:
you're living.
the moment is the moment
and
death's not in it:
you are.
rather,
i am.
today,
the saw cut through branches
as if i knew them,
as if they were longtime friends
just
having a conversation.
one particular cluster
felt
heavy metal;
a mosh pit of branches.
i don't know how i'd tell you
if you asked,
how it feels
to be alive.

(Goodnight Song for a Rabbit)
Boxes race after each other,
Birds follow along.
Moths sway under the light of the stage,
Waiting for the sun to sing one more song.
All the while,
The rabbit sleeps on the front lawn,
And I sing:
Goodnight little rabbit,
Thank you for making me smile today.
Goodnight little rabbit,
Earth's sweet,
Peaceful child.