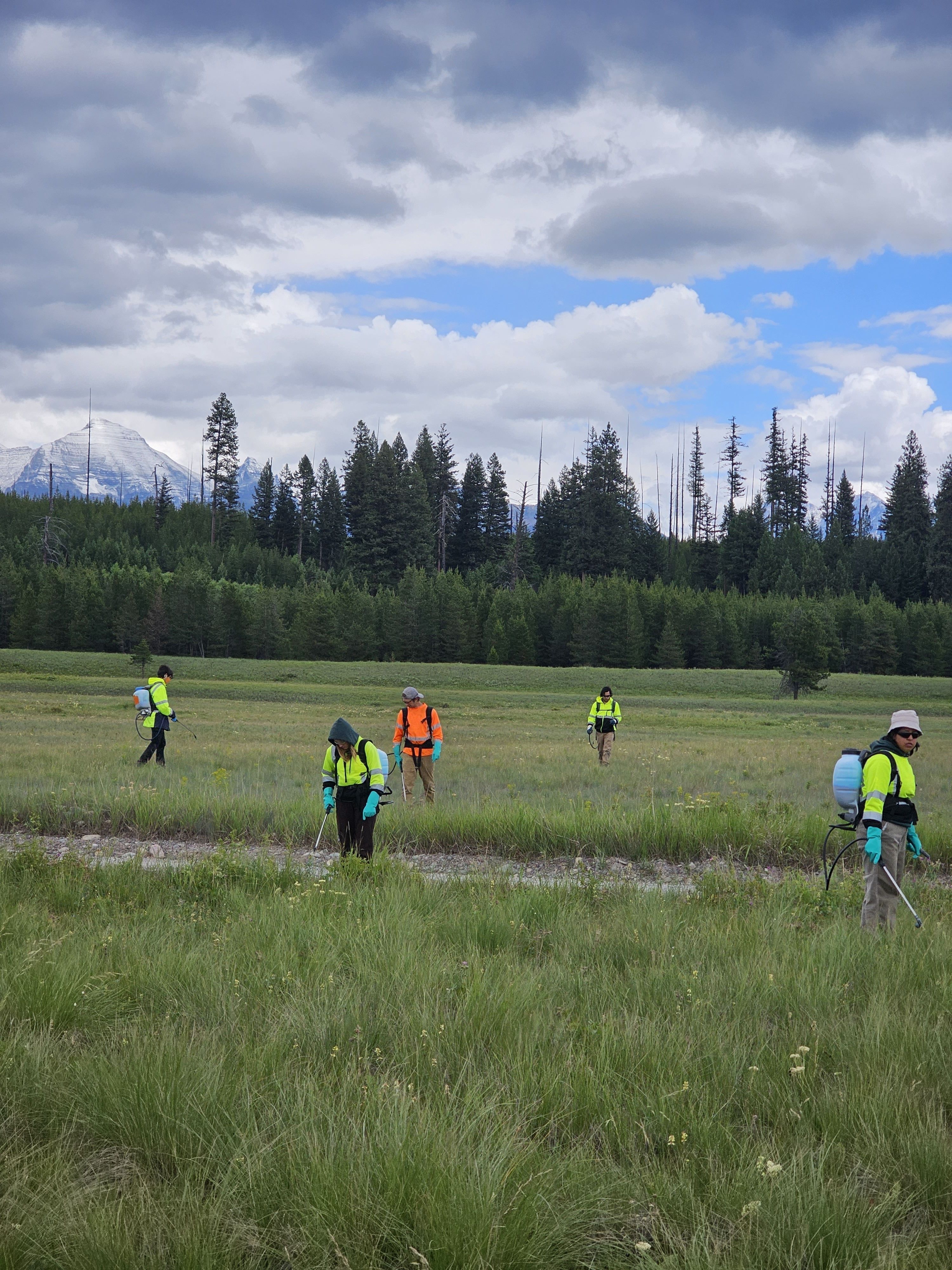 This week in Glacier was packed with opportunities to learn more about herbicides, weeds, and community engagement throughout East and West Glacier. We started the week targeting a new species of noxious invasive weed: leafy spurge. This plant is quite small and hard to spot amongst many look-alikes, but it is by no means weak. A combination of 'danger' level herbicides paired with hypertonic surfactant was required to effectively treat it, so we got our first experiences with Tordon 22k and 2,4-D. The crew quickly became adept at spotting the small plants hidden in a matrix of leafy greens, and we managed to treat over 50 acres of leafy spurge-infested grasslands at Round Prairie.
On day two, we were able to spend time teaching and spraying with volunteers and other conservation-based organizations that came out to participate in Glacier National Park Spray Day. It was motivating to see so many different people and groups come together with one goal in mind: eliminating weeds. In addition to the excitement of sharing our work and all that we have learned with an eager group, we were treated to a wonderful home-cooked barbecue at Rising Wolf Ranch that gave us a chance to get to know some of the other organizations, their members, and their agendas.
The week of new experiences concluded with an amazing 4-hour float down the river outside of Apgar that included stops to pull weeds along the water and educate more volunteers and some children about weeds and their impact on the land, agriculture, and the economy as a whole. It was a great way to conclude an already amazing week, and seeing how receptive the public is to this information and fighting the war on weeds is not only reassuring from an importance standpoint, but inspiring in the way that it shows how many people are willing to sacrifice their time, money, and energy for this cause.