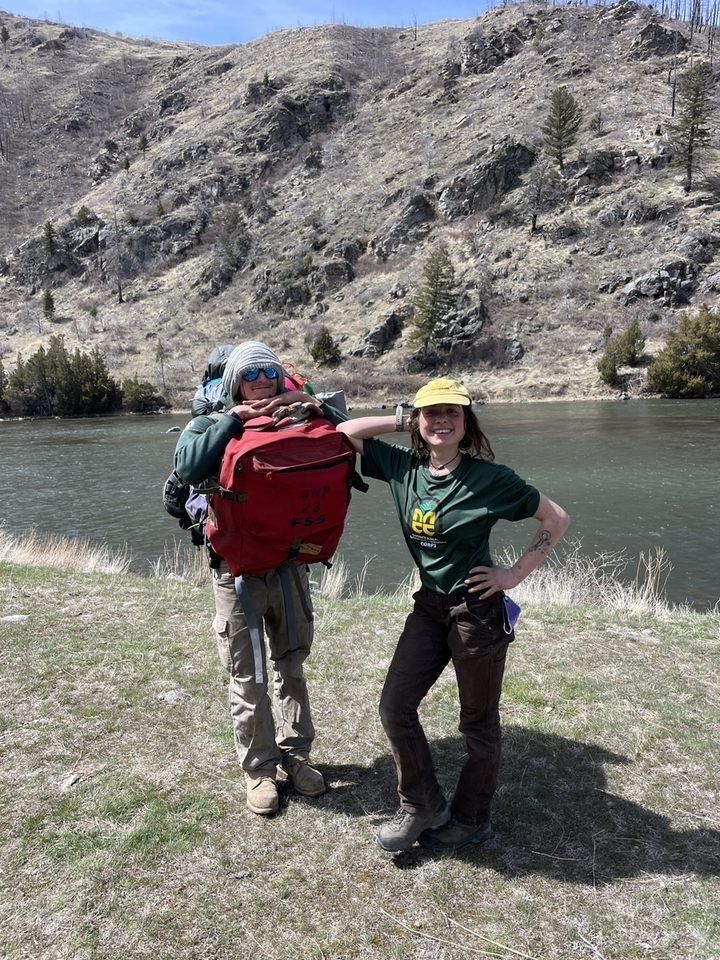 This week has been a medley for the crew leads at GY, including classroom learning about emotional first aid, a day trip for field work at Madison Buffalo Jump State Park, and our first foray into the backcountry at Bear Trap Canyon in the Lee Metcalf Wilderness.

Madison Buffalo Jump State Park preserves an area that was crucial to the livelihood of Native tribes in the area for about two thousand years. Before the introduction of horses around 1700, bison were hunted on foot. "Runners" would drive them over the cliff, where other members of the tribe would wait to harvest the animals at the bottom. It was a privilege to get to work at this historic site and hike along the limestone cliff that played such a critical role in the indigenous way of life long ago. We hope the work we did regrading and creating drains along the trail will help make this park more durable and accessible for people to come to learn about this history and experience the natural beauty of the Madison River valley for decades to come.

The backcountry portion was probably both the highlight of the week and the biggest challenge for most of us. Many of our hitches will be front country, which while still remote, means we will be close to the relative safety of our rigs. Backcountry introduces a whole new set of hoops to jump through, not the least of which is carrying everything we will need for the hitch, tools included, for miles into the wilderness. We saw firsthand how quickly things can go downhill in the backcountry, and learned the critical role of pre-hitch preparation. With each mishap, we learned important lessons that will stick with us through our season as leaders. Things first took a chaotic turn when we got lost in the trucks on the way to our trailhead (lesson learned: double-check the destination before losing service). Day two promised to be sunny at first, but by midday, we were caught in a storm that was "snowing up" (lesson learned: bring extra layers and rain gear). We didn't trust the water we collected (lesson learned: turns out it is normal for stream water to be yellow, even when filtered), and we forgot to pack the oatmeal (lesson learned: don't forget the oatmeal).
Each low moment was outweighed by much higher highs, like turning a corner and seeing the Madison River stretched out before us into the distance winding through a mountainous canyon, or spotting three mountain goats grazing on the hillside across from us. At the end of the day, we are all thrilled to be learning together and calling time spent in the most beautiful places in the world "work". Bring on the summer season, we are ready!