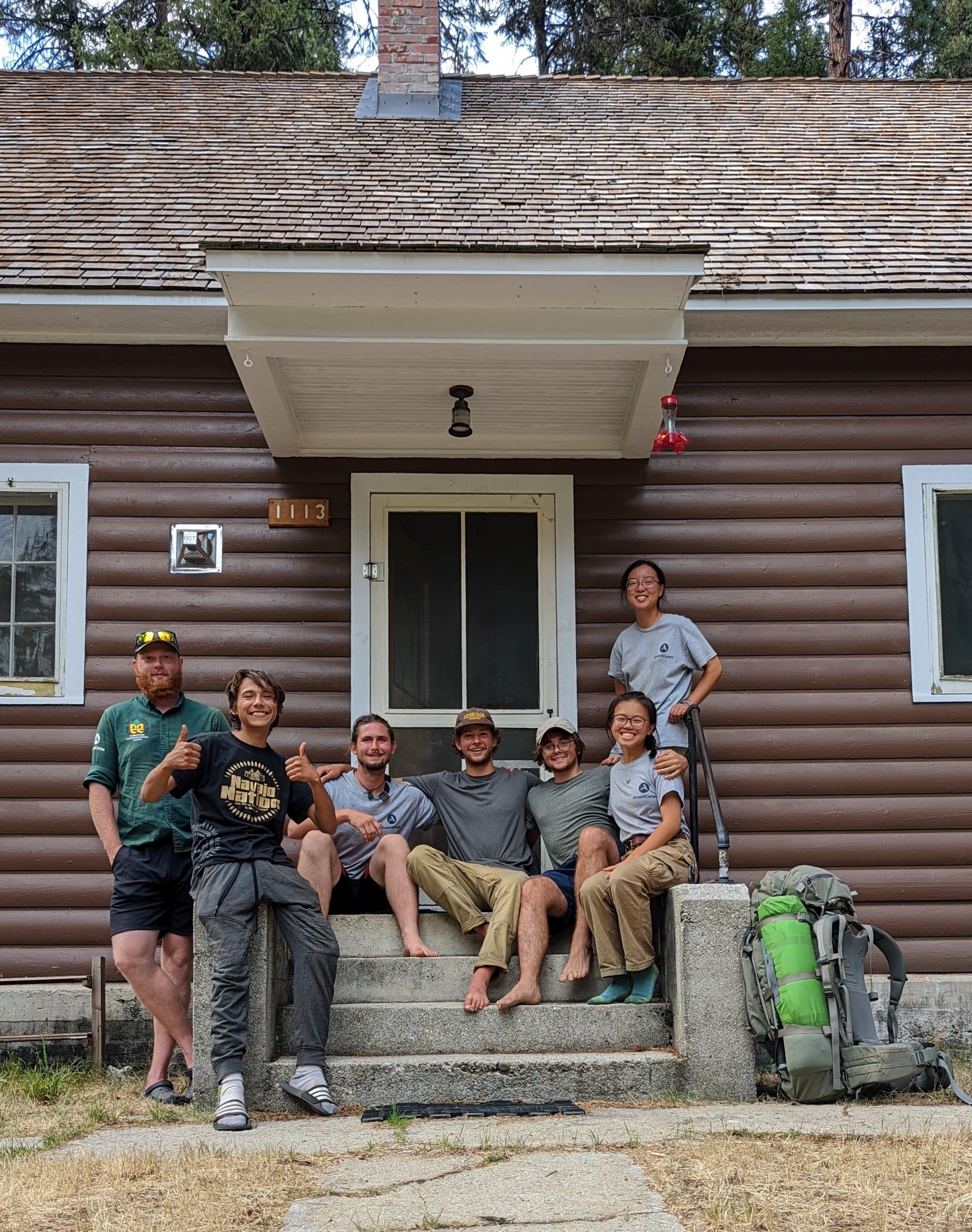 The WRT teams living at Krassel (Tina's Weedbusters and Ryan's Renegades) once again got to join forces for their fourth and fifth hitches as they treated noxious weeds in the area around South Fork Guard Station and Shiefer Campground in the Payette National Forest. During our fourth hitch, our rig's front tire got slashed by a branch on the drive in, causing us to have a completely flat tire within a few minutes. Tina taught us how to change a flat tire on the rig and we were able to switch to our spare tire. The pressure in the tires remained pretty low though, and the next day our project partner recommended we head back into town to get the tire changed to ensure that we had a fully working vehicle in case of emergency. While we were waiting at the shop, we got to pick up some snacks and food from our favorite food truck in McCall, Rosita's! Ryan's crew joined us for the second half of the hitch as we sprayed around the beautiful mountain roads.

For our fifth and final hitch, both of our crews headed back to South Fork together. While filling up water tanks by a sandy bank, the back tires of the Renegade's rig got stuck in the sand. The crew made valiant efforts to get out and were so close to making it, but Rig 25, Turt, remained firmly stuck. Our field coordinator Todd was with us and drove out to the nearest town of Warren and returned with Idaho Fish and Game employees who were able to tow Turt out of the sand. We also celebrated Rudy's birthday on hitch with plenty of cookies and dessert, some La Croix courtesy of Todd, and even a peach cobbler! Oh, the joys of front country hitches.

This was a fun but bittersweet hitch for both crews, as many members were returning to school for the fall semester while the remaining members staying until October were being moved to different trail crews as they finished their seasons. We have all grown very close, as both of our crews lived at the Krassel Work Center together and we all became fast friends once we met in May. We trained together and completed our first hitch together as well, so everything has come full circle. As we move onto different paths and different directions, we made sure to say "See You later!" (not goodbye) to one another, and thank MCC for bringing us together and for such a fun summer weeds season.

Peace out, from Krassel WRT crews Renegades and Weedbusters.