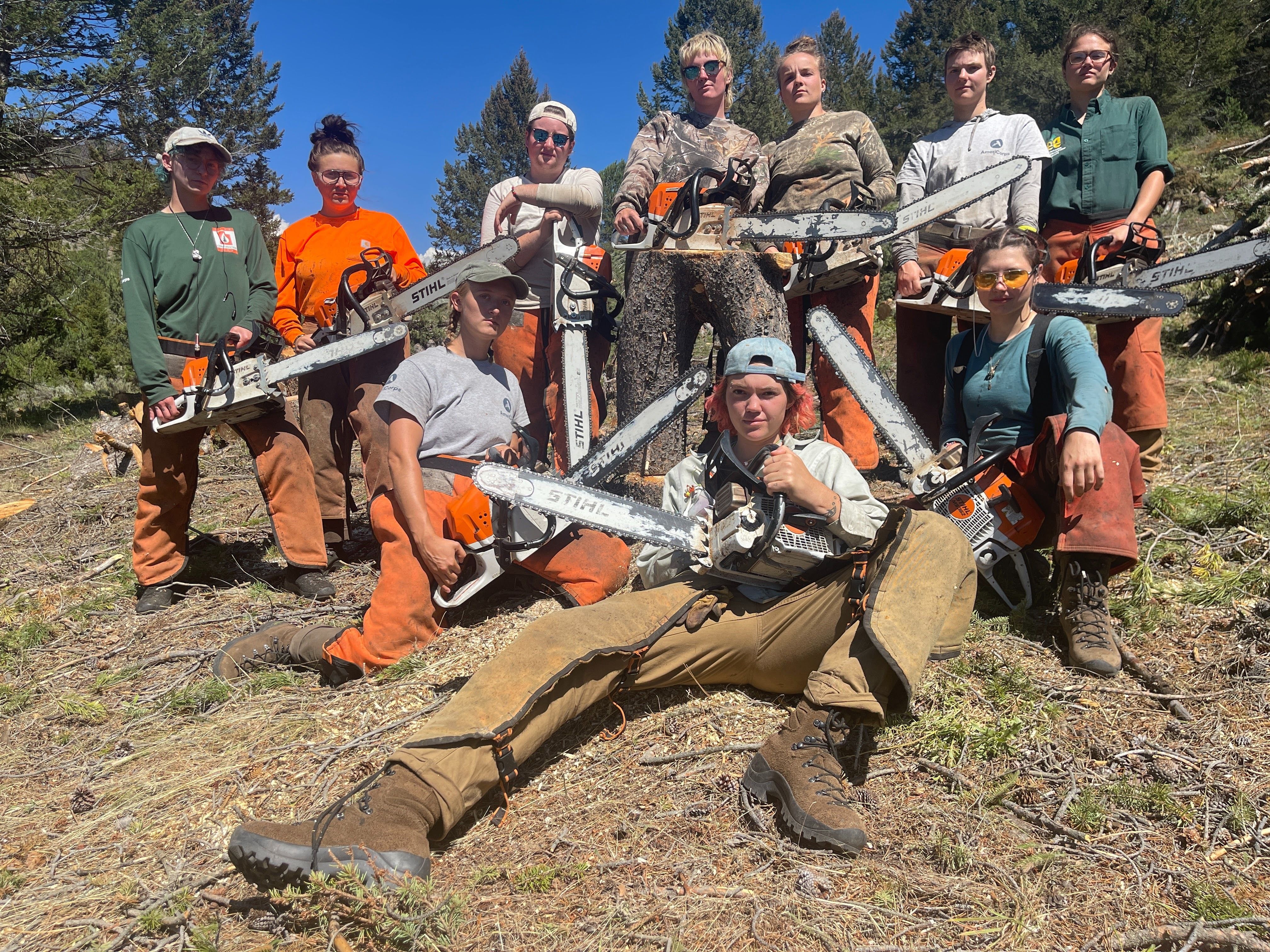 Our last hitch started out a little wonky. We were about halfway into our 7-hour drive when we noticed the clouds looking a little heavy. We checked the weather in the nearest town to our work site which was Ten Sleep, Wyoming. It wasn't looking good and because we'd been there before, (and gotten stuck), we knew that even with a little rainfall, there was no way we'd make it to our worksite. But, because we're the adaptable little rats that we are, we made a new game plan. We decided to sleep closer to town for the night. We tried to go to a campsite but it was full and we kept losing service so we weren't sure of other options nearby. We finally ended up setting camp up on the road towards the worksite as soon as we hit BLM land. Everyone was extremely tired already and we decided to have dinner at the only open restaurant in town, One Cow. They had one thing on the menu and that was a burger. Fine by me. 

The next day was also a little weird because normally we'd have been at camp and started our day as normal but we had to take down camp, get to the original campsite, and set up again including our kitchen and wall tent. At this point, it seemed silly to work for a few hours so we did our Compass lesson instead. 

The rest of the hitch was dedicated to what we'd come here to do - fell some trees! I think even though at this point, nothing seemed to be going as planned and we were tired and missing home. But, we really kicked it into gear. One of my favorite things is to watch myself and my crew adapt and keep a positive attitude regardless. I expected the last hitch to be filled with all sorts of emotions and I wasn't wrong. I personally went from feeling extremely exhausted, to realizing that this was it. I wanted to take full advantage of the few days left. I love running a saw and I love my crew. You spend three months in some of the most intense conditions, learning new things and pushing yourself...and then it's over. The days are long and the months are short, or whatever they say. That being said, I was adamant about sawing as much as I could. We dropped some decent-sized trees and all helped each other with piling. 

The last two nights were not looking bright weather-wise again. We moved camp and drove an hour to work the next day. The last day was so bittersweet. Every once in a while, I'd stop working and look around. I used to do that and think where am I? Who are these people? What the heck am I doing right now? But this last day all the thoughts were, I'm going to miss this and these people, and when's the next time I'm going to start a saw? 

The very last day we headed into Worland, Wyoming, and took our pack test. All of our crew passed and I'm stoked to go on a roll in a few weeks with everyone that's able to join.
This summer has been full of excitement, new knowledge, new friends and I'm forever grateful for this experience. I would recommend this job to anyone and can't wait to keep in touch with my crew and see where we go next. Thank you for the laughter, for the inside jokes, for opening up to me and sharing the real you. Thank you for helping me when I needed it, for answering questions and being my dawgs for the last three months. You're all amazing sawyers and i love you rats. 

Mallard & (Sweet) Ash - Thank you for being the best crew leads possible. The extra work you guys consistently put in did not go unnoticed. 

Harvvvv - Thank you for always making me laugh and helping me to open up more. I also appreciate the awesome flow we got into when working together.

Shm-Autumn - Thank you for entertaining all of my strange words and sayings and ensuring they caught on with the rest of the crew - I just know "nutch" wouldn't be where it is today if it weren't for you.

(This girl is) Sophia - Thank you for being the most logical and reasonable person and keeping the crew on track, you're one of the hardest working people I know.

Erin (Eric) - Thank you for being the Waka to my Flocka and making sure I laugh until my stomach hurts.

Bri (Breeeeeezy) - Thank you for making coffee every morning (and night) and working as hard as you do. I knew every time we were paired up, it was going to be a good time.

Sophie (Soapy Boats) - Thank you for being my very first friend when I got here. I immediately felt comfortable around you and am so grateful for the kindness you showed to me all season. 

Natalie (Scratalie) - Ohhh, Shmevy. Thank you for being you. You bring so much to the crew and are truly a light.