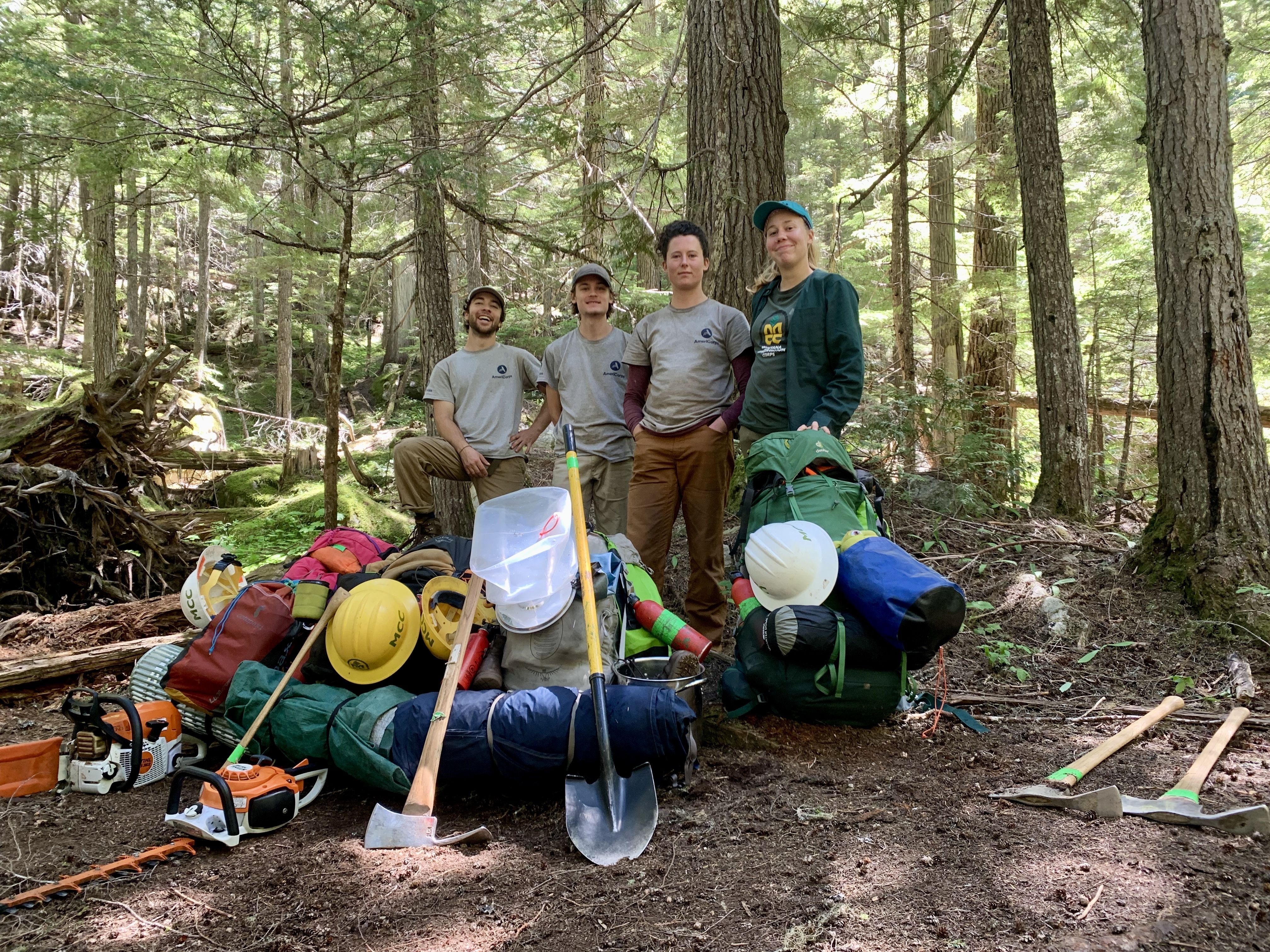 This was definitely a hitch for the books. Being our first backcountry project of the season, this hitch was memorable and filled with its challenges.
Our crew cleared and brushed roughly 14 miles along the Canyon Creek trail, located roughly 30 minutes northwest of Bonners Ferry, Idaho. Our two camps were located 8 and 12 miles deep into an old-growth cedar and hemlock forest. It felt a little strange to be so removed from other humans; our nearest neighbors were the wolf and black bear whose prints kept appearing along our trail, always found side by side. This forest was so green, mossy, and damp, that it was almost reminiscent of forests in the Pacific Northwest. Emerging from my tent in the early mornings, I felt like I was in a fairytale, seeing such massive trees surrounding me, so still. Going to sleep, the only sound that we could hear was the white noise of the creek rushing by us, blocking any other sounds from the surrounding forest.
Although magical at times, this hitch also introduced us to many of the challenges of backcountry living like carrying huge packs loaded with days and days of food, setting up bear hangs in the dark after a long day packing in our gear nearly 10 miles, faulty WhisperLite stoves, and eating slightly moldy green beans just so we wouldn't have to pack them out a few days later. But by the end of our time, Covid became another hurdle. By the time day 7 rolled around, ¾ of our crew were showing signs of Covid, forcing us to hike out 12 miles with our 65+ pound packs and our various tools a day prematurely. Sick, but strong and resilient, it felt like we were super humans, proving our species wrong. Through these obstacles our crew's spirits stayed high, and I have never felt so proud of this group of people for accomplishing what we did.