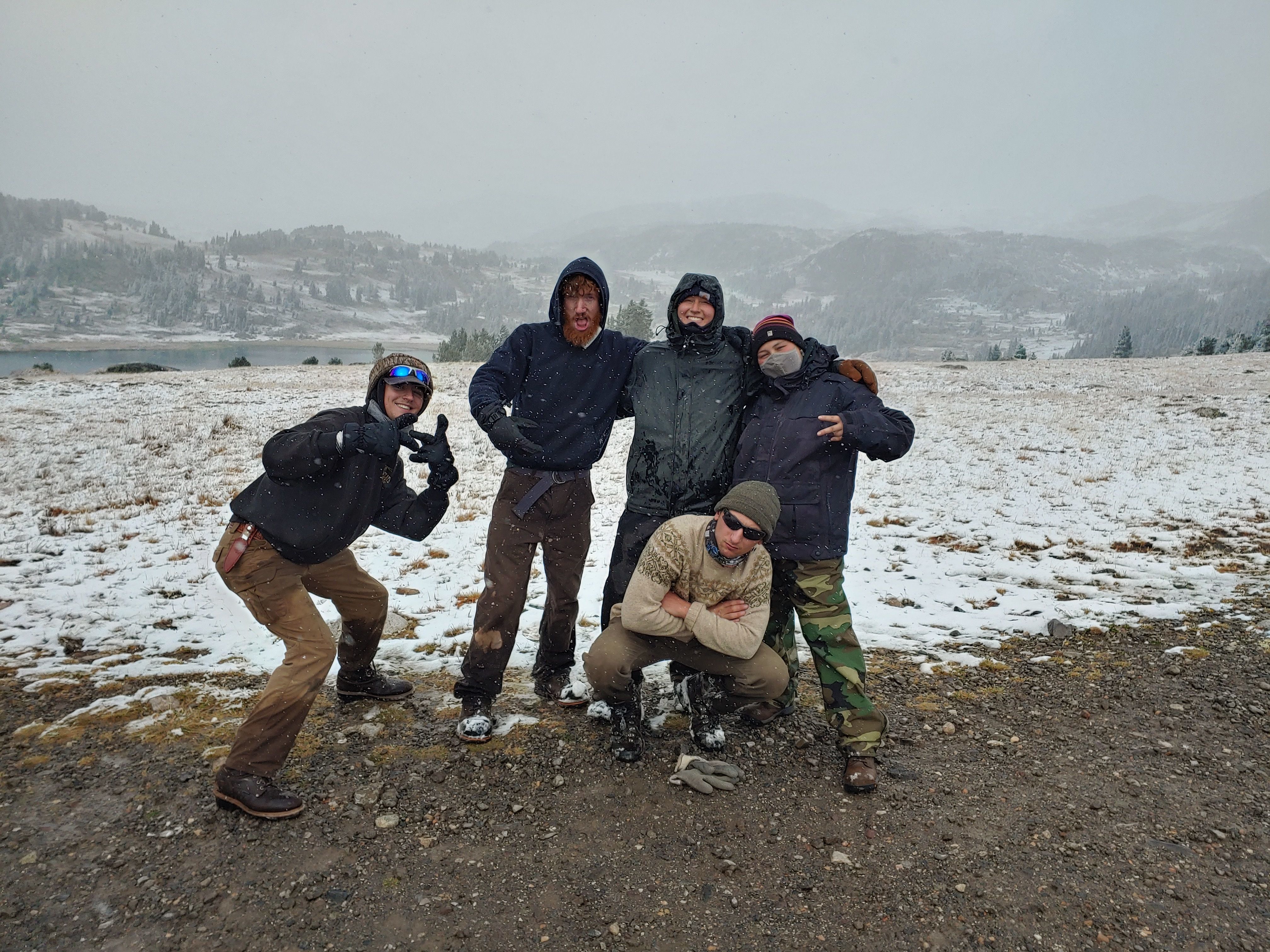 Originally Published 9/30/2021
For the second hitch in a row, our crew worked in the Beartooth Mountains in Wyoming, mainly using crosscuts to clear logs off of the North Zone trails. This time, we worked on the Beartooth Loop trail and covered around 10 miles of trail (8 miles on the loop, 2 miles on spur trail connecting to the loop). For the first few days, we stayed in the backcountry at our base camp and spent the days lopping and sawing the corridor of the trail, clearing logs off of the trail, and kicking large rocks off of the trail. On Friday, we decided to backpack for the night to clear the far right side of the loop more efficiently, so we wouldn't have to hike a 10-mile day. We packed up the gear we would need for a night and headed down the trail, walking 3 miles in to grab stashed tools, then hiked up 2 miles to where we would be primitive camping for the night.
After setting up camp (and making a make-shift tent out of a tarp) we headed back down 2 miles to grab other stashed tools and work our way back to camp. That night, we enjoyed instant mashed potatoes with veggies and cheese and sat around our warm campfire, content with the beautiful views of the mountains, valleys, and rivers. The moon was so large and bright that night it felt like I was sleeping with the light on. The next morning, we hiked and worked up the next 2 miles to the top of Beartooth Pass (10,000+ feet of elevation) and waited in the cold, 30 mph winds to be picked up by our project partner, Bryce. We were rewarded with the chance to stay at the North Crandall ranger station for the second time and relished in our warm cabin that contained a bathroom with a shower and a full kitchen. We enjoyed chicken patties and hot cocoa that night and felt lucky to be sleeping in warm beds. The next few days, we finished the Beartooth Loop and also worked 2.5 miles of another trail (Little Rock Creek) that was quite the drive, but brought us down to around 5,600 feet of elevation, so it was a lot warmer.

This hitch was an interesting one for sure; we got snowed on one day pretty hard, spent another day in T-shirts in 55 degree weather, and also woke up to frost on our tents. The weather is definitely starting to change with fall (and winter) quickly on the way. Being able to spend time at the ranger station definitely brought up our spirits and gave us the energy we needed to finish clearing the Beartooth Loop.