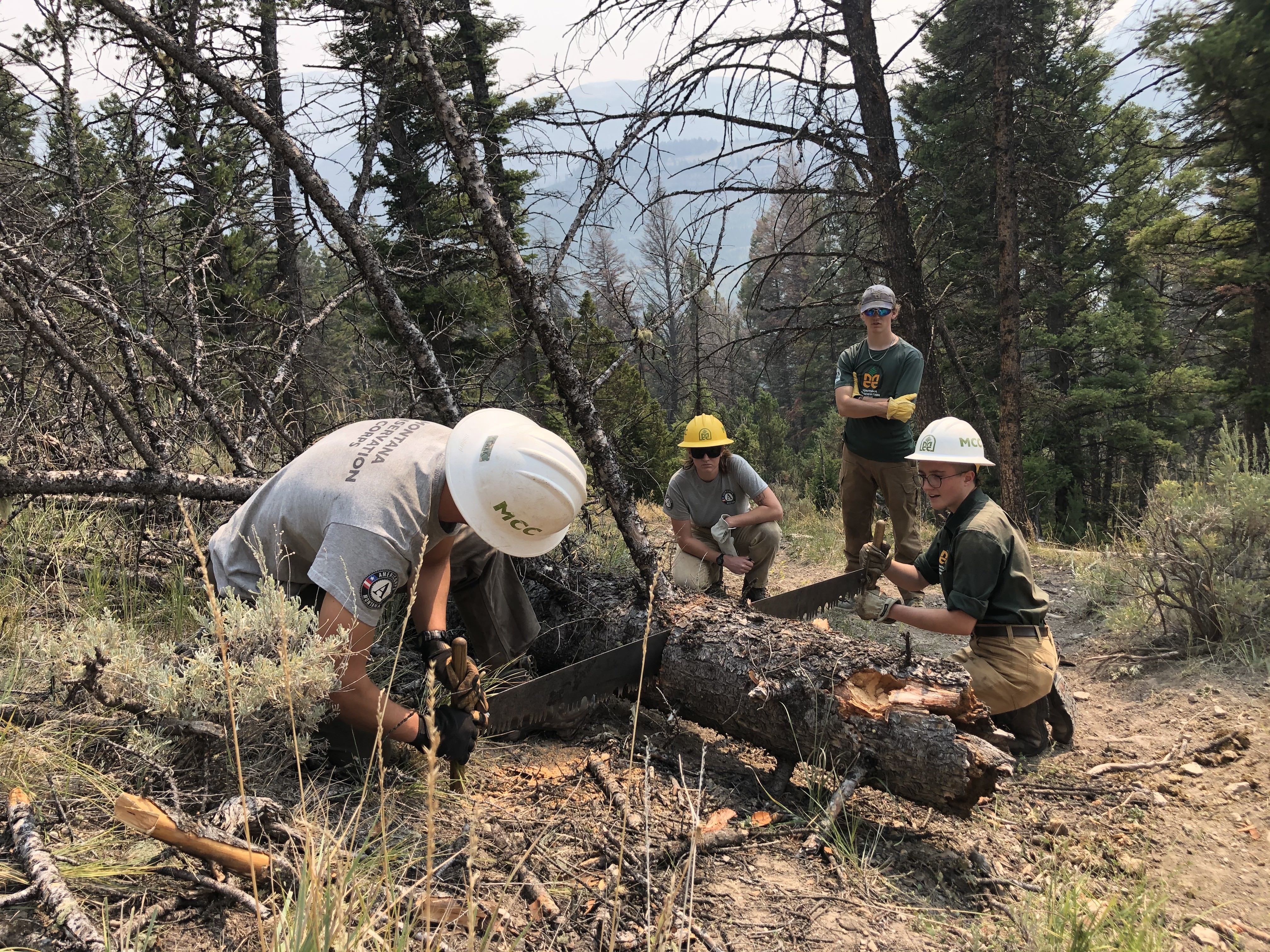 This was the first project for our crew to use the crosscut saws, so we all learned a lot about being in the wilderness and using the crosscuts, rather than chainsaws, to remove dead trees and logs off of the trail. On day 1 of this hitch, we packed our backpacking and backcountry equipment onto mules and hiked 4.5 miles up the North Crandall Trail to set up camp. Along the way, we learned how to safely use the crosscut saws and got to practice cutting logs with them.
The next day, our crew split up; half of us went back down the trail a few miles to cut out the remaining trees we missed on the way up and the other half went further up the trail. That night we hiked another 4 miles to our next camp, where we would stay for the duration of the backcountry portion of this hitch. From this next base camp, we continued cutting and clearing the trail up another 6 miles to the next camp, where we met a lovely man who had friendly dogs and made us lemonade. We cleared most of the North Crandall Trail, which was about 14 miles in length.
After we finished the backcountry portion of the hitch, we hiked the Squaw Creek trail, continued cutting and clearing the trail, and were picked up at the bottom of the trail by our project partner to be taken to the North Crandall Ranger Station. There, we stayed in a lovely little cabin that had a shower, a toilet, a full kitchen, and a few beds. We lived lavishly here for the duration of the hitch, continuing to cut, clear, and dig drains along another trail called Pilot Creek. Since the Pilot Creek trail was an out-and-back trail (7.5 miles in length, 15 miles out and back), we did not complete it. However, we were able to clear about 3.5 miles of this trail the last few days. We all became very efficient in using the crosscut saws and learned a lot about clearing wilderness trails in the backcountry effectively.