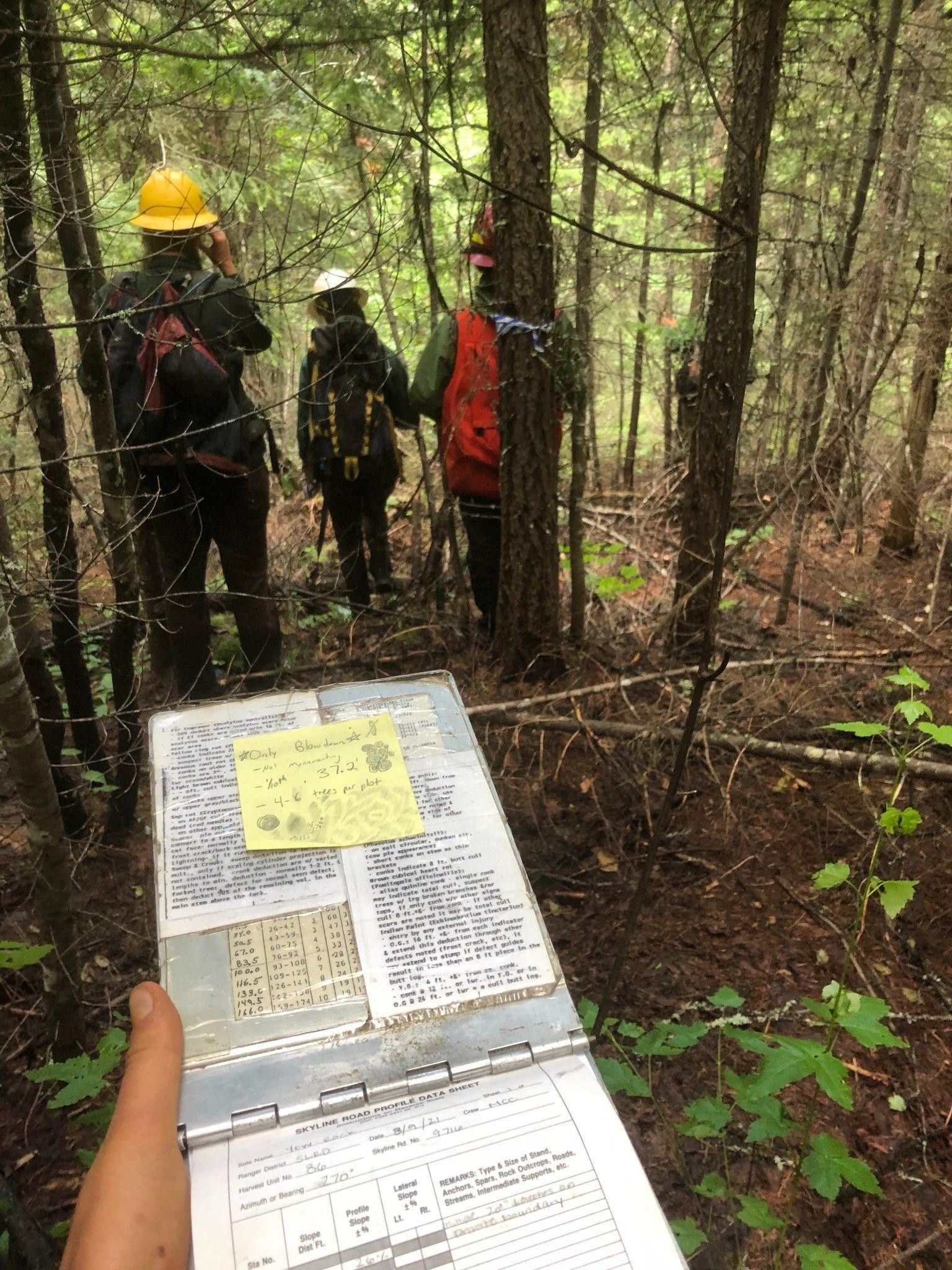 This month, we were robbed of our identity as, "Saw Crew 8," trading our chainsaws for paint guns, loggers tape, and cruiser crutches. Working with the Swan Lake District Timber Department, we were assigned the task of deciding which trees live and which trees, "go down the road" (to the mill) (die.) As one of our five crew members joked, "it's been an uphill battle with steep challenges." By the second of our four hitches with this department, every member of our crew had been stung by at least one bee, stepped in countless ground hives, and returned to town looking like a body-builder fresh from a heavy spray tan (on account of the orange Leave-Tree, government paint.)
Our backpacks were full of paint cans; our stomachs, filled with Loco Mocos (a Hawaiian dish consisting of rice, a hamburger patty, & a fried egg, all smothered in gravy) and backcountry, imitation Crunch Wrap Supremes. We ate well and worked hard. We marked leave-trees for nearly 500 acres of merchantable timber, with units ranging from 6-40+ acres each. The criteria for deciding which trees stayed and which trees were logged were dictated by guidelines written by the department's Silviculturist. These guidelines varied by unit, but species, diameter at breast height ("DBH"), and disease were always considered. Western Larches were assessed for Dwarf Mistletoe-- a small parasitic plant which cannot be seen easily from the ground, but whose effects cause trees to branch endlessly, eventually killing the tree-- using the Hawksworth 6-class Dwarf Mistletoe rating system. Larches were retained whenever possible due to their thick bark and relative fire resistance. All western white pines over 7" DBH (trees smaller than this are not considered commercially viable) were marked as leave-trees, as well as many large Douglas Firs and Ponderosa Pines. The biggest challenge-- other than the steep terrain, paint inhalation, and ground hives-- was communication. We had to move as a crew, ensuring we didn't miss any trees.
We also measured a few slope profiles, making sure that logging equipment (highlines) was feasible. We camped at the Bigfork Tree Improvement Area (affectionately known as the "Tree Farm") for our first hitch, then at Swan Lake Campground for the remaining three hitches. We had been to the tree farm before and were thrilled for its cell service (we streamed the Olympics a few nights), flushing-toilet, and running water. Swan Lake Campground was equally luxurious. Though lacking cell service and flushing toilets, we were grateful for its running water, pit toilets, and proximity to Swan Lake. Before the weather began to turn in late August, we enjoyed wading at Swan Lake. Exciting finds included mushrooms, bugs, death-angel-looking "asparagus," and "deadheads".