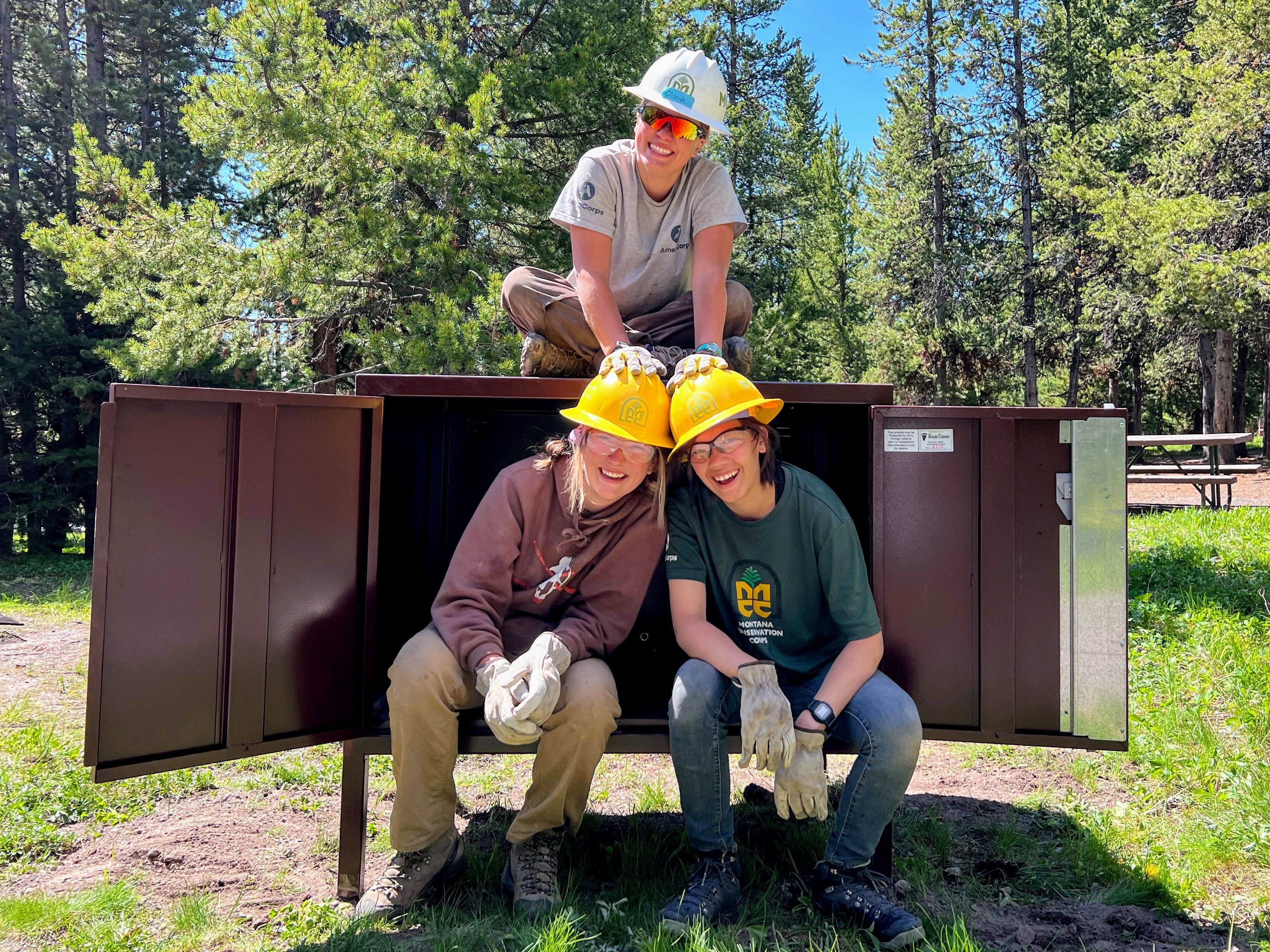 Christina is a three-time MCC Youth Expedition alum and winner of the 2023 ServeMontana Youth Award. She's just about to enter her senior year of high school in Missoula. We caught up with her to learn more about winning this award, her experience with MCC, and what's next.
---
MCC: What were some highlights of your Expeditions with MCC?
C: My first two expeditions in middle school were really impactful and a lot of fun. I learned a lot and got to do watershed restoration, measurements in creeks, and tree surveys. It was a lot of fun to be doing work with real-life applications. For my most recent Expedition, it was a really small crew so I was able to get super close with them. We installed bear boxes in Yellowstone in campsites, and replaced boardwalks at Mammoth Hot Springs!
MCC: What did you learn from your latest experience?
C: Working with a crew, especially with a crew that small, really gave me a chance to develop a sense of community and develop as a team member. MCC made me feel like I could do anything. The work is a lot of physical labor and sometimes as a female, it's harder. I believe we can do whatever men can, but it takes more work for us. It was cool to see that in action. It made me feel strong.
MCC: What kept you coming back?
C: When I came back for my second Expedition, it was because of how fun it was to be outdoors. My family really values the outdoors, and I got that from them. I respect the outdoors a lot and I know its importance.
I did my third Expedition in 2022. Being outside with a crew for a whole week was really cool, especially after COVID. It was very freeing to just be outside, be around other people, do physical work, and do something that mattered.
MCC: How do you see yourself continuing service in the future?
C: Currently, I'm going into my senior year of high school. I hold a leadership position in my school's robotics club, which has a service requirement. I'm also part of the National Honor Society. I'll come up with a service project and complete that, as well as volunteer for a set number of hours. I'm hoping to go to college but I'm not sure what I want to study. There's a lot out there and it's very fascinating! I'm thinking of majoring in Engineering. I also want to travel, during summers off or after college. I'd like to go to other countries and teach English and explore different cultures.
MCC: What does it mean to you to win the Serve Montana Youth Volunteer award?
C: My mom found out and let me know that I had won. There was a ceremony in Helena. They read a recommendation my mom wrote for me, then presented me with the award and we had lunch with the Lieutenant Governor. I am grateful to have won it. It feels nice to have been recognized for my work. Listening to the other awardees was inspiring, and made me want to work hard to live up to the award.
MCC: What advice would you give to another teen who is joining a future Youth Expedition with MCC?
C: Don't be afraid. It's such a great experience and so much fun. Whatever you're worrying about or hesitating about, it probably won't happen. Being in a new situation is going to happen one way or another, so you might as well do it in a safe space like MCC where it's expected and healthy to grow. It's so worth it. Don't be afraid to interact with your crew and the leaders because they are there to help you. The leaders have gone through a lot to be prepared to help you. It's ok to ask for help. It's going to be hard work, but it's not impossible. You're not going to be shamed for it being hard for you. Have good work boots and work pants, and bring a raincoat. And have fun!
MCC: Is there anything else you'd like to share?
C: MCC is an experience under my belt that I can draw power and courage from. The MCC experience is a different kind of service, and I loved it!