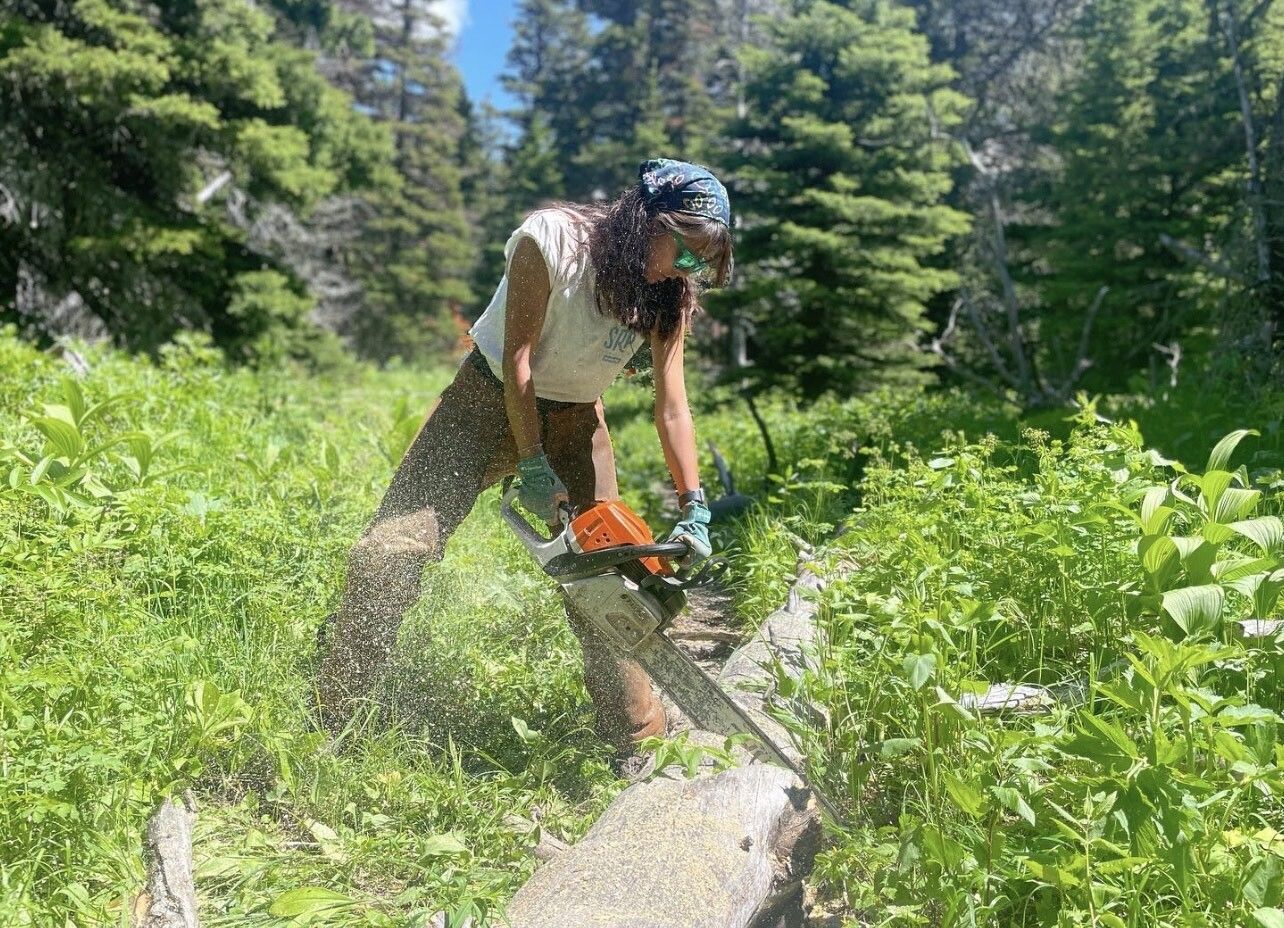 Rosy Chavez is an alumna of our Piikuni Lands Service Corps (2020) and our Field Crew programs (2021). While finishing her senior year at Buffalo Hide Academy, she was involved in a serious car accident. "I was in a wheelchair going to school, with bars in my hips. But I was determined to graduate on time," she reflected. It was this resilience that pushed her to apply for Montana Conservation Corps for the upcoming summer, even though she was still on crutches. Rosy regained her mobility and went on to serve for three months with MCC, sometimes hiking slower or kneeling to build tread but never relenting in her drive to work hard and support her crewmates. She even won an award for The Corps Network's Corps Member of the Year in 2020! Recently, we had a chance to sit down with Rosy to hear how life has been since that 2020 season.
---
When asked what she learned from her seasons with MCC, Rosy replied, "I learned how to build bonds with people I've never met and support them. The work was hard. The days felt long. But we would always lift each other up."
Rosy defines herself on her hard-won resilience and determination. She said, "I don't give myself the option to quit what I started. I'm going to get through it. It may be a bad day, but it's not a bad life. I want to be the best me.
It's no surprise that this determination led her to win The Corps Network Corps Member of the Year Award in February 2020. Rosy reflected on that moment with a look of awe on her face, "It was a feeling I've never felt before. I had never been recognized for who I am or my hard work before. I've never had someone who saw more in me. I went through something serious, but I came out on top, and finishing the MCC season was everything to me. [Winning the award] made me feel so proud and confident. It made me want to give my community resources and direction, whether it's about trail work or getting outside. And I still continue to do that. I've always been proud of my community."
After a second summer with MCC as a member crew in our Western Wildlands Region, Rosy earned herself a position on a Glacier National Park trail crew in 2022. "Glacier is home to me and I've always wanted to be a part of it. Where I live in Browning is so close. My supervisor was thoughtful about placing me close to home so I had housing. It made me feel like I belong," she said, "Working with the Glacier crew made me see so much more that was so far back there. It was such a good learning experience. Powertools, building structures, felling a tree, climbing peaks I've never climbed. My crew was like puzzle pieces. We all brought to the table the right set of skills. It was working and bonding with them." Rosy leveraged the skills that she learned with MCC that first summer with the NPS, "I used my improved communication and ability to use my voice. My leadership skills are a lot better on projects or in an emergency. I can step out of my comfort zone. And I know how to encourage others," she said.
So what's next for Rosy? "I am planning on going back to Blackfeet Community College to finish my Associate's degree in psychology, then go to UM for a Bachelor's degree. I want to bring my knowledge back to my community and help people in the way they need to be successful. I also know in my heart I want to come back to MCC to lead a crew or work in the offices. It's something I've always planned to do!"
Rosy shared some parting words, "I'm very thankful for MCC's programs. They're very meaningful to me, but also to my community. I want to see the Blackfeet community succeed and accomplish anything they want. I want them to see what MCC is about and experience everything that MCC brings to my community."