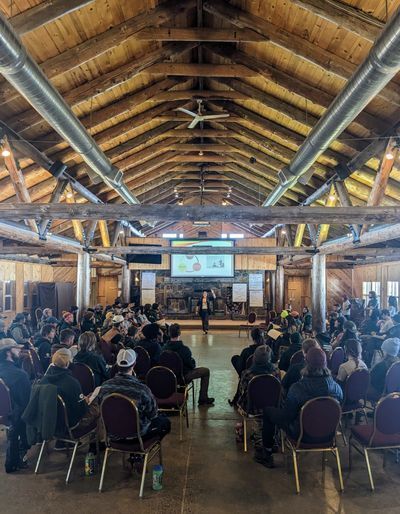 When someone asks me what makes the Montana Conservation Corps different, the rigorous Leadership Development Program comes to mind. Each year, from March through May, AmeriCorps crew leaders are taught technical skills such as how to run a chainsaw, set up a backcountry field camp, maintain a variety of trails, and perform timber stand assessments. However, the most important training does not center around project work, but rather those skills and insights needed to run a functional, happy, and healthy crew. These skills include group facilitation, emotional intelligence, conflict resolution, effective feedback strategies, and much more. These ideas are the center point of a four-day gathering of all MCC leaders and staff known as "Summit".
Since my previous term as a crew leader ended, I find myself most frequently reflecting upon the themes and lessons of communication and team facilitation learned during Summit. And now, a little over two months into my current term as a Senior Crew Leader, it has been the most impactful week of the 2023 Leadership Development Program thus far.
The four days of Summit were a whirlwind of meeting new friends and reconnecting with old ones, along with ample time for growth, learning, and reflection. Facilitated by Shannon Stober of Jump Start Training and MCC's Vice President of Programs, Stacey Williams, the structure differed from the format I experienced last year. Rather than long presentations with occasional breaks, this year's central topics were taught in large group sessions before being put into practice in smaller breakout groups. When navigating complicated discussions surrounding identity and emotional intelligence, the more intimate environment allowed us to feel more comfortable being vulnerable with one another when sharing personal struggles. When practicing giving effective feedback or managing conflict, the small size allowed for more participation and deeper investigation.
It was empowering to see the ways in which people could pair their existing strengths with the skills being presented in order to grow into reliable leaders their members could trust. Towards the end of the four days, it seemed as if all walked with a greater sense of purpose. Despite the packed schedule of skill-building, growth, and reflection, there was plenty of time for all to have fun and form new friendships. In the evenings and during free time, leaders and staff congregated to play games, enjoy meals together, partake in a talent show and dance party, go for walks, and make connections with one another. All of which created a greater sense of community and connection at MCC.
When a crew is many miles deep in the backcountry performing intense physical labor, steady and compassionate communication from a well-trained leader can mold a service term into a life-changing experience. After Summit, this year's leaders have all the skills they will need to provide their crews with just that this season.