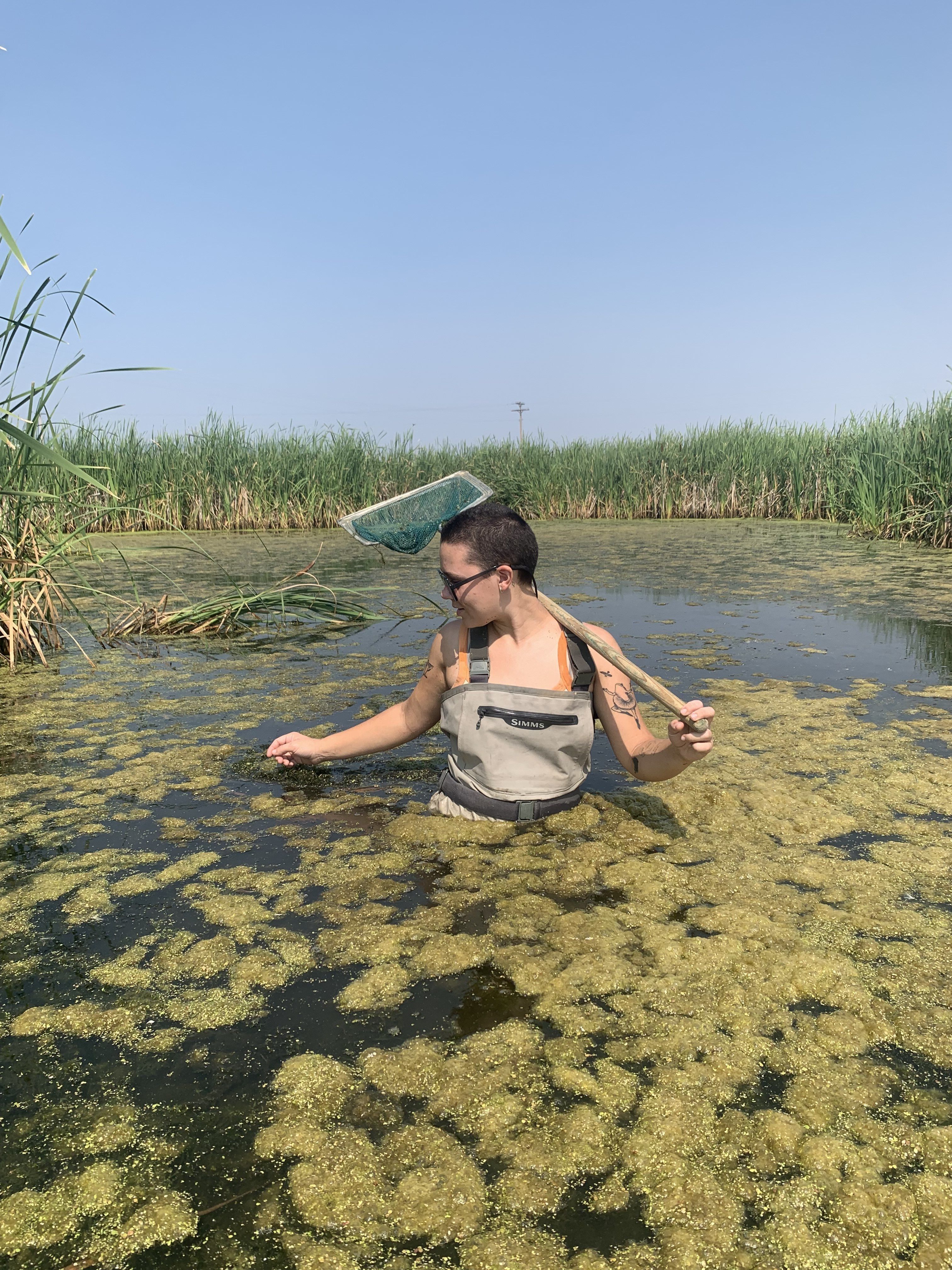 Crouched next to the pond in their childhood backyard, young Clo loved observing frogs and other slimy native critters. From this fascination bloomed a love of herpetology, or the study of amphibians and reptiles. Today, you can find Clo doing what they do best - monitoring and researching frogs, turtles, and pond sliders with Montana Fish, Wildlife, and Parks (MFWP) as part of MCC's Conservation Fellows program.
This season, Clo is working with MFWP partners, the Salish Kootenai biologists, to see how far the reintroduced native Northern Leopard frog has migrated. "It's always exciting to report the results back and hear that it's the first time they have been sighted in an area in a while. The fact that the reintroduction is working inspires a lot of hope moving forward," they said. In contrast to that, it's been disappointing when the team pulls into a wetland at night and hears a chorus of invasive bullfrogs. "That's disheartening because of the challenge it represents. I feel grief for the changing state of Montana and the wetlands within it," they said.
Clo is grateful for the chance to build connections in herpetology in Montana, a narrow and burgeoning field that they struggled to make contacts in as an undergraduate at Montana State University. "[Through MCC] I've been introduced to nearly every herpetologist in the state. There is a lot of work to be done in Montana," they said. Clo also cited the in-field skill building as an important takeaway, "We've gotten to do our own research and develop protocols to pass onto the next team. When I was a student I assumed herpetological conservation wasn't happening because it wasn't needed. But really, it wasn't happening because no one had the time to jump start it. And now I get to be one of the ones developing this new program."
This is Clo's second term with MCC. They came back to serve as a Conservation Fellow because, "MCC is so good at tailoring programs to your interests." For Clo, this experience is a vital opportunity for professional development and is helping to launch them into the next phase of their dream career.