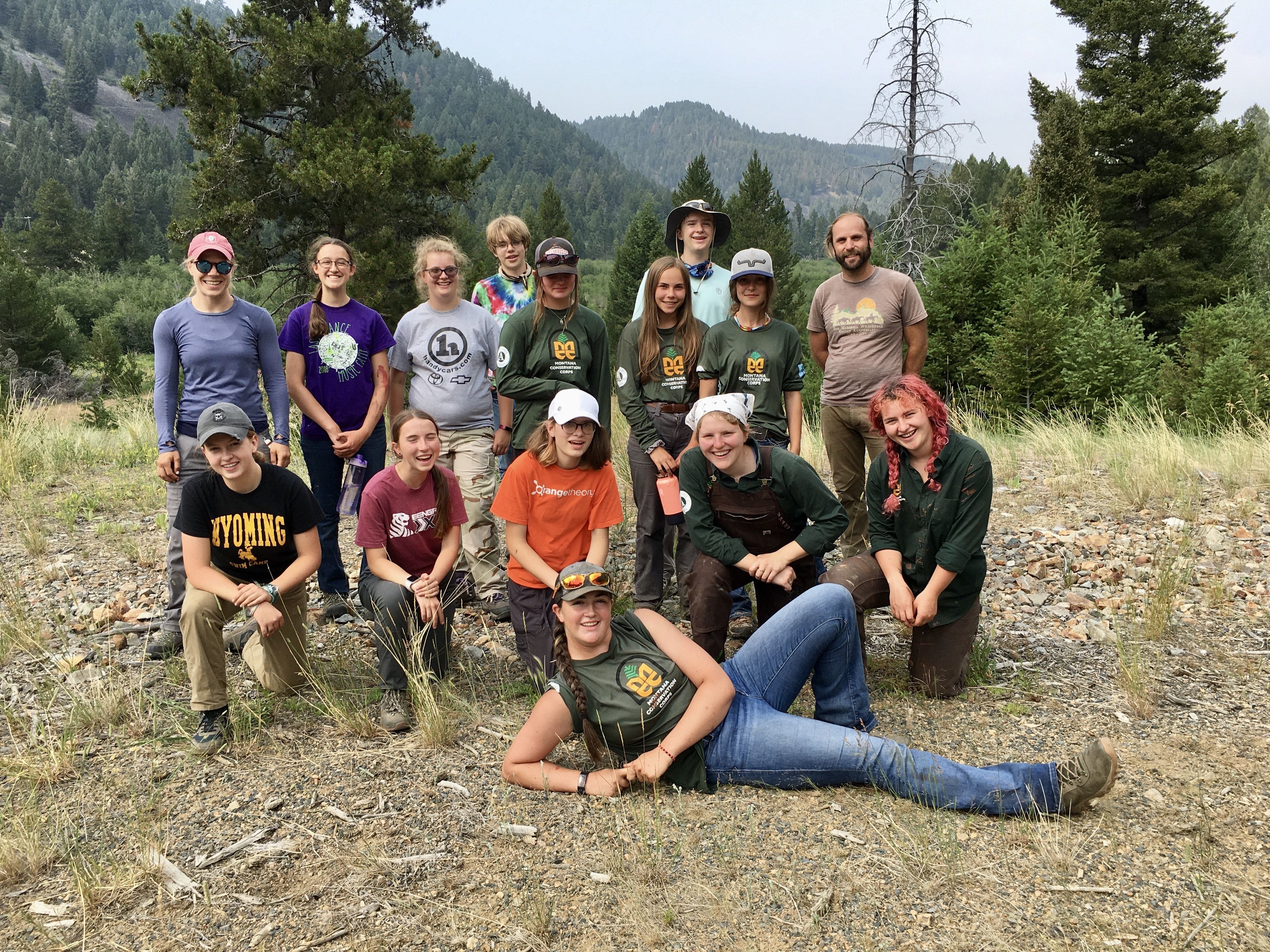 Over the last few weeks, the Lincoln YCC crew has gotten to spend some time with Liz Burke, a Conservation Educator with the Forest Service, and the director of the Youth Forest Monitoring Program. With Liz, our crew got to learn how the FS monitors soils, weeds, and streams to track the health of the Helena-Lewis and Clark National Forest.
First, we took a trip to the Charter Oak Mine, one of the only remaining flotation-cell mines. The FS is maintaining this landmark to preserve its history, clean up the land from remaining mine tailings, and keep it as a space for historical and scientific education. After staining a deck and painting the kiosk, we got to learn from the YFMP students. The soils crew showed us how to measure soil filtration, structure, texture, and color. The weeds crew showed us how to record ground cover and the presence of weeds. Finally, the streams crew showed us how to measure the quantities of different chemicals in the water. Some of the water was bright orange from mine tailings! A couple weeks later, we got to watch the YFMP crew's final presentations -- it was so awesome to see the results of the research they did.
On a drizzly Monday, Liz came out to Lincoln to monitor some sites in the Stonewall area with our crew. We hiked to two sites to survey woodpeckers. Even though we didn't find any, it was fun to listen for them and hear a bunch of fun forest facts from Liz. Then we did a Rapid Forest Assessment on six different sites. This involved a wide variety of quick measurements on aspects of forest health. We used a tool called the 'cheese' to measure the size of trees; took note of ground cover, horizontal cover, and soil disturbances; and captured a snapshot of the history and future of the forest by comparing full-growth trees to saplings. The general consensus was that the future of that forest is the lodgepole pine.
Working with Liz was fantastic. Our crew learned a ton about citizen science, forest monitoring, and the variety of paths within the Forest Service. A major thank you to Liz!