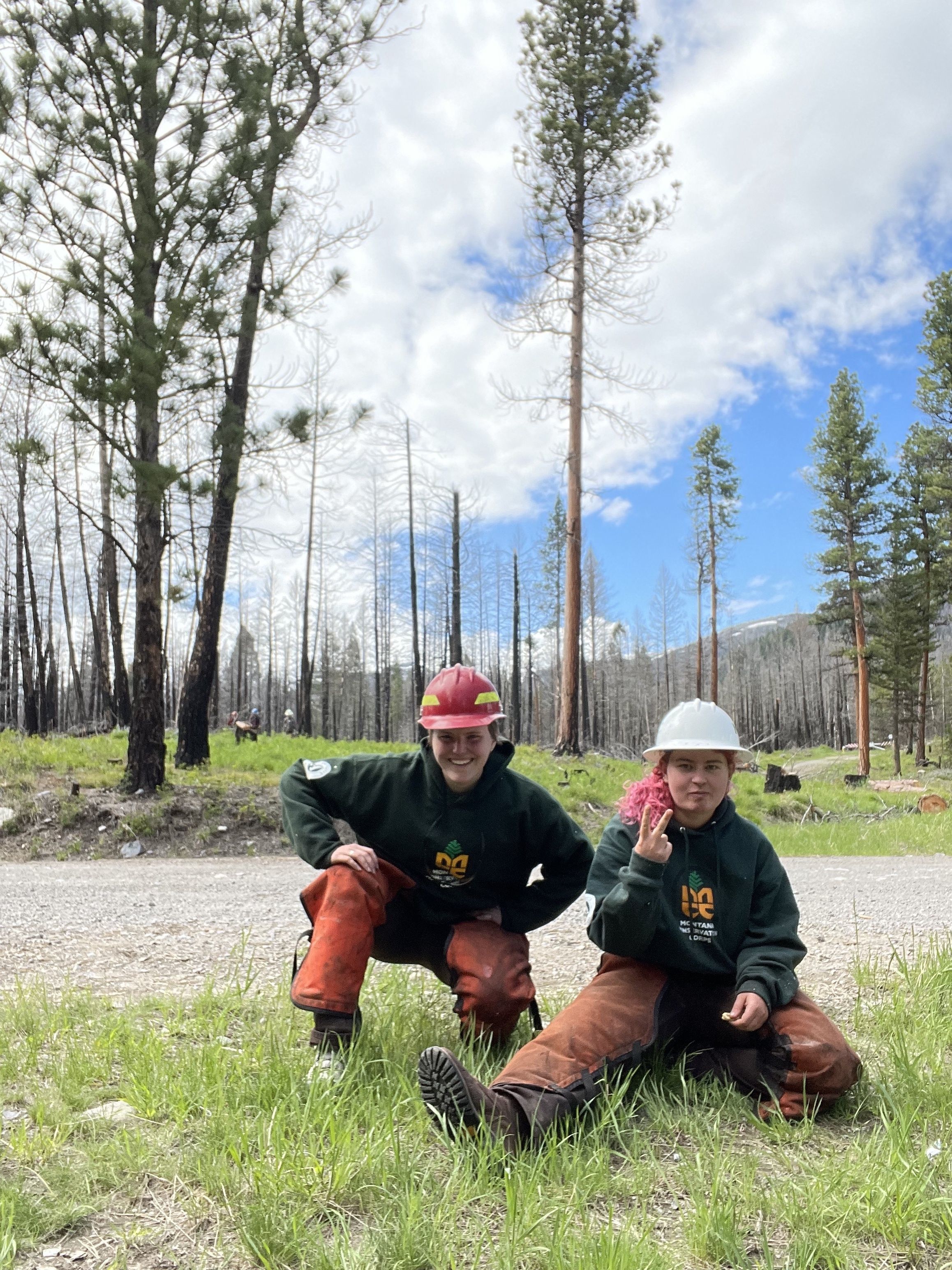 After a month of leadership training, learning about Montana's youth, and practicing trail work skills, my co-leader Mary and I felt ready. We were hyped to head to Lincoln, meet our crew of teenagers, and get to work. But just before the season began, there was one last thing that to do. We had to get certified to run chainsaws!
Mary and I joined the Lincoln Ranger Station's S212 certification class. On day one, a drizzly gray day, we sat inside the fire barn and learned all about chainsaws from the fire crew experts. In groups, we took apart a chainsaw piece by piece. I learned a ton from this part — having never worked with machines before, words like muffler and sprocket were new to me. Our instructors went over how kevlar chaps are meant to fit, what a wedge is, and the difference between a Stihl and a 'Husky' scrench. When the rain relented a bit, we went out in groups to apply our learning, taking turns slicing a big downed log. The feeling of holding a chainsaw was incredible!
On day two, sunshine meant we could go out and get certified. To get an A cert, we each had to fell two trees and do a good job of it. Before felling a tree, one must go through the OHLEC acronym: O for objective, H for hazards, L for lean, E for exit strategy, C for cut plan. I went first, yelling out "Face cut!" then "Back cut!" then "Tree falling!" and finally, "Clear!" Watching a huge tree thud on the ground felt pretty awesome. Mary went next, felling her tree like an expert. After one more tree each, we received our A-certifications.
The S212 was an intense but fun learning experience. I was amazed by my comfort with the saw; my instructors prepared me well so it felt natural to have a saw in my hands. Mary's take: I'm eager to learn more about the physics of trees and practice identifying the lean. We're both so excited to utilize our new skills on the trails this summer (and paint our celebratory tree cookies).