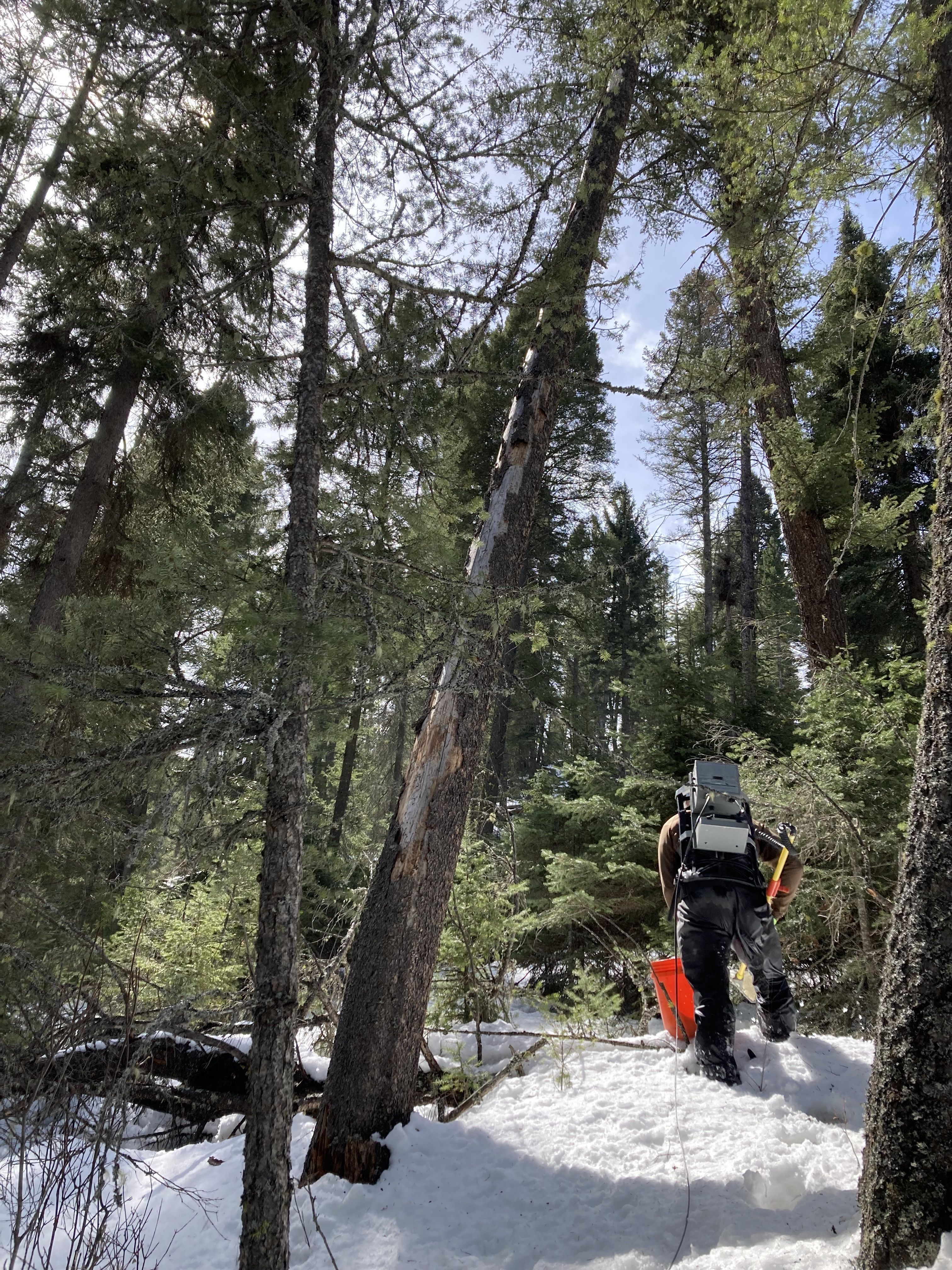 1 fish net, 2 buckets, 6 ziplock bags, 1 plastic bottle wrapped in black tape filled with Tricaine mesylate, 2 pairs of waders, 1 bump board, 1 metal clipboard with 2 pencils and 1 data sheet, 2 pairs of insulated rubber gloves, 1 electrofishing backpack system (which if you haven't seen looks like the proton pack from ghostbusters), 2 batteries (1 to use and 1 in case the other one died), 1 pair of solarized sunnies, a baseball cap, and lunch.

***

Whirling disease is caused by Myxobolus cerebralis who is a microscopic parasitic protozoan that needs a host to survive. Susceptible fish such as native Cutthroat Trout and nonnative Eastern Brook Trout in their early stages of life are great hosts. Once ingested, Myxobolus cerebralis feeds on the flesh of the fish, destroying the very malleable cartilage that makes up the young skeletal structure and causes deformities. Rather than a straight spine, Myxobolus cerebralis feeding habits lead the host fish to have a deformed spine, impairing its ability to move effectively and causing a whirling swirling swimming behavior. This whirling behavior impairs how the fish feeds, makes it more susceptible to predation, and extinction.

Whirling disease has not always been here in Montana. It was first discovered in Europe over 100 years ago and made its way to the US in the mid-1950s most likely from frozen fish products. More recently it was found in Yellowstone in 1998. Broadwater Fish Wildlife and Parks are hoping to find out if whirlings disease is present in the upper reaches of the South Fork of Warm Spring Creek. This creek is home to a very small population of native Cutthroat Trout that are a species of concern here in Montana and could very well vanish from this waterbody if they are not moved to a different home.

As if a parasitic disease that deforms the skeletal structure of Cutthroats wasn't enough, these native trout face another challenge of interbreeding with Rainbow Trout which are also present in this spring. Cutthroat trout and Rainbow trout share the same genus and have overlapping spawning periods, which allows them to spawn with one another. Thus reducing the population size of Cutthroats as they interbreed with Rainbows.

Because there are only about 40 Cutthroat trout left in the South Fork of Warm Spring, we sampled Eastern Brook Trout which are an invasive and abundant species in this creek. If Eastern Brook Trout have whirlings disease, then so does the Cutthroat. But if the Eastern Brook Trout doesn't have whirlings disease, then the Cutthroat probably doesn't either, and we would be able to move this community of native fish to an environment where they are more likely to survive and reproduce within their species.

***

I met up with Colton Pipinich from Broadwater Fish Wildlife and Parks at 8 am. We hopped in the FWP truck and drove out to the south fork of warm spring where we met with three other people from US Forest Service. Once suited up with our gear, we hiked about two miles in, the first part being a very steep uphill along a barbed wire fence that marked the boundary of private and public land. Followed by side-stepping down a ravine, around large natural piles of boulders in order to get to the creek. The hike was mostly wet ground with limited snow cover, but to our surprise, the area around the creek was covered with snow that reached up to my waist.

Our task for the day was to collect a sample of 60 Eastern Brook Trout also known as "brookies". They had to be a minimum of 4 inches long for the lab to effectively determine if they had whirling disease. To capture the fish we used the method of electrofishing. Colton wore the old metal framed pack that held a battery used as our power source. Attached to the pack was a "rat tail", a long stainless steel cable electrode that dragged through the water behind him creating the electrical field. In his right hand, he held a long wand attached at one end to the backpack through a cord, while the other end held a shallow net which once submerged in the creek acted as the direct current (DC) creating an "attraction zone" wherein fish actively swam towards the anode, or net wand. The proper amount of current is applied to the water as not to kill organisms, and not to frighten them away, but rather to stimulate their nervous system and to force them to swim towards the anode, the wand held by Colton. I was then able to scoop them into my net and plop them into our orange bucket.

"What do you think, do you see 30 in there?" asked Colton as we both peered into the bucket of our catches.
"Um I mean yeah probably," I replied. I watched the little fish thrash around the orange bucket in the shallow water having no idea if there were 15 or 47. We found a dry spot under a pine tree and took lunch. I ate my banana as Colton filled out the datasheet. I took out the bump board which is a plastic measuring tool used to measure fish and handed it to Colton.
"Can you pass the plastic bottle with black tape around it?" Colton asked. I rummaged around in my bag.
"What is that?" I asked as I handed it to him.
"It's Tricaine mesylate. It's a sedative used to knock out fish." He replied. He unscrewed the cap,
and he sprinkled some of the white powder into the bucket.

Colton measured the length of each Eastern Brook Trout that lay still in the bucket. He read out the lengths and I wrote down the numbers on our datasheet. After each fish was measured he placed them in a ziplock bag. Twenty fish per bag, four fish bags total. Two fish bags were placed into another ziplock bag that contained snow to keep the fish cold. Once we finished measuring our sample and eating our lunch, we packed up, met up with the USFS folks who were doing the same thing as us downstream, and we started our hike out together.

Three USFS employees, one Fish Wildlife and Parks employee, one BSWC member, and 60 fish. Once we got back to the cars, we handed the precious cargo over to the USFS, who dropped them off in Helena with a scientist from Great Falls, who would then transport the fish to a lab in Bozeman where they would be tested for whirling disease. There are only a few creeks home to the native Cutthroat trout, and even if the tests come back with no sign of whirling disease and the cutthroat are able to be collected and transferred to a safer water body there is still a possibility whirling disease could crop up.

Throughout my time as a BSWC member, I have come to meet humans who are truly a part of their community. And I am not talking about the human community of apartment neighbors you say hi to and the social events you attend. I'm talking about the community of elk that pass through regularly, aspen trees whose eyes always watch out for you, water bodies that flow through you, skies that watch over you, and mountain ranges that live beside you.

We didn't use a map to get to the South Fork of Warm Springs. One of the USFS Techs simply knew from trial and error which hill was better to go up and over than another one. There was no flagging to follow, it was mapped out in her brain, and we followed. We followed her to where we knew a family of around forty Cutthroat trout battling a bout of whirling disease lived. Though we can't cook them a casserole with our condolences, we know they are hurting. We are a part of the same community, and when someone in our community is struggling we do our best to help out those in need.