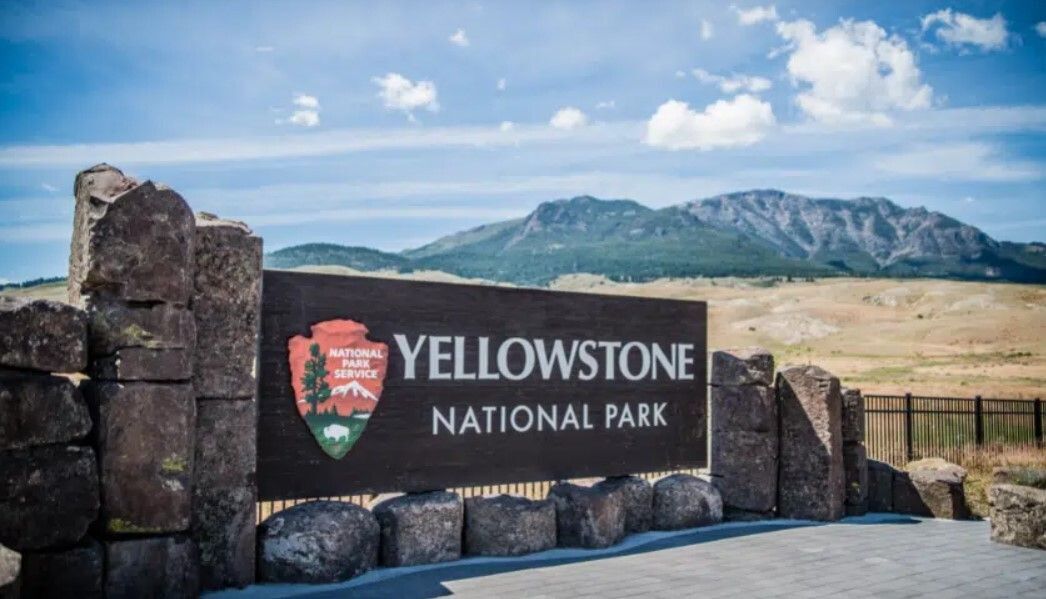 Adventures in Yellowstone National Park: This may be your sign to visit
Republished from OWAA Outdoor Voices Blog / By Lily Simon
I migrated to Montana in the summer of 2021 for an internship with the Montana Conservation Corps (MCC). While sitting on a Zoom call with the rest of the MCC team, I saw a familiar name on the call. That name belonged to a girl named Lindsay. I recognized her name from a club I belonged to while attending Ohio State University. We were both Buckeyes! And we were both in the mountaineers club mutual friends. So naturally, I messaged her in the Zoom chat, "O-H!" When I got the "I-O" response back, I knew I just made a new friend.
While serving in Great Falls, Montana, Lindsay served as a conservation fellow in Yellowstone National Park and sprayed invasive plants with herbicides to keep them from spreading and ruining the native plants of the park. When you move to Montana for the first time, you are expected to visit the most iconic places in the state. I knew I was going to visit Yellowstone at some point that summer, but finding a friend who was actually living there made the need to go a lot stronger.
Driving down highway 89
We figured out which dates made the most sense for me to visit and planned my five-hour road trip. Leading up to the trip, I would visit travel blogs and map out all of the "must see" attractions at Yellowstone. If I was going there for the first time, I wanted to get the full experience. During my free time at work, I studied paper maps and used sharpies to plan my route if my Garmin GPS failed. I drove to Yellowstone from Great Falls, Montana taking in mountains and stopping to see dinosaur bones. When I arrived, I put my paper map to use and made it from the North to West entrances of the park with ease.
This was the first time I met Lindsay in person and we immediately got along. We shared some things about ourselves leading up to the trip, as a lot of internet friends do. We have A LOT of mutual friends, we just never got the chance to meet before we moved across the country! Once we met in person, we both quickly figured out our personalities and humor were the same, which was extremely comforting.
Wildlife encounters
On our first 8-mile hike near one of the prettiest lakes, I have ever visited. My legs felt the elevation changes and countless switchbacks we navigated. I wasn't worried about that. But I was more worried about being gored by a bison coming out of nowhere.
After many national park visits, I'd never encountered wildlife. On this hike, I saw so many wild bison. It fulfilled a childhood dream I never realized I possessed until then. The animals are so pretty to look at, they just seemed so at peace with their lives.
When we finished the hike, I noticed a car pile-up about a half mile away from us. It was a bear jam! This was the moment I had been waiting for since the day I found out I was moving to Montana. Lindsay stopped the car for me to look at the bears with binoculars from inside the car. She knew how excited I was to see bears since they were my favorite animal. And it was two grizzly bears. One was clearly a mother as it was bigger and the other in its youthful beginnings. There were lots of deep scars on the side of the mama bear's belly. There was nothing quite like them.
Back at the ranger station, I felt immense pain in the backs of both of my heels. I took off my hiking boots and two pairs of socks to discover two of the most colossally grotesque blisters on each of my feet. I'll spare the images of these blisters (yes, I took pictures) but let it be known if there were a contest for the worst feet injuries (aside from breaking) that came from a hike, I'd be in the running for a ribbon.
After cleaning up from the day's excursion, we started a campfire. Once the flames started roaring, other station residents showed up. We laughed and roasted marshmallows. There were three biotechnicians, another conservation fellow, and a man named Dan. The conversations that night brought about some of the most significant stitch-in-your-side laughs I ever experienced.
Appreciating what life has to offer
The next day, blisters and all, we journeyed on another hike. This time it was to the Grand Canyon of Yellowstone. I would argue that this was one of the prettiest giant holes in the ground ever. I took a lot of pictures and selfies with this landscape and have subsequently made it the cover photo for all two of my social media accounts. During the hike, I had a revelation that this was where I needed to be. This place made me realize I want to see more of our planet. This experience also showed me that I should do whatever I can to protect it from long-term damage. The orange hues glimmering on the rocks as the sun rose over the canyon made me feel warm and fuzzy inside. When I'm feeling stressed, I remember that feeling and remind myself that there are bigger things in life than what is bothering me. Like seeing all the natural beauty such as this iconic landscape.
After that hike it was time for me to leave Yellowstone National Park. I reluctantly drove to the North entrance of the park. Before officially leaving it, however, I bought a sticker for my water bottle to commemorate the experience that not many 18-year-old girls get to have. Looking back on that trip, I realize that I have so much potential to live as a free spirit. Being a young woman who isn't tied down anywhere, I have the affordance to go explore and learn and see some amazing things. This trip proved to me that I can do that, and since then I have acquired a lot more stories just like this one to share.
If you're contemplating visiting Yellowstone National Park or another outdoor destination on your bucket list. This is your sign! It may change the trajectory of your life as it did mine. It may give you a deeper connection with nature. And it may give you blisters to wear as a badge.