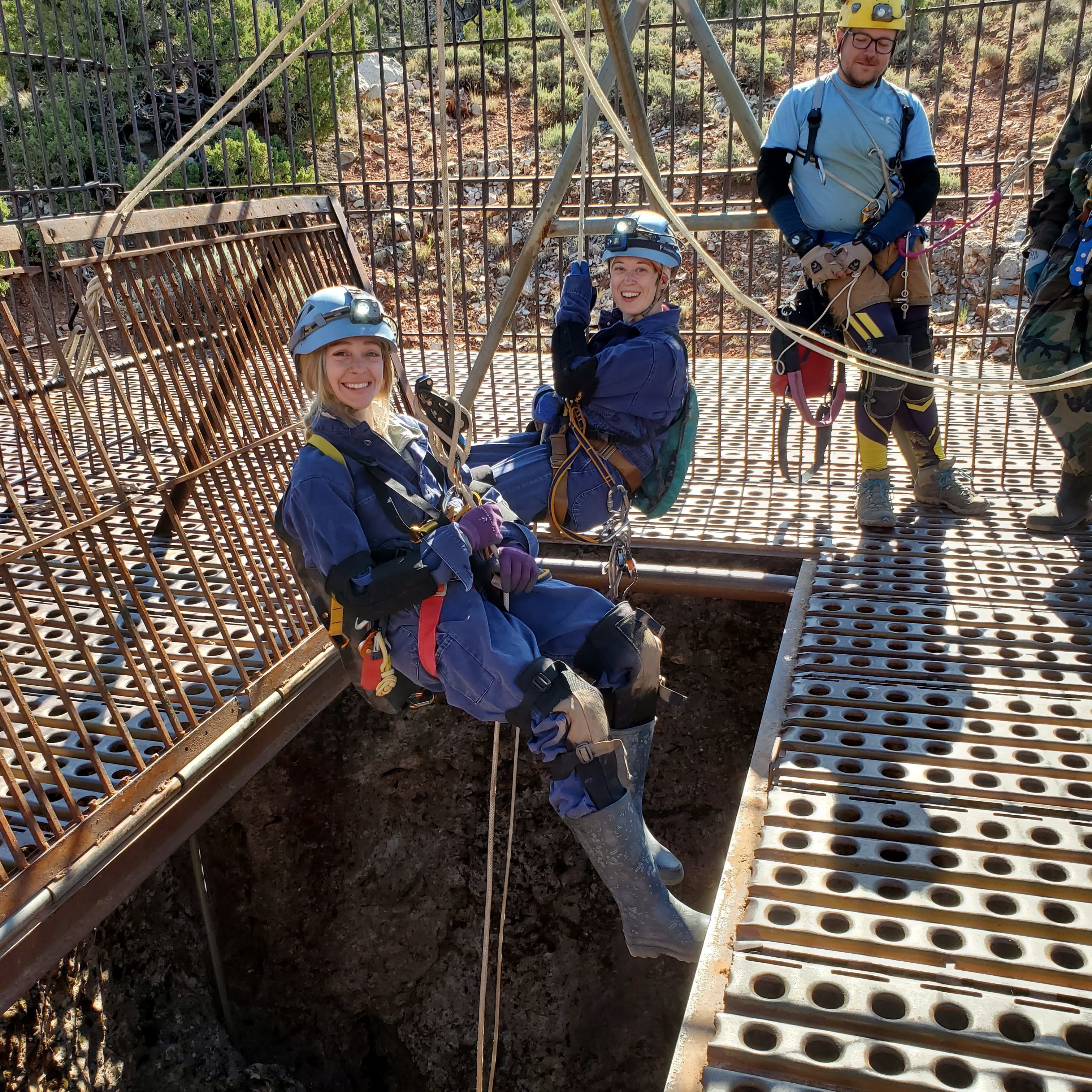 This past Friday, my team joined up with members of the Northern Rocky Mountain Grotto for a vertical training day. These were not just any grotto members though, Dustin Kisner and Carl Froslie are past members of the Pryor Mountain cave crew and MCC Conservation Intern Alumni, and Savannah Sawyer also happened to volunteer with the crew as well. Stephanie Gfroerer also joined us from the Billings area for this training and it was great to work with another MCC Conservation Intern! We spent a full day focused on safe vertical skills and a few techniques for rigging that may come in handy as we work in such rugged areas during the summer.
On Saturday, we arrived at Bighorn Cave with our full crew, including our fearless leaders Dan Seifert and Melissa Gunderson.  We geared up for a fun day underground and a fellow Northern Rocky Mountain Grotto member Tim had graciously rigged all of the ropes entering the cave. so we simply showed up and focused on putting our vertical rope skills to work rappelling the 80-foot entrance pit.
Once we had all safely reached the bottom, employing risk management skills that would make Bryan Wilson proud, we set off on a wonderful cave tour by Carl in the front giving fun facts about the cave and Savannah in the back of the group ready to correct us when we took the wrong passages. On this tour the new cave crew and old had a great time sharing about our backgrounds, asking Dan and Melissa to geologize the various formations, and chatting about our past cave experiences. Caving is already an action-packed activity and when you get to do it with geologists it can really take the trip to the next level.
I truly enjoyed the experience working with everyone together on this team building trip and greatly appreciate the Northern Rocky Mountain Grotto members for volunteering 48 hours to train us and sharing about their own service terms! I understand this would probably be the only time we will all be together in one place (underground) and really appreciated every moment of the trip.