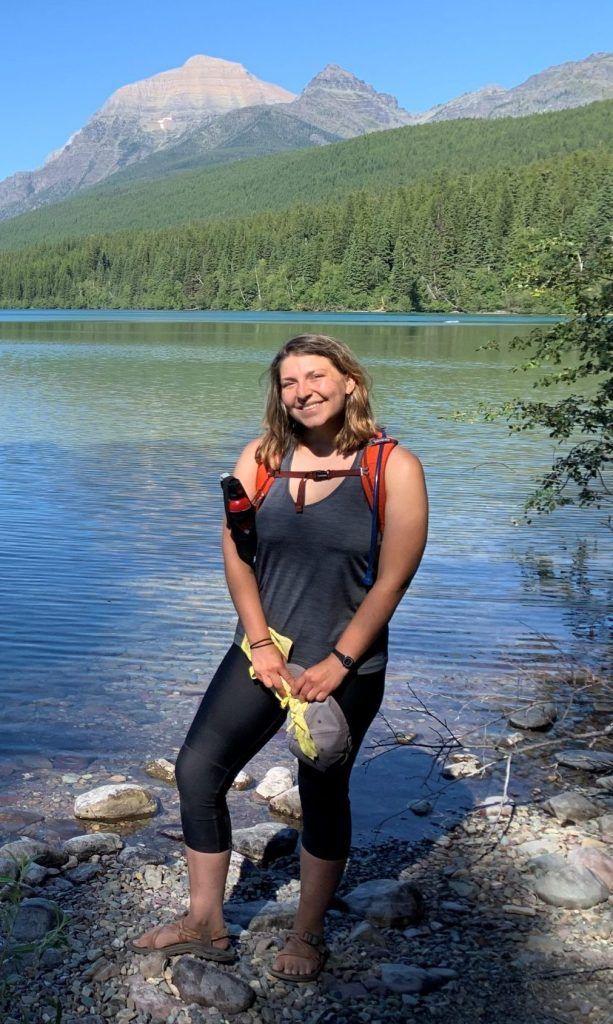 I never thought I would be standing in a swift river learning how to do cross sectional surveys while socially distancing from my coworkers, but there I was! Throughout the summer, I assisted the Lolo National Forest in their annual instream flow field work, which entailed visiting each surveyed stream three times: during high flow, mid flow, and low flow. I learned how to use a flow meter, how to identify an appropriate cross section in a stream, and how to use surveying equipment, all while social distancing and being extra careful with equipment handling due to the Covid-19 pandemic. I surveyed various sizes of streams across the Forest and got to use the techniques I learned to begin work on a flow monitoring project for Montana Trout Unlimited. All the streams I surveyed are significant for native salmonid spawning and therefore require water reservations to preserve the threatened species that call those streams home.
I took a chance and moved across the country from Charles Town, West Virginia to Missoula to serve as a BSWC member after learning about the diversity of the program and seeing the connections that previous members were able to make. I was so excited to use the aquatics skillset my Environmental Science degree provided me to work in Montana's diverse watersheds and learn more about cold freshwater ecosystems. Working in these beautiful rivers to learn about threatened aquatic species has been truly spectacular, especially because I have been able to experience first-hand how my work has improved the very special place I now call home.
One of the most amazing parts of my term of service has been learning about Montana's water rights program while conserving threatened salmonid species. Even though my host sites have slightly different protocols and methods, their work to protect species like Bull Trout, Westslope Cutthroat Trout, Yellowstone Cutthroat Trout, and many more has been influential throughout Montana's watersheds. I have learned about these species and what threatens their populations from some incredibly passionate people, and I get to help make a difference in preserving and restoring habitat not only for fish, but also for the vast network of species that depend on these cold freshwater systems.
The amount of new skills I have acquired, new lessons I have learned, and new places I have visited for work and for fun have made this year one of the most unforgettable and valuable of my life. Even though my term of service changed quite a bit since my term began, I am so thankful for all the experiences and memories I have made during my time with Big Sky Watershed Corps.
Reyna Abreu-Vigil's service with Montana Trout Unlimited and the Lolo National Forest is sponsored in part by the MWCC Watershed Fund and the Montana Department of Environmental Quality.
Big Sky Watershed Corps is an AmeriCorps program that places young professionals in Montana's watershed communities to make a measurable difference in local conservation initiatives. Members carry out watershed research, project planning and implementation, education and outreach, and
community engagement.