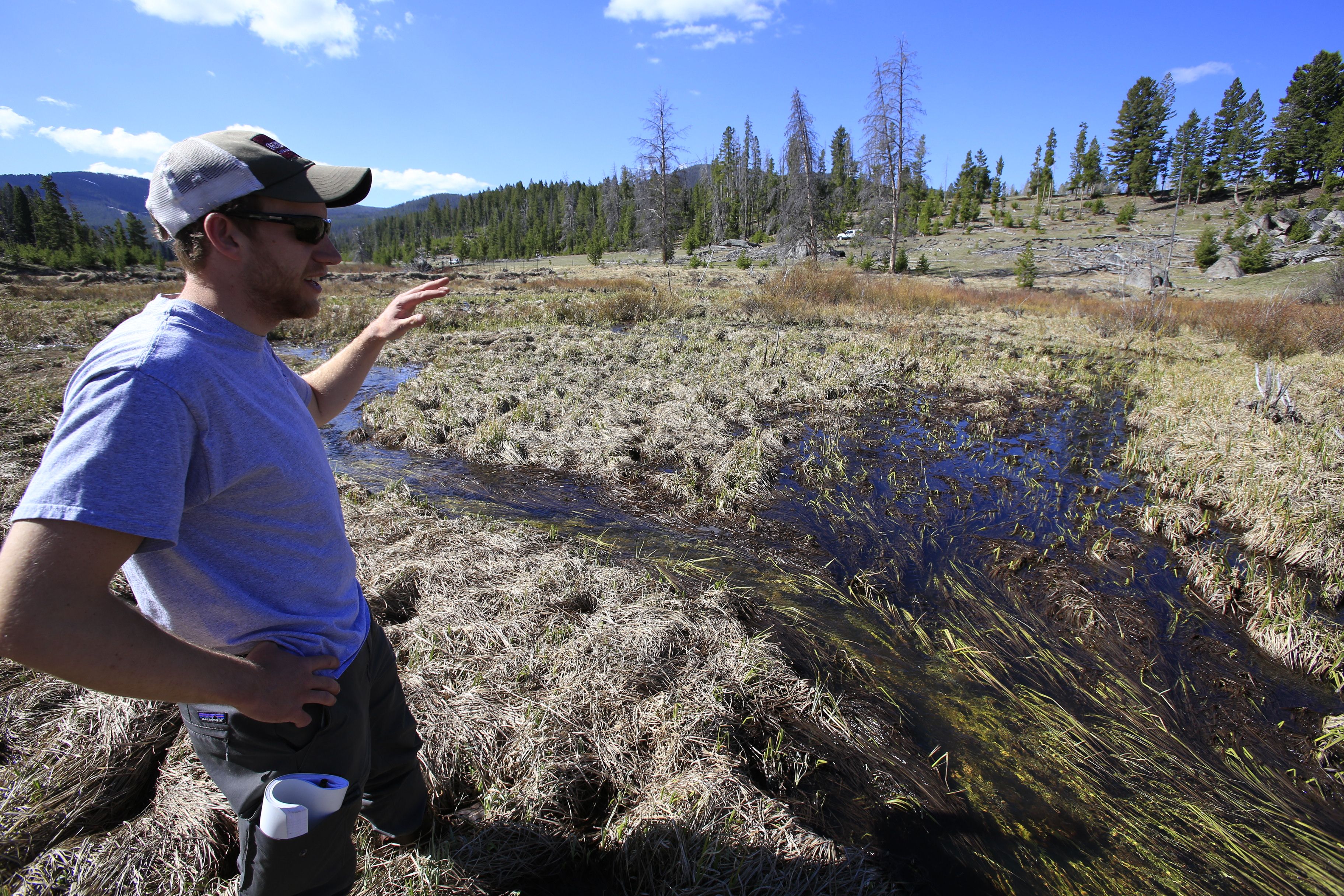 For those with a drive to protect the planet and its invaluable resources, an environmental career is the yellow brick road.
Evan Norman, had that drive. 
As a life-long outdoorsman raised in Alaska, Evan dreamed of a career where he could better understand and protect natural resources. He saw firsthand from friends and family how a term of service with  AmeriCorps could help turn his dream into a reality.   
Evan understood that in order to establish himself in a professional environmental career, he needed a foundation of knowledge and experience. 
BUILDING AN ENVIRONMENTAL CAREER THROUGH THE  SERVICE
Hundreds of Corps programs provide hands-on education, teach technical skills, and provide mentorships. These, in turn, promote personal growth, increase knowledge of the natural environment, and improve communication and leadership skills.
Not to mention, Corps programs provide awesome conservation services to local communities! Win,win. 
The Montana Conservation Corps (MCC) is just one exemplary organization that, for years, has instilled an ethic of volunteer service and civic responsibility through AmeriCorps programs. The Big Sky Watershed Corps (BSWC) is one such program.
BSWC places its members with conservation districts, watershed groups, conservation-based NGOs,  tribal organization/nations, natural resource education NGOs, as well as Federal/State/Local Agencies. Service term's involve work on projects in watershed health and protection, watershed education and outreach, planning and project implementation, community engagement and volunteer generation. 
Evan became a BSWC Member in 2016. He was drawn to the program as it provided placement with organizations that aligned with his career goals. And the endless opportunity of outdoor adventure, in a wilderness-rich state like Montana, didn't hurt either. 
For Evan's service term, he was placed with the Clark Fork Watershed Education Program (CFWEP) in Butte, Montana. The local non-profit's mission is to foster environmental stewardship and scientific decision-making through place-based learning and direct experiences. 
What Evan didn't know at the start of his AmeriCorps experience, was all the additional ways it could help his environmental career journey.
Conservation Corps programs provide opportunities to explore multiple avenues of the field, bolster resumes with concrete experiences, and build contact networks.
The opportunity to explore different professions under the environmental umbrella is a great way to discover which type of work interests you the most. Possible avenues include, but are not limited to, wildlife biology, forestry, and hydrology, as well as environmental law, green energy, engineering, urban planning, policy work and teaching. 
During his term of service, Evan worked with thousands of middle and high school students teaching them about water quality, remediation practices and sampling techniques. He also participated in several field studies that investigated low-tech restoration practices, like beaver mimicry. 
That's right, people building structures just like beavers to help restore wetland ecosystems, so cool.
Evan found himself drawn to the science of water systems, and his teaching experiences pushed him outside his comfort zone, helping him hone his public speaking skills. He became heavily involved with his host organization during his term of service and made the decision to sign on for an additional year with the BSWC. 
"My service term with the Clark Fork Watershed Education Program (CFWEP) offered tons of learning opportunities, both in the field, honing technical skills and, in the outdoor classroom, teaching kids about restoration through place-based education practices." - Evan Norman, Big Sky Watershed Corps Alum
AFTER THE CORPS: GRADUATE SCHOOL AND A CAREER
Corps members often see the results of their work during their service and recognize the potential they have to lead change. For some, there is the desire to seek further educational pursuits, like grad school. Experience gained during a term with a conservation Corps makes you a stronger candidate when it comes to applying to graduate programs.
For Evan, his community involvement during his service connected him with a professor at Montana Tech. The professor's interest in his research with the CFWEP helped him land a spot in their hydrology master's program.
Whatever your area of interest, there is a graduate program that can support your journey. Over 1300 environmental graduate programs exist in the United States alone and they can be a great pathway to an environmental career.
"The fieldwork research I began as a Corps member collecting stream restoration data, sparked a conversation with a professor I met at Montana Tech. I was able to pursue my master's degree in hydrogeology through the Geological Engineering Department, around that existing project."  - Evan Norman, Master's Geological and Earth Sciences/Geosciences, Montana Tech 2018-2020.
AmeriCorps programs and grad school are great ways to open the door to new ideas, and experiences. Today's job market is incredibly competitive. It's important to build a solid educational and experiential foundation that will provide you with concrete experiences to draw on when interviewing, look great on resumes, and can make you a more competitive candidate for jobs. 
Not to mention the power of the network! Building connections during any experience you take on will immensely aid your job search down the road. 
Evan's graduate research allowed him the opportunity to present at multiple Montana American Water Resource Association conferences. Those presentations attracted attention from professionals across the state including hydrologists working for the Montana Department of Natural Resources and Conservation. And it was that connection that notified him when a job position opened in their department and provided a familiar face on interview day. 
"During my interview, it was great to be able to speak to my wide array of experiences and connections made in Americorps and graduate research. These helped me to stand out as a candidate." – Evan Norman, Groundwater Hydrologist for Montana Department of Natural Resources and Conservation.  
No matter the pathway you take towards an environmental career, a term of service can be a wonderful resource. Conservation Corps programs empower young people to become exemplary stewards of the environment and build confidence and skills to lead the next generation of environmentalists.
Explore the possibilities in service as you never know where they might lead.