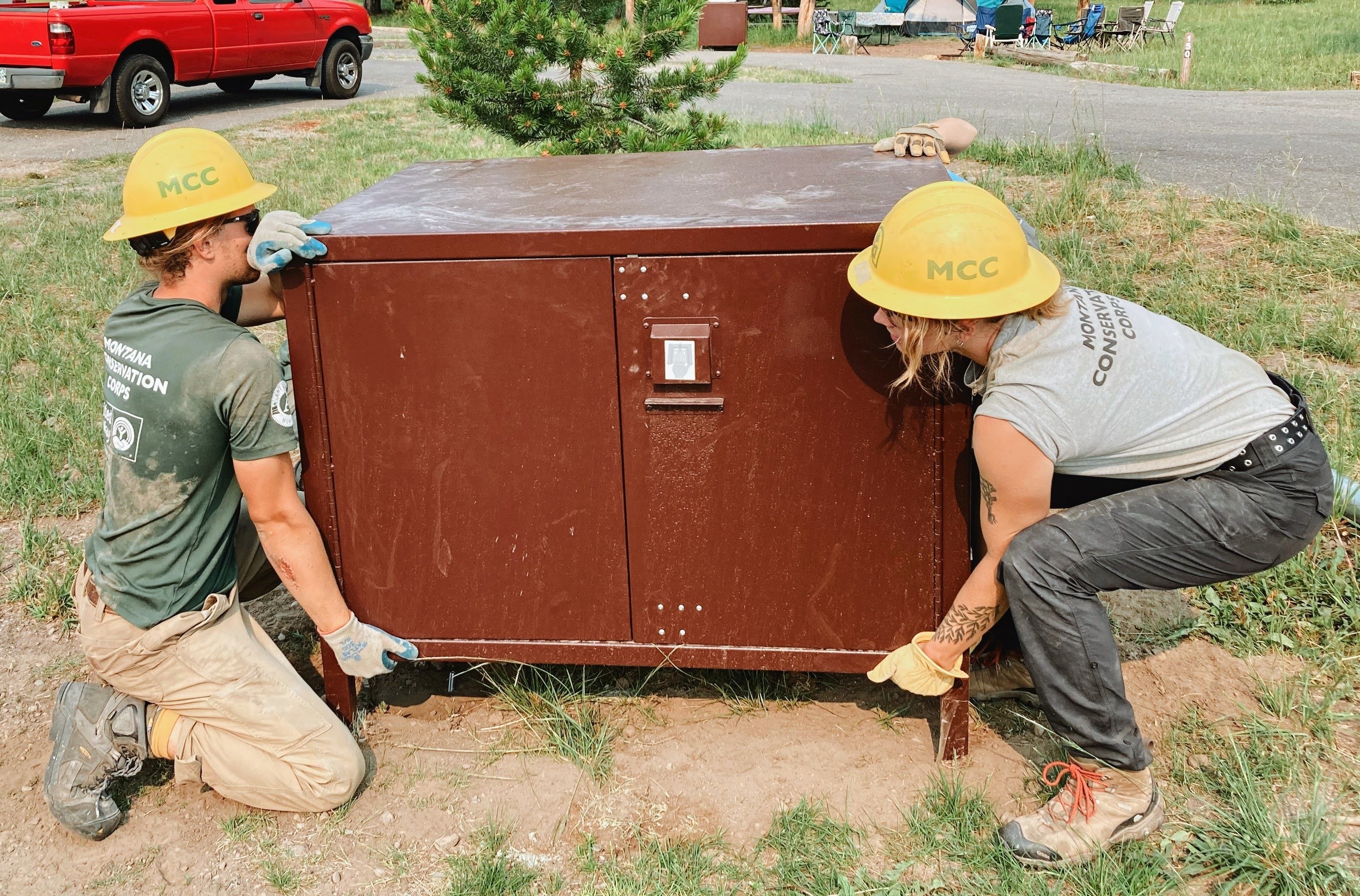 Since 1975 when the grizzly bear was nearly driven to extinction, Yellowstone National Park and surrounding lands have been the epicenter for its recovery. Infrastructure like bear boxes are vital to this recovery because they reduce adverse human-bear encounters. This summer, MCC has partnered up with Yellowstone National Park to help install larger, more robust bear boxes in Bridge Bay Campground. With bison in their front yard and Yellowstone Lake as a backdrop, one of our crews installed 44 bear boxes, all while finding a deeper connection with the land along the way.
Mike Coonan, Yellowstone Ranger at the Youth Programs Office observed, "Since the 80s when the old boxes were first installed our habits of how we camp, eat, and store food have changed. We have to keep up with these changes to minimize human-bear contact." The boxes are also an important tool for visitor education. MCC crew member William who installed bear boxes said, "It might be their first-time camping, so they don't have much experience or knowledge. Using a bear box will teach them safe storage now, so when they're in the backcountry next time they will be more bear aware." Currently, the park is about 50% done with installation into every individual campsite. They anticipate 5-7 more seasons to complete the project.
Working in a national park as historically significant as Yellowstone made a substantial impact on this MCC crew. "It's amazing to work in a park that people love and go to. You gain appreciation for the work required to keep it running," said crew member Jessica. Crew leader Drake was inspired by the diverse wildlife, "it lit a fire under me to want to make a difference. I don't want people to have to go to a park and pull over on the side of the road to see these animals. There is work to be done to sustain a healthy Greater Yellowstone ecosystem." Crew member Steve summed up this hitch and his dedication to conservation, saying, "It made me wish that I lived back in the day, where I could walk this land and experience it like it used to be. It made me want to conserve this for others in the future."
To read a first-hand account of this crew's experience on this hitch, check out their blog "This Hitch Will Be Cemented In Our Heads Forever..."