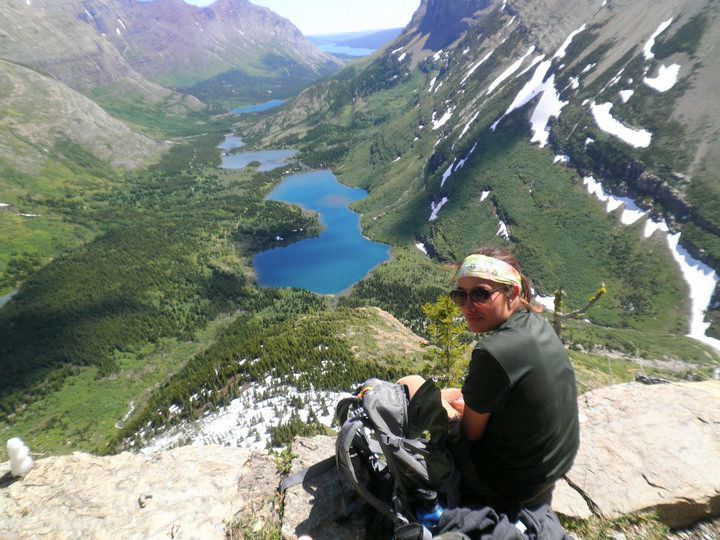 "Take everything. Take the good and the bad. There will be times where you have a moment of sunshine, or see an animal, or are reflecting back on your work. It's all those little things that really make the experience." – Alumni Molly Katolas, giving advice to future MCC members.
A Billings native, Molly served with MCC back in 2010 with the Northern Rockies region. She worked on several projects in Glacier National Park including an ADA loop trail, Swiftcurrent Pass, and Iceberg Pass. She also helped paint the Stahl Peak fire lookout near Eureka. Now, Molly works at Bandwidth Inc. as a Senior Business Analyst where she bridges the gap between the IT and customer support teams. She is also a certified yoga instructor and enjoys volunteering in her community. Read on for more about her time with MCC and to see how her experiences shaped her life and career path.
 
MCC: Were there any particularly memorable or challenging experiences while you served with MCC?
MK: One of the hardest hitches was our first one. Not only were you trying to figure out how to exist and work outdoors for an extended period of time with people you just met, but then on top of that it snowed. My vestibule collapsed and everything got soaked. Someone left early and she had my toothbrush in her bag. To this day I will never forget not having a toothbrush and just being freezing cold and thinking, "I can't even have clean teeth!"
MCC: What was the most personally meaningful part of the experience?
MK: With MCC I got to experience Montana in a more intimate way. I developed a greater respect for everything that's out there. Spending 10 days at a time working diligently on a trail that you know people are going to use for years to come is so much more gratifying than just day hiking it. There is something to be said about knowing the land in that way where you grew up or your family lived. There is some kind of deep meaningful connection to it.
MCC: Did you meet anyone that was personally impactful during your time with MCC?
MK: One of my team leaders, Dan, he changed my life. At that point I didn't know what I was doing with my life and there was a lot going on. He was really supportive and guiding, without telling me what to do. I remember one thing he told our group was to take pride in your work. Regardless of what you're doing, if you don't feel comfortable putting your name on the work you're doing, you need to change something. To this day that is my guiding principle.
MCC: What types of transferrable skills from MCC did you take into your current position?
MK: I work and communicate with many different teams, who may or may not communicate or understand in the same way I do. It involves a lot of listening and designing solutions that will help them in their work, and being a team player. That's something I definitely got from MCC. You have to take yourself out of any personal feelings about what is happening and be willing to compromise.
MCC: What did you take away from your time at MCC that encouraged you become a more engaged citizen?
MK: Since I've been in MCC, volunteering is a way of life. I strongly believe in the power of community. Taking ownership and having a stake in your community. I think that came from MCC. When you're working on those trails you take ownership for it. We would have people come up to us at gas stations, "Hey it's MCC! Thank you so much for your work!" There's a sense of community there. The idea of improving where you are now.
Thanks for a trip down memory lane, Molly!