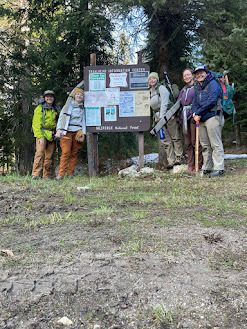 Our first hitch was one with details we will never forget; not only because it was our first but because it had the most memorable moments. We met our amazing project partner, Peter Bauer, and his crew which consists of one person, Luke. We got to drive around Idaho a lot more than we thought we would. Our drives this season will always be down Highway 12 or Lolo pass, and it's a drive most of us dislike by now because of how curvy it is, but the views are incredible. We made our first stop in Kooskia, a recognized Indian reservation, which would end up being our favorite halfway point on our drive and hold all of our favorite snacks to get before we leave civilization for 9 days and right after those 9 days.

A couple of nights we camped outside an old guard station for the town of Dixie that was very close to the trailhead we would be working out of. Project Partner Peter suggested we camp there because it was warmer than the trailhead. And he was right; we stayed at the Guard Station two nights, then the trailhead one night before going backcountry. It was much colder there like he had said.

Our first real day of work was full of cutting trees and moving rocks. We got to move some huge rocks as a whole crew because we needed all five of us, plus Peter to move them. We cut down a good amount of trees with just hand tools since we were in wilderness territory. Peter complimented us and said we worked really well together for it being our first hitch. By day 3, Maddi's old boots that she had started with had completely fallen apart. From that and other unforeseen circumstances, we all got to go to Grangeville, Idaho to get Maddi's new boots and recuperate. We got to shop a little and have an amazing breakfast that we all needed. Maddi found a great replacement pair of boots. Then it was back into the field. We finished that hitch bravely together with support from one another.

One project that we were supposed to fulfill, we could not accomplish due to an impassable creek and waterfall that had formed from runoff from the snow caps melting. So we went down a different trail and cut some more trees. Overall the weather was fairly cold at night and cooler during the day. We stayed alongside Crooked Creek the whole hitch, which was so beautiful but also very loud for how it rushed by us. It was a great first hitch full of memories and team building.