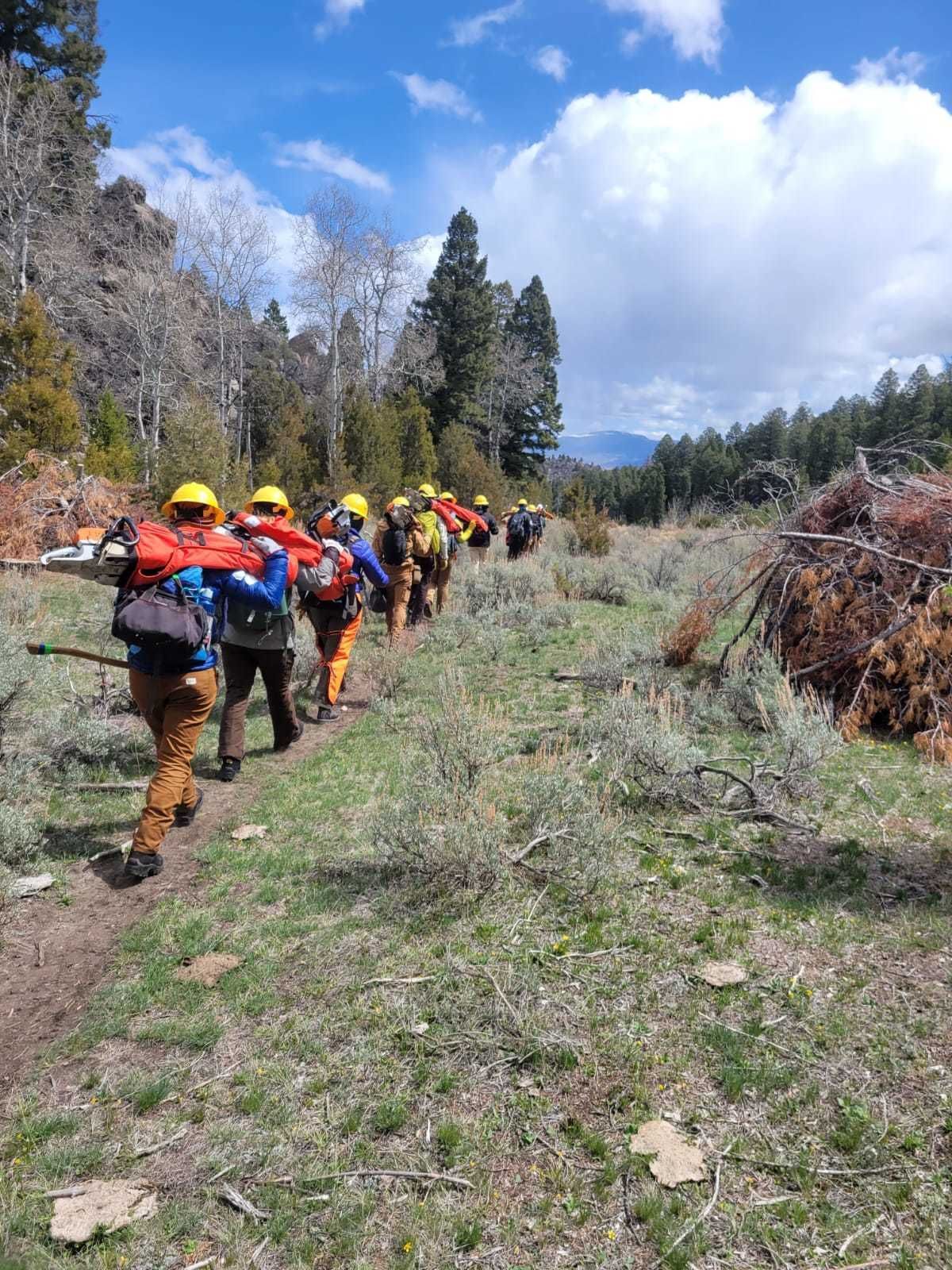 After a week of inside learning, we finally got to get out there on our first hitch! Our fearless crew embarked on a journey into the unforgiving "arctic tundra" in the noble pursuit of furthering our chainsaw education and developing our skills as a team. On day 1, we got our first hands-on experience with some chainsaws, learning the basics of face cuts, safe tree felling, and daily chainsaw maintenance. The only sacrifice was my puffy jacket, which tragically was split open, spewing fluffy down feathers everywhere, due to improper chainsaw carrying. Luckily, a quick duct tape patch saved the day, and no amateur sawyers were harmed.

That first night, our preparedness and toughness were challenged by the chilly weather. Wrapped up in every item of clothing we had, and in some cases multiple sleeping bags, we made it through the night, well-rested enough to be ready for a full day of sawing. We worked on correct body ergonomics, practiced safely evaluating trees to cut, and got to see a demo of felling a big tree. We warmed up the chilly evenings with campfires, making the most of it while they are still allowed. The second night, we filled water bottles with hot water and stuck them in our sleeping bags, a nifty trick that warmed us up and made the next two nights a bit more comfy.

On our last night, we woke up to tents coated in snow and a dead truck battery, so we packed up, jumped the truck, and high-tailed it out of there, but not without fond memories of our first hitch of the summer. We are definitely all still figuring out the camp ground routine, and how to live together and saw together. Still, it's kinda hard to believe that I met all these folks for the first time only two weeks ago. I am super proud of us for trying something totally new to most members of our crew, and I'm psyched for the rest of the summer as we continue to learn and grow together as a team.