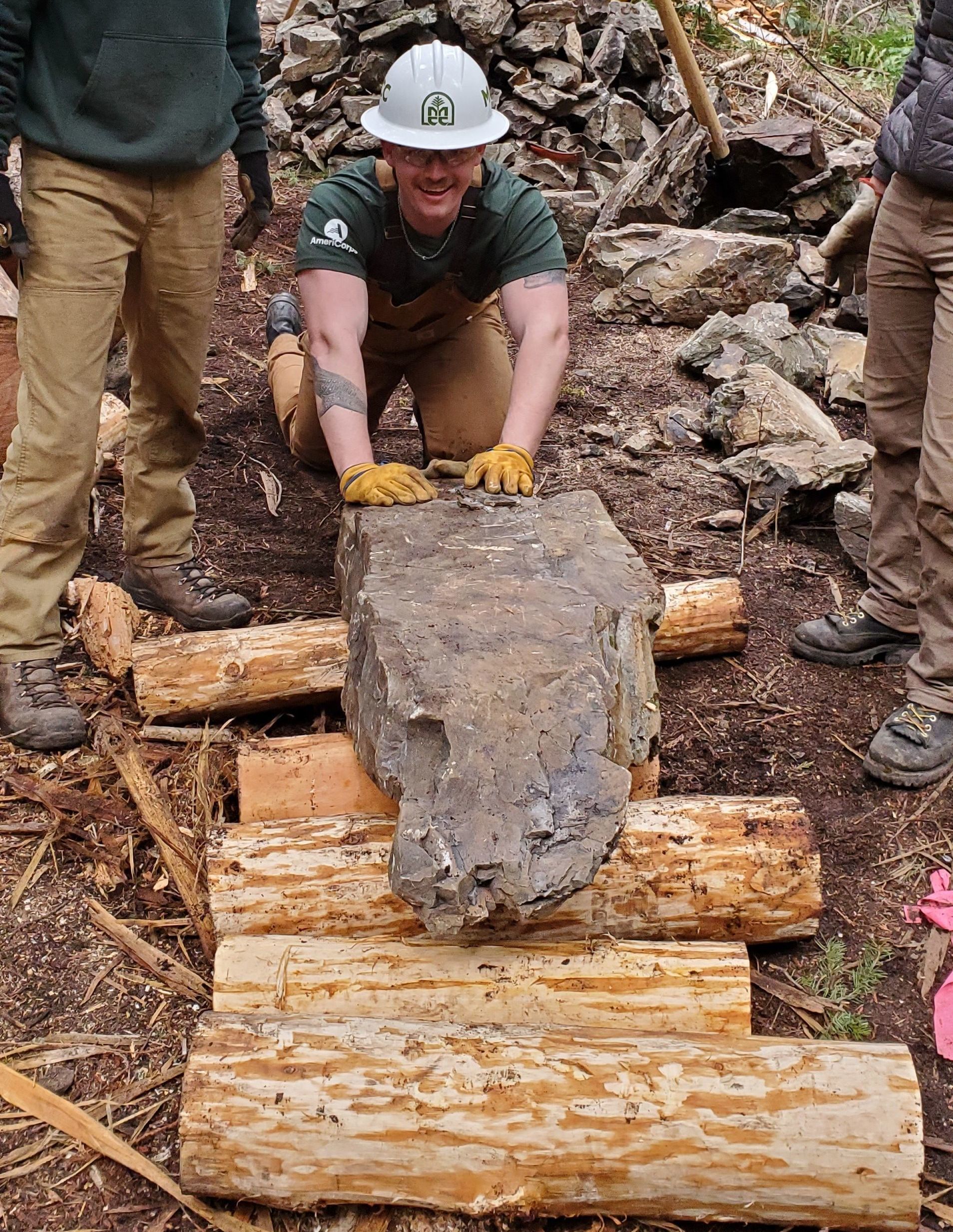 Being an FC, going into the field can feel in some ways like a return to normal while also feeling like an entirely new experience. Sure, there are the obvious things: we'll be working on the trail for 9 days, stay professional, and stay hydrated. Then there are the things that come naturally to some and not to others: setting up your tent, grabbing the dishes to do them before you're even asked, knowing when and where to dig a drain on the trail, the ergonomics behind using a sledgehammer. Sometimes, these things aren't so easy, and it can be difficult to remember what other people don't know and where you have to focus your energy.

We spent these past 9 days in Plains, Montana with an old-school MCC'er named Mikey, and let me tell you, it definitely felt like my first 9-day hitch in a long while. We had our crews prepare for a backcountry hitch (even though we were frontcountry) just to get the kinks out. That means getting frustrated with Whisperlite stoves, trying our best to filter water even though potable water is close by, and figuring out if we can even put up a bear hang given the trees that we have. And that's not including the actual trail work we had to do!

Day 1 started off on an early foot. Leaving the office by 7 to meet the partner around noon and getting out of the car excited to use our muscles and start some actual work. Little did we know that at the exact moment we got to the site we'd immediately have to walk an additional 2.5 miles up the trail in order to help carry out an individual with a broken ankle. The crews did phenomenally and treated the situation with professionalism and care. From an FC standpoint, it was a very rewarding experience. Multiple paramedics gave our crew leaders props for how well they did, and we got the individual to safety even though it took longer than we expected. Getting to see the leaders truly embody what we do in an emergency is one of those things that makes it all worth it.

After a whirlwind of a day 1, we finally got back to camp and wound up in a typical trail routine. Dinner, dishes, stretching, and prepping our tired bodies for the next day when we finally get to swing some tools in the ground. Seeing the leaders start to teach each other trails and get their leader legs under their feet was especially fun. We got the chance to learn about tread, drains, hinge, backslope, as well as all of the other thousand things that go into building a trail.

During a normal year's training, we would typically try to find some melted-out trails, do some basic tread, and maybe talk about some technical things. But this was no normal year. With some tread under our belt, we got to help Mikey with some cribbing down by a stream. Mikey had a vision of raising the tread about 40 inches overall, a large task even for an experienced crew. The crews got to learn about logs: debarking them, moving them, and placing them in ways to make them super sturdy. All told, we moved literally tons of rock over the course of the project, both by hand and with a grip hoist. We got to break some rocks apart, learn a ton about communication, and use muscles that I'm pretty sure my body forgot existed.

While we were out there, backcountry horsemen came in to drop sand near the project that will later be moved into the cribbing. This was a special treat for trails training since our crews work a lot with stock but oftentimes we don't get the chance to learn the ropes until later in the season. However, we were able to peel people off a few at a time to hike out and help with the mules over the course of four days or so. We all learned to tie the knots, walk with the stock, and about making sure the weight is evenly distributed.

Every day, we got a little stronger and a little more used to the work. Tread days became days to learn some new trail games (DND, Contact, Green Glass Door, etc.), and each day we got a little goofier and more comfortable with each other. When you're an FC, you get to see people before they leave, maybe the first few days of hitch, and when they come back. Getting to get to know everyone over the course of 9 days is a special treat, both for the leaders and for myself. It reminds me of how much fun it can be in the field and that it doesn't have to be so stressful all the time! By day 6, we were all pretty wrecked, and there was a lot of "we still have two more days of work" talk. But Dusty looked at me and another FC and said "Nah, we GET to spend 2 more days out here" and that really stuck with the two of us.

It's easy to get lost in the work. It's hard to remember why you do this and the people around you. Some days, it hurts to get out of your tent, and being present is the last thing you want to do. But getting to watch your members come into their own as leaders, trail workers, campers, and professionals is really the best part about this job. When after a few days in I can just put my head down and work and not have to worry about the little things because the leaders for sure have my back...that's always the best place to be.