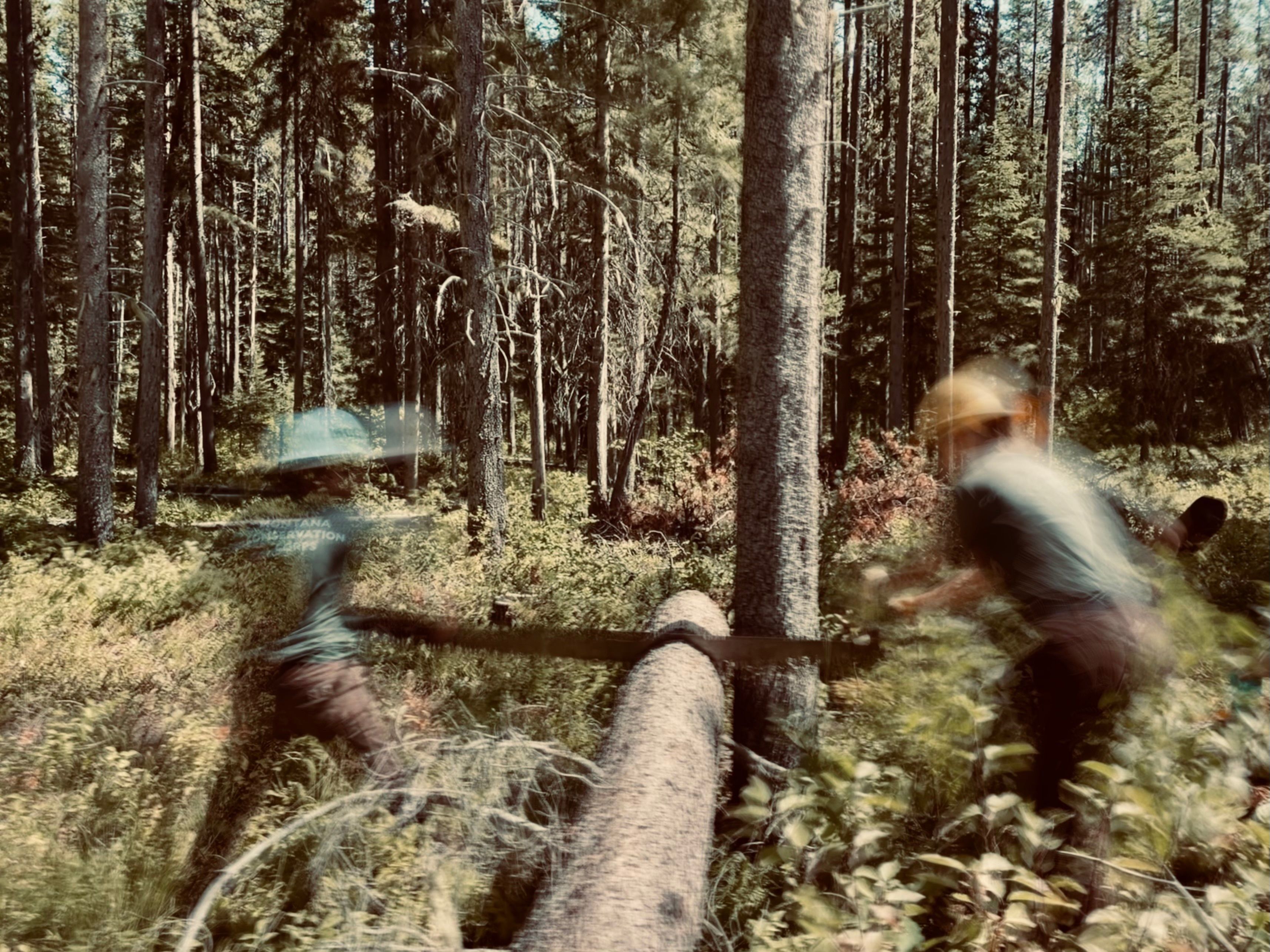 September has been a month of changes for our crew. For three months we cleared trail with chainsaws and occasionally dug tread when there was no sawing to do. The hikes were steep, the saws heavy, and the worksites remote and empty.

Our first hitch in september was a complete 180. Instead of clearing trail, we re-sided and repainted a forest service cabin in the Great Bear Wilderness. We were backcountry for the first time, as opposed to frontcountry. We did not hike, saw, or dig. The best difference, though, was that we had company! It was a whole party — there was Greg the handyman; Malek, another FS employee; Merlin, Greg's friend and packer; Merlin's horses; and Kelly, Merlin's dog, who quickly befriended everyone on our crew. Greg and Merlin didn't stay long, but on the night before they left we all had a family dinner courtesy of Greg, who insisted on feeding us the spaghetti and meat sauce he had had packed in.

We were all sad to see Greg and Merlin go, but happy to have Malek with us for another few days. And Addie, our aspiring packer, got some 1-on-1 training from Merlin when he and Greg packed up to leave.

The following hitch also brought many changes. While the cabin hitch was in many ways easier than our usual work, the next hitch presented unfamiliar challenges. We were once again in the backcountry in the Great Bear Wilderness, meaning we hiked all of our food, tools, and group gear in on our backs. This time we would not be staying at the cabin every night, but rather starting at the cabin and then moving camp as we cleared Long Creek Trail. We stayed at a total of 3 sites, and used bear hangs at 2 of them. It was exciting to be backpacking in the backcountry for work, and we all welcomed the challenges that came with this hitch.

The work involved clearing fallen trees of the trail using crosscut saws, axes, and hand saws. Each day our crosscutting and axing skills improved, and each day we worked a little faster. By the end of the hitch we had cleared over 300 trees.

After two hitches in the backcountry, we are looking forward to our last hitch together as a crew. Starting in september and ending in October, our next hitch will be frontcountry — which means potato chips and a food-filled birthday celebration for Addie!