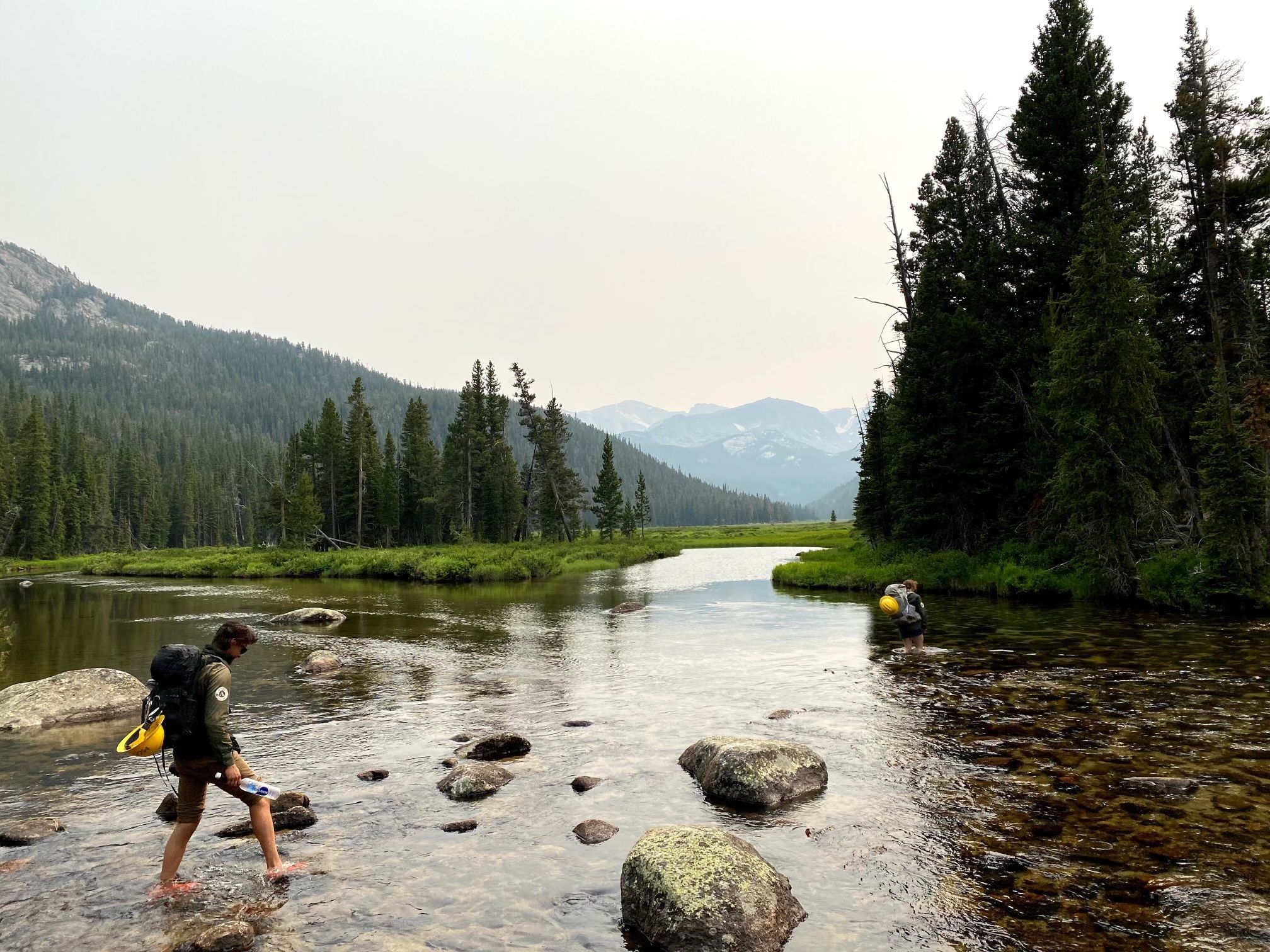 Glancing through our newly-received schedule in mid-May before our first hitch began, it sank in that backcountry hitches were imminent come early July. Frontcountry living was nothing new to our crew, but some of us had substantially more backcountry experience than the rest of us, with me on the far lesser end of experienced. I hadn't been backcountry anywhere before, let alone for 9 days carrying heavy tools and not much more than a backpack. It was hard to fathom our rig Nellie quietly sitting in a trailhead parking lot day after day, silently awaiting our return from deep in the forest. After our few frontcountry hitches to start the season, I led myself into thinking that backcountry wasn't going to be much different. I was so wrong.

Our fourth and fifth hitches were our first backcountry projects. They were both based 6 miles into the Popo Agie (pronounced puh-POE-jjuh) Wilderness of Shoshone National Forest on the North Fork trail.

Being backcountry for the first time ever had me in something resembling a daze. Thoughts like 'Where is the nearest society' and 'How many days are left until I don't have to touch trail mix again' flooded my mind earlier than I expected. I felt stranded quickly. The mosquitoes were relentless; we couldn't sit for two minutes before finding ourselves surrounded. The only things that kept me sane were our trusty Walmart frisbee (cracked as of Hitch 7- rest in peace) and the gorgeous high alpine meadow and river (pictured) steps away from our camp that mentally grounded us as we crossed them at the beginning and end of each workday.

A highlight of being in the same location on back-to-back hitches was being able to see our past-completed work the second week. After most hitches, it was rare that we ever saw our finished product; once we finished our work, we headed straight home. But Hitch 5 was the first time we actually saw how our work benefited the trail and those who used it. We hiked through our newly-restored portion of the North Fork from Hitch 4 to get to our next worksite further down, reminding us every morning that our work made a big difference.

For me, the best part of the backcountry is how mentally connected and present I feel, fully immersed into being out there with my crew, instead of still feeling somewhat connected to society through the ability to make phone calls, check emails, or drive into town to ease the feelings of strandedness. There's some sort of peace that naturally overcomes me when I'm removed from the rush of society. Even though everything is slightly more tedious and inconvenient in the backcountry, it forces me to practice patience, find balance, and build mental grit. Every task is crucial and essential to keep the crew alive and stable; everyone must work for absolutely everything, even after the workday is over. Having grown up in a world of instant gratification, being out in the backcountry with a lack of luxury or access to the outside world has taught me to slow down and accept what is, even if that means slipping into the river while fetching water to be filtered for the next day, or a mysterious animal stealing my beloved crocs in the middle of the night on day one.

Every following week in the backcountry after our first only felt more and more natural. By the end of our sixth hitch (seven miles deep in the Jedediah Smith Wilderness of Caribou-Targhee NF), I enjoyed every bit of it. On our hike out on our last day, I was in one of my most tranquil headspaces all season.

Our 10th and last hitch will be in the backcountry of Yellowstone NP, and I'm pumped to endure the backcountry experience one last time to wrap up the season.

The morning of our drive out on that first backcountry trip, Caleb (Greater Yellowstone's Program Manager) circled us up in front of the office and left us with a short pep talk. "Guys, this is where MCC truly shines. These are the kinds of trips that you've been preparing for for almost two months. It'll be different for sure, but you may even find yourself missing the backcountry a lot after switching back to frontcountry. Trust me."
He was right.