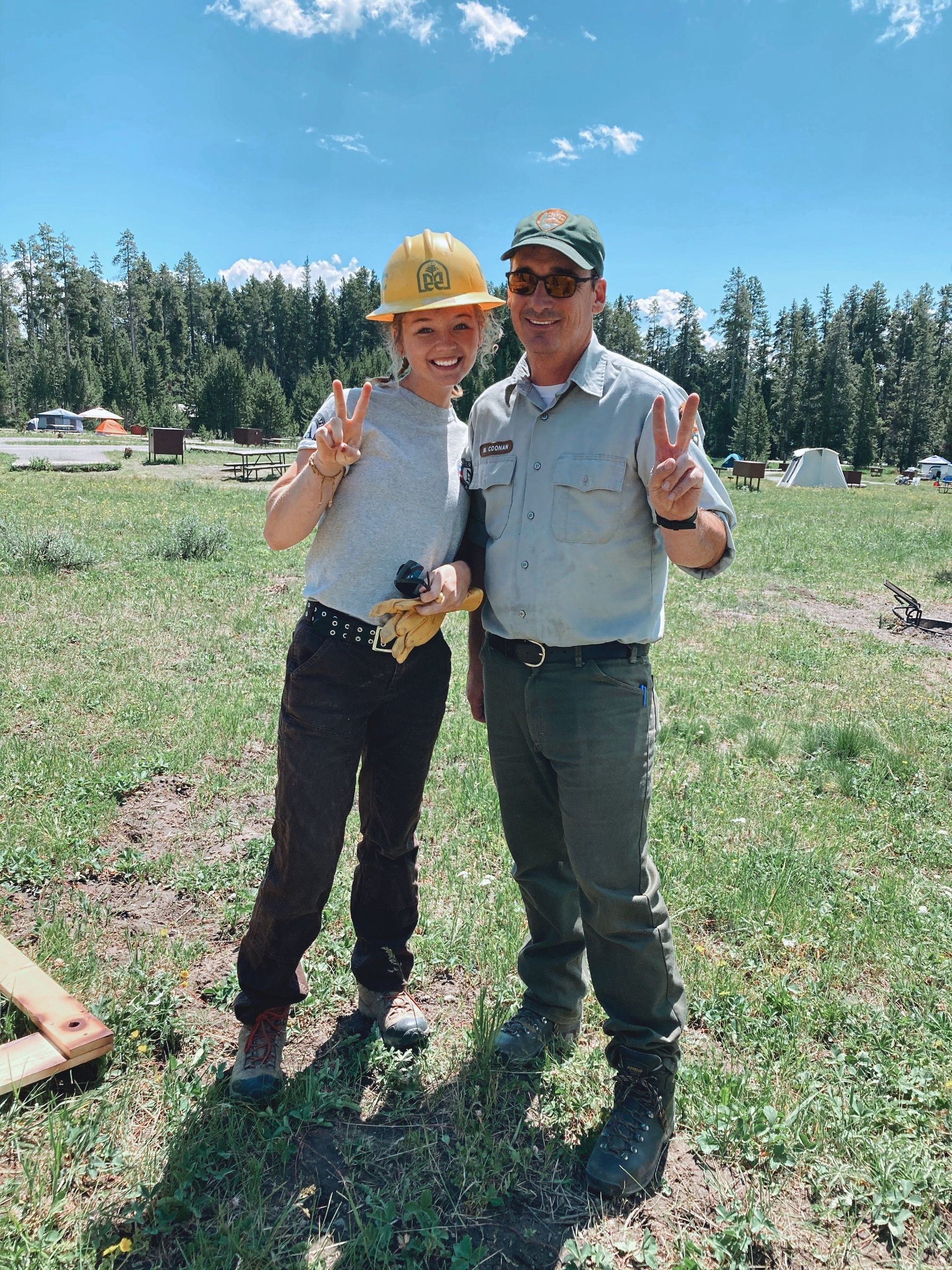 When we were told our next hitch were to be in Yellowstone working on maintenance, a few of us automatically thought we'd be working on something relating to restroom vaults. Fortunately, we were incorrect and were assigned to work on installing bear boxes. Ironically, I (Jessica) had done bear boxes a few years ago in the Yellowstone Youth Conservation Corps and all I remember was the mixing cement part and how heavy they were when lifting and moving them onto their bolts. I was both excited to be going back to work in the park and to be working on a project I had done before. Once we headed off to Yellowstone, we met up with our project partners Justin and Mike. Little did I know, that our project partner was Mike Coonan who's in charge of the Youth Conservation Corps that had done back in 2018. It was a pleasure to see him again and to work with him! On our first day, Justin showed us how to dig, measure, and pour cement. On our second day, he showed us how to lift the 400 pound bear box onto the bolts that we had placed the previous day and how to level and secure them. Over the next seven days, we got to know the campers and had daily four-legged visitors (elk and bison). We got to share with many campers who we are and what we're doing. It was nice to feel that direct appreciation for what we were doing.

On day one, we were told that there was a record of 24 bear boxes installed by previous crews on their hitch. That was their mistake. Fueled by the challenge - and coffee -, we made it our mission to beat this record. In fact, we destroyed it, annihilated, demolished. We ended our hitch having completed 44 bear boxes in the campground. Even though we ended just shy of doubling the previous record, I think we are all satisfied with the work we had done.

We'd like to give a special thanks to Mike Coonan, Matt, and Justin for making this hitch a positive experience and providing us with a wealth of education material. After gaining a new appreciation, we're all excited to go back to Yellowstone and absorb all that it has to offer.
To read more about this project and this crew's experience, check out our Pathways article titled Bear Boxes in Bridge Bay, here