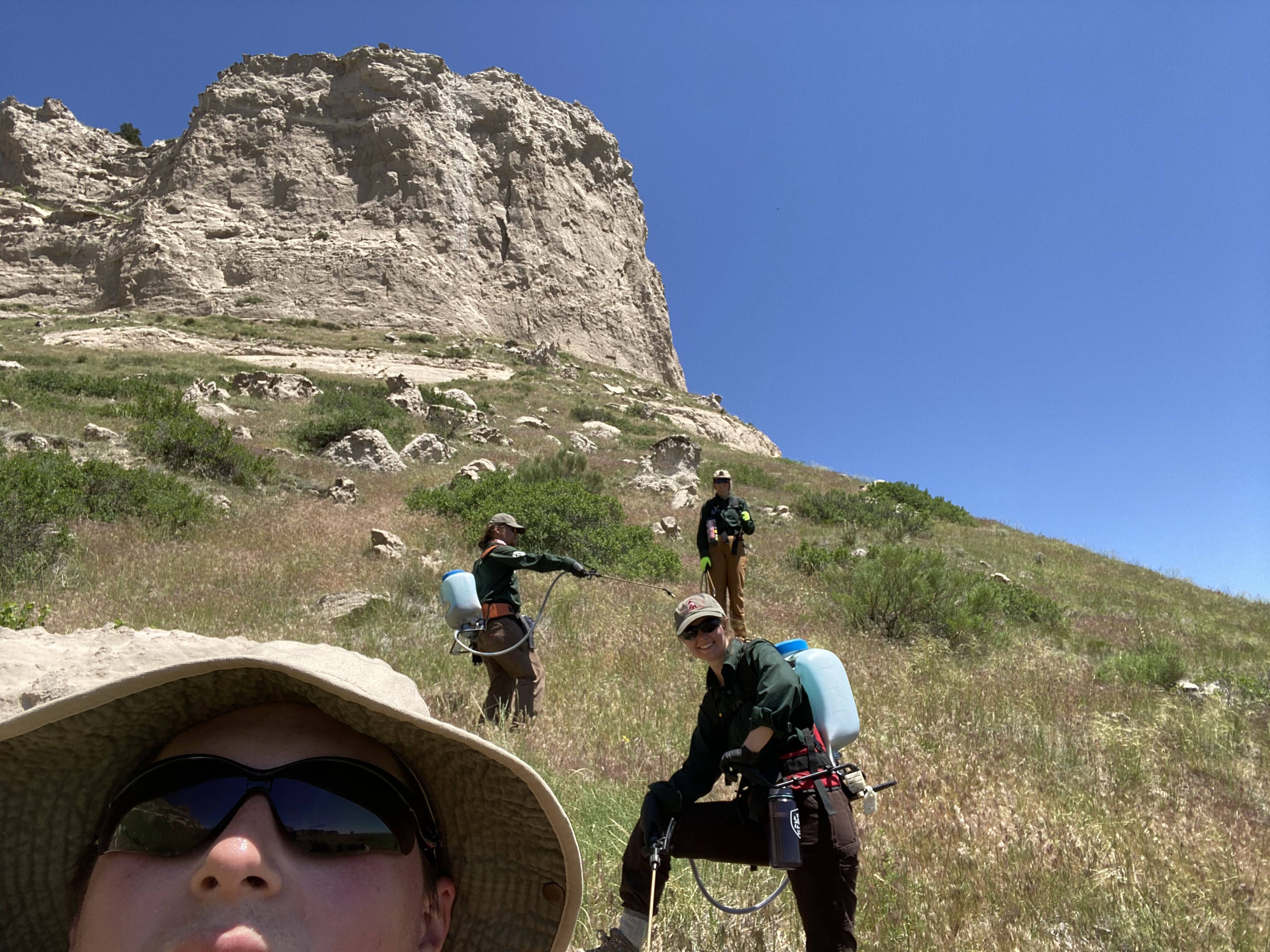 This hitch was definitely one with a LOT of windshield time and groggy early morning starts. We first started out in Scott's Bluff where we met the coolest park ranger named Justin. Now Justin didn't know much about the war on weeds, but what he did know was how to be a radical guy and provide popsicles after each spray job! The heat was intense in Scott's Bluff, and we found this one source of water that felt like the heat had just gone away; a hose. Each time we would have to fill up our spray packs, we would take off our hats and fill them with this cold water and drench ourselves to the point where it looked like we went swimming with our gear on.

The next place we stopped on our journey across the Midwest was Jewel Caves National Monument, and this is where tragedy struck. We had one of the best campsites, set up right by a lake in this huge park. What we didn't know was the wind was going to be getting up to 35 MPH that night! That night, I woke up around 3 AM to find my tent collapsing on itself and dust flying everywhere. In the heat of the moment, I packed up all my stuff and threw my pack out of my tent. When I stepped out, I found out that my pole had snapped straight through my rain fly (thanks REI for the warranty...). I took down my sad tent and threw it in the rig, but to my surprise, one of my teammates had the same idea and was passed out in the back seat! She told me that while she was taking down her tent, her sleeping bag was blown away. We now had a new mission; locate Taylor's sleeping bag.

It felt like I was walking through a sand storm, but I spied something caught in the branches down by the lake. I ran down the hill, but it was only her sleeping pad bag and a tent bag. As I was walking back up, I slipped and a nice ole Prickly Pear cactus caught my hand. That felt really pleasant at now 4 in the morning. Taylor found her sleeping bag and we woke up Maddie and Cody to find out none of us got any sleep. We packed up all our stuff and drove to good ole Mickey D's to get some grub and coup with the loss of our two tents that night.

Spraying at Jewel Cave was fun and exciting, and we even got to spray with an MCC alumni (shoutout to Jeremiah), but nothing could prepare us for Badlands. It was close to 95'F each day wearing long pants and long sleeves, so we were all sweating buckets. The Badlands Spray team though wore long pants, long sleeves, overshoes, and Tyvex suits and didn't even read a sweat. One of the members pf the spray team, Lee, had been working for Badlands for over 30 years and was 74 years old! His age didn't hold him back though, because while we were all taking water breaks and trying to find any shade we could, he was half a mile down the road spraying more weeds. Lee was happy he was spraying weeds because the more weeds they found, the more "job security" he got. After our last day spraying at Badlands, we went back to the super nice KOA we were staying at and this very nice lady bought us pizza! We also saw a turtle strutting around camp (a Common Map Turtle to be specific) and we even found some corn hole boards to pass the time (Will is great at corn hole).

Wrapping up this long hitch, I was driving back to good ole Montana and the unthinkable happens. Im jamming out to some music while everyone is asleep around 6 AM and then BAM! A loud thud on the windshield and next thing I see is a bird sliding down the middle of the windshield. RIP to Herald the bird. You will be missed.