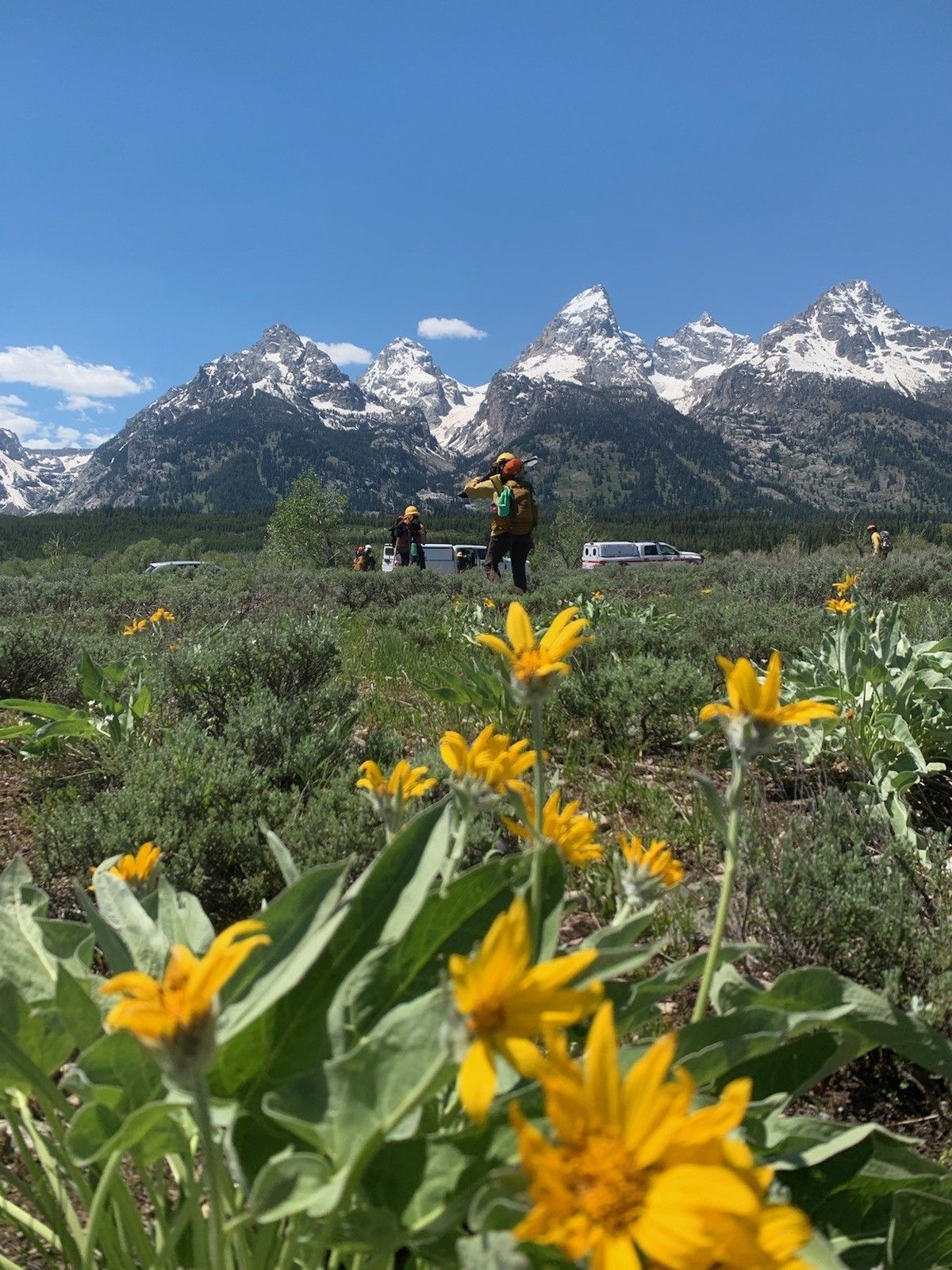 This past week the MCC Women's NPS Fire Crew became acquainted with the national park we will be based out of this summer: Grand Teton! Our short, five-day hitch consisted of different orientation activities, exploring the park, and a bit of saw work. 
Day 1. We left Monday morning with great weather and great views driving through Idaho and Jackson, WY. We met with Chip Collins, Grand Teton's FMO, who showed us our campground. 
Day 2. First day of June and our first day of orientation! We met up with Chip again and were also introduced to Michelle, the FPMA, and Wayne, one of Grand Teton's engine bosses, who gave us a quick overview of the park radios. We then visited the dispatch center and spoke to a fire dispatcher before touring the rest of the park operations office and fitness center. We spent the afternoon orientating ourselves with the park as well as visiting and learning about our potential worksite at Sky Ranch, a historic homestead.
Day 3. On our second day of orientation, we spoke with Erika, the chief ranger, about her experience in the parks; Kate Wilmot, a bear biologist, about bear identification and safety; and Chip Jenkins, the park superintendent, about values important to us and ways in which the park can encourage them. We spent our afternoon with Miranda, an operations specialist, who not only shared many stories about her own fire experience, but also shared advice about stress first aid, red book policies, and being a woman in fire. A highlight of the day was definitely seeing a moose right outside the building! 
Day 4. We met up with Chip again, where we drove out to another worksite. We hiked about half a mile to a timber island on the valley floor, where we gathered and discussed different fuel types. Next, we hiked another half mile to a remote area weather station (RAWS) which had a small, wooden fence surrounding it to protect from wildlife. Some fence beams were broken and our task was to find and limb some suitable dead tree trunks before replacing it. In the short time we had to work, we limbed a few dead trees and had an interesting discussion on reading weather. At 2 pm, we hiked out and returned to the office, where we put the fuel samples in the oven, and had an honest conversation with Chip about fire careers and what our post-term plans could be. We ended the day practicing with some inert bear spray that Kate lent us, which was a lot of fun.
Day 5. On our final day of hitch, we woke up early to pack up camp and head into the field for a short day. We identified and sawed a few more fence beams before hiking back out. We also revisited the office and met the wildland fire analyst, Ron, who helped us record the weights of the fuels we sampled from the previous day. Next, we said goodbye to Chip and headed back to Boze!
Some key takeaways from this hitch:
Everyone at Grand Teton is very excited to have us here! Everyone we met knew who we were, were very eager to speak with us, and were invested in making sure we got the most out of this experience.
There are many different aspects of fire that we can explore (through this program and afterwards)! The conversations we had with Miranda, Chip, and everyone else were invaluable. 
And we saw a moose every day!