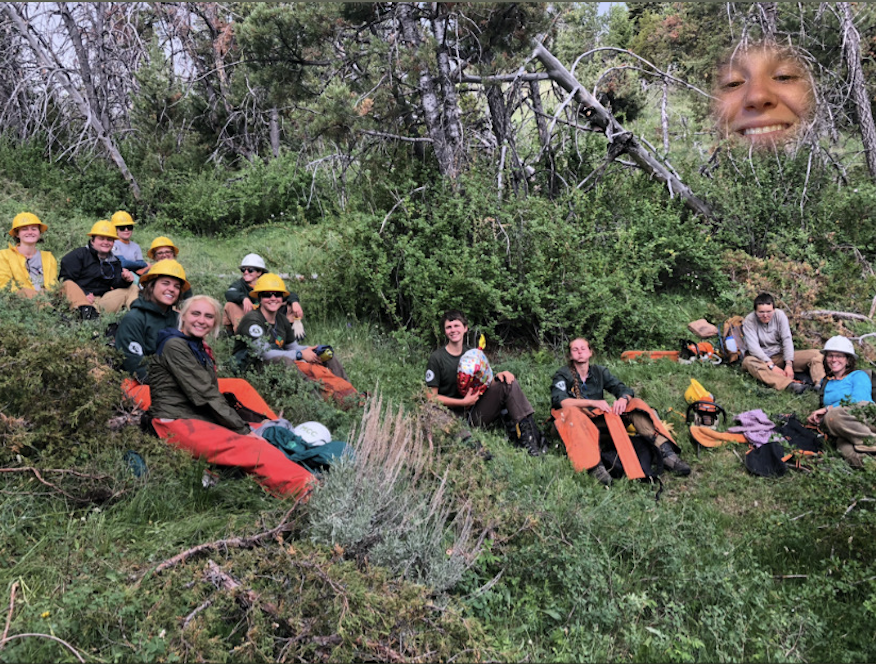 This week all twelve fire squirrels headed down to Twintyone Creek in Wyoming accompanied by MCC's Senior Crew Leader Erin Steva. Swaths of blue-tinged rock faces unique to the Absaroka Range dipped down into fragrant sagebrush benches dotted in purple lupin and orange paintbrushes. Each bench bookended steep grassy gulches peppered with pine and juniper that crept down from high altitudes and whose thirsty roots we were tasked to sever. In the lowest reaches of each gulch lay patches of wetland rushes that shone deep green against the dry landscape and marked the vital headwaters which feed the landscape throughout the high heat of the summer months.

Our campsite looked out on what seemed like an endless valley. Elk and prairie dogs could be seen from roadsides and from a distance the crew spotted a black bear trudging across the low-growing vegetation. Each morning's bright pink sunrises sat atop the silhouetted mountain range like oil on water and sunsets made way for deep purple skies and a waxing moon. At 8000 feet of elevation, the daily descent and steep climb to and from the worksite likened our crew to a pack of determined (chainsaw-wielding) mountain goats. Wyoming weather systems came and went without warning and we experienced as many hot, dry mid-mornings as we did wet, thunderous afternoons that sometimes escalated into pauses for lightning. The clay soils of the ridgelines proved unforgiving for truck tires after each storm which became more frequent as the hitch forged ahead.

With three hitches left til the end of our collective term, it is easy to see the ways we have grown as a group. Each individual on this crew brings an entirely different set of strengths to the "table" (or sagebrush bench, or juniper-rich mesic area). It is becoming steadily more real to myself and the rest of the group that in just six weeks time we will be twelve of twenty on a hand crew digging line on an actual wildfire during what is shaping up to be a historic drought in the American West. As long as we freeze enough bags of Molly's chicken and wild rice soup, we should be just fine.