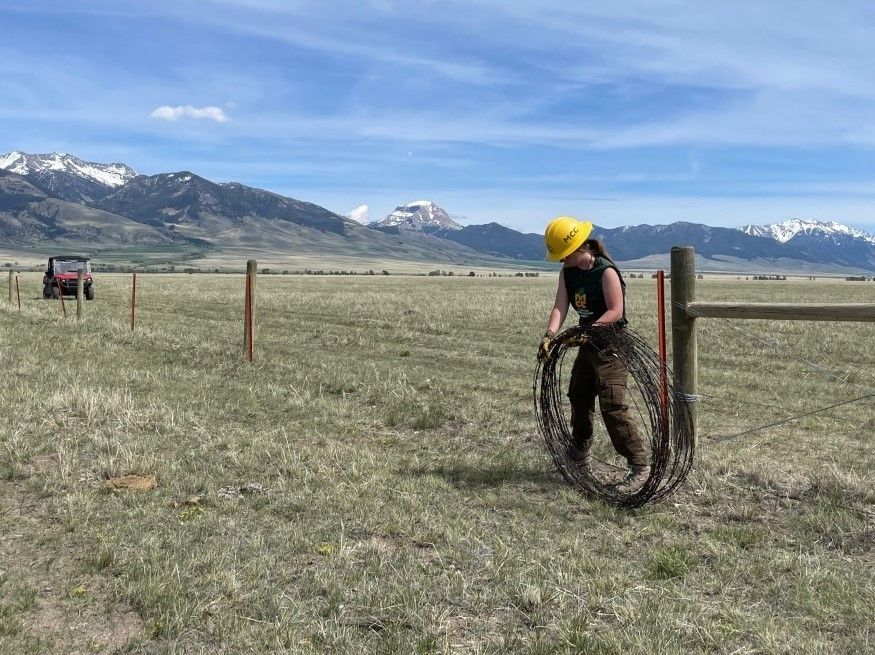 This hitch brought us to Montana's Madison Valley where we were tasked with constructing just over a mile of fence on cattle rangeland. The fence in question was designed to accommodate the migration patterns of pronghorn antelope. Since the antelope choose to swiftly dive under fences, the bottom wire of this four-tiered wire fence was smooth.
Our work consisted of removing the old barbed wire by cutting it and rolling it up in sections. After gathering up the rolls we removed all 200+ orange T-posts that held the original wire. The next step in the process was to unroll the new barbed wire and stretch it along the fence line, attaching it to new wooden posts. This involved anchoring one end of the wire to the post, unspooling it to the other end, using a wire stretcher to remove slack, and also spreading out along the line, manually stretching the wire ourselves. After finally anchoring the other end of the wire, we went along the fence and nailed up the wire to the new wooden posts.
This process we repeated three times per section of the fence line in two sections. To complete the fence line we then attached three smaller wooden posts just to the wire, in such a manner that they were floating along the fence. This allowed the fence some flexibility as a benefit to the wildlife that migrated through the area.
Our campsite was just down the highway a bit, at a campground right alongside the Madison River. After long days in the expansive shadeless valley, toasting under the hot sun, the ice-cold river was a welcome relief at the end of the workday. At night the wind ripped by our tents, making a flapping noise that sounded suspiciously like animals trying to get inside.

We would all like to extend thanks to Jeff the landowner, Kelsie the project partner, and Mark the ranch foreman for their assistance, knowledge, and stories.

'Sphinx plots for sale.' the sign decreed.
The Sphinx then said, "Buy two or three.
Shade away harsh sun and see
mountain peak and desert valley."