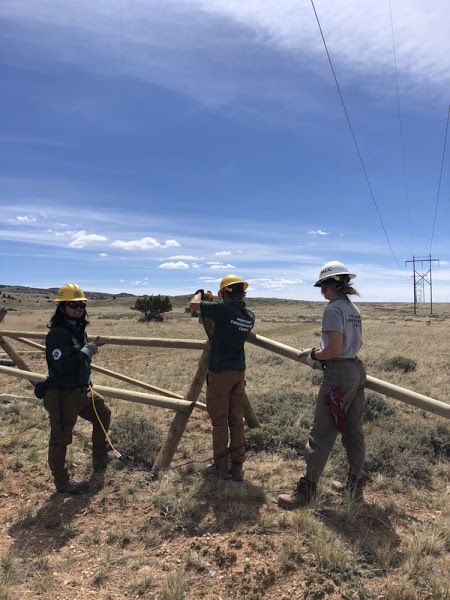 It was hot. Mega hot. The Pryor Mountains we experienced were a vast expanse of arid sage, wind turbines, and looming mountains in the distance.
On day 1, we met Don at dawn. A man of much knowledge and stoic wisdom, he described to us the basics of building jack fences. Our time was spent driving around and blocking off overused dirt roads to prevent excessive damage. At the end of the day, we set up camp at the mouth of a canyon speckled with Juniper deep in BLM land. The dinner cooked by Chase was a big hit, couscous with pesto.
Day 2, with more fences to be made, we headed out from our canyon to build. At lunch, we had some time to explore the nearby Petroglyph Canyon and hike about a mile or two in. The winding river bed led us to some amazing views of 1000 year old canyon side drawings. After one more fence and a long bumpy ride back we made it to camp.
For day 3, we headed back to all the fences we had completed to add the final piece, a metal cable that could be opened and closed for the gates. The cables took up most of our day along with the long drives around the massive expanse of the Pryors. We built fencing around a trailhead parking lot at the end of the day and took the scenic mountain path back to our canyon.
On the last day, we had the task of putting away most of our materials at the BLM cache and taking an hour or so drive to Acton to do some campground cleaning. The temperatures reached 100 F as we meandered around the local campgrounds, picking up trash. By the afternoon, since all of our work was finished, we said our goodbyes to Don and headed back to Bozeman.