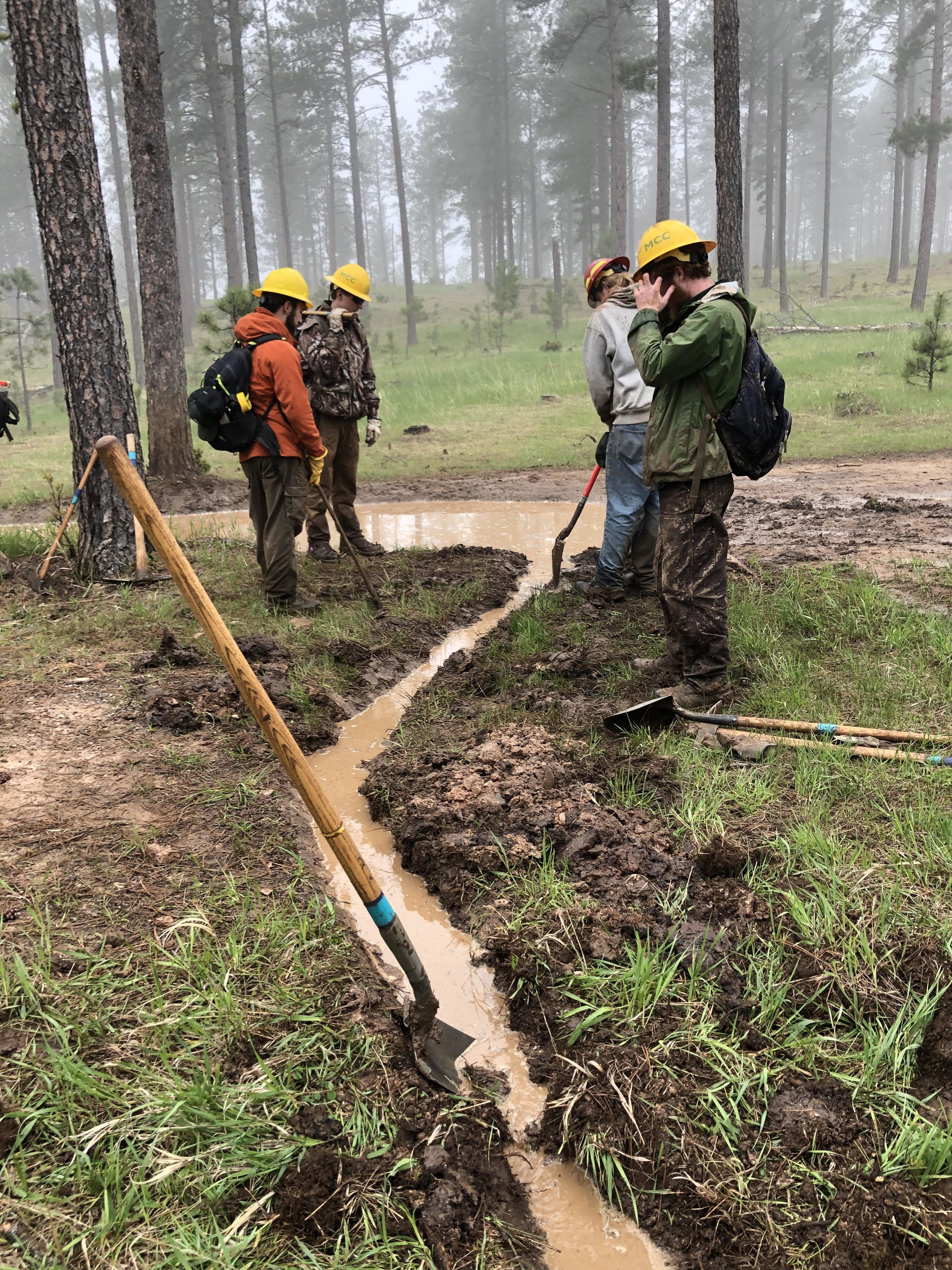 This project started out in 30-40 degree rainy weather, with a lot of working in the mud and living in the rain. We started working on ATV trails in the Black Hills NF, working around heavy equipment such as toolcats meant for carrying large amounts of gravel. On day one, the toolcats and four-wheelers carried loads of gravel up an ATV trail, dumped gravel in areas where there were dips in the trail (where water pooled up), and our crew used shovels, hoes, and McClouds to spread out the gravel. In one particular section, a geogrid was rolled out underneath the gravel to make for a sturdier ground that would hopefully be able to drain water more efficiently without eroding. Where there were berms in the trail, gravel was piled and pressed down (with tools and our feet) on top and on the backside of the berm to help water drain off of the trail.
Days 2, 3, and 4 were very similar with us working around toolcats and four-wheelers, spreading gravel, making berms, and draining water from mud holes. Water was drained by using shovels and hoes to cut out the sides of where water was pooled, allowing water to move out the side of the trail to lower ground. Day 5 of work was our education day; we went to the Civilian Conservation Corps Museum in Rapid City and learned about how the CCC members worked and lived back in the 1930's, which was oddly similar to how we do things in the MCC (with obvious safety improvements). We also learned how to use a WhisperLite stove and hang a bear can, which will be very useful for our backcountry hitches.
Day 6 and 7 of work were arguably the best days due to the fact that we were on non-motorized trails, doing actual hiking trail work. This allowed us to learn how to make pan drains, fix back slopes and the trail corridor, and make the trail aesthetically pleasing to look at. Additionally, we were able to watch Chelsea and Rob fall some trees, while we learned how to swamp (moving cut logs, watching for hikers, making sure the chainsaw isn't going to hit a rock, etc.). The last few days brightened up and we were able to be in the warm sun, enjoy the beautiful black hills, and even interact with a quail that wouldn't stop following us. Overall, this hitch gave us a taste of what the rest of our summers will be like, allowing us to improve our skills on the trail and even back at camp.