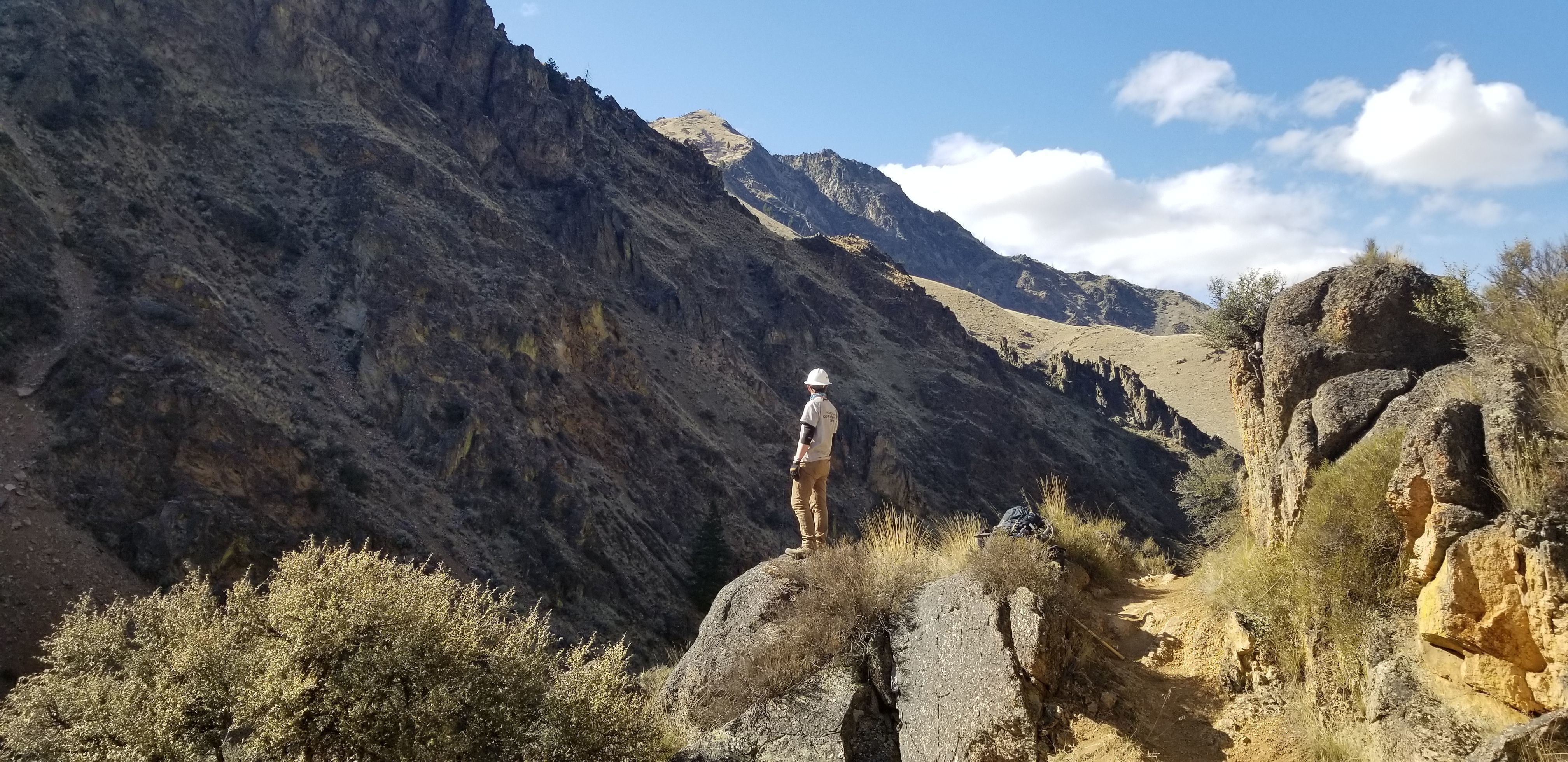 With our Bozeman crew reduced to a mere eleven individuals, we still held high spirits for our backcountry hitch to Middle Fork of Salmon River in Idaho. Due to some weather delays we set up camp for two nights awaiting the "good to go" from our single-engine pilots. On a chilly Friday afternoon, we were able to fly out and ponder at the scenery down below us. It was remarkable! The mountain ranges from a distance personally took my breath away. It took a few flights for us to all arrive on the grassy airstrip at the historical Flying-B Ranch. We then circled up, stretched and headed out on our eight-mile journey to our campsite.
The trail itself had a good amount of ups and downs and overall had lovely views looking out on the calm but wide river. We made it to our location with some daylight to spare. It was a small sandy beach, exposed to the wind from the canyon but it was our home for five days. We set up camp and immediately explored what surrounded us. The Mergansers flew close to the river while we often heard the splash of monstrous fish. Raina, the forest ranger, shared her knowledge on the local flora and fauna in the area. She encouraged us to appreciate the history that was literally carved and painted into the rock by the river and indigenous peoples. She took us to a nearby cave that contained vibrant petroglyphs from the Shoshone (or Sheepeater) Indian Americans. Still leaving the trail to promote its growth while we simply admire its beauty.
Our trail duties started the next day with brushing, building new tread, rock removal and cross-cut work to eliminate blowdown. Throughout the hitch, we saw Bighorn Sheep, Mule Deer and Elk. The wildlife gave us a chance to stop and truly appreciate how grateful we were to be out there. The trip itself had its struggles but we were fortunate enough to bond and grow together due to them. Ticks, WAG bags, and gnarly wind conditions are just to name a few. On the second to last day, we headed to a cozy cabin with a view that was built back in 1897. Some of us even admired the stars that night which were clear as crystals. The next day, we packed up yet again and hiked back to the airstrip. We shared the road with the horses and mules that made up Flying-B Ranch, for which we are thankful for their hospitality. Overall, we learned a lot about ourselves and the work we do to help reduce the impact of humans in the Frank Church - River of No Return Wilderness.