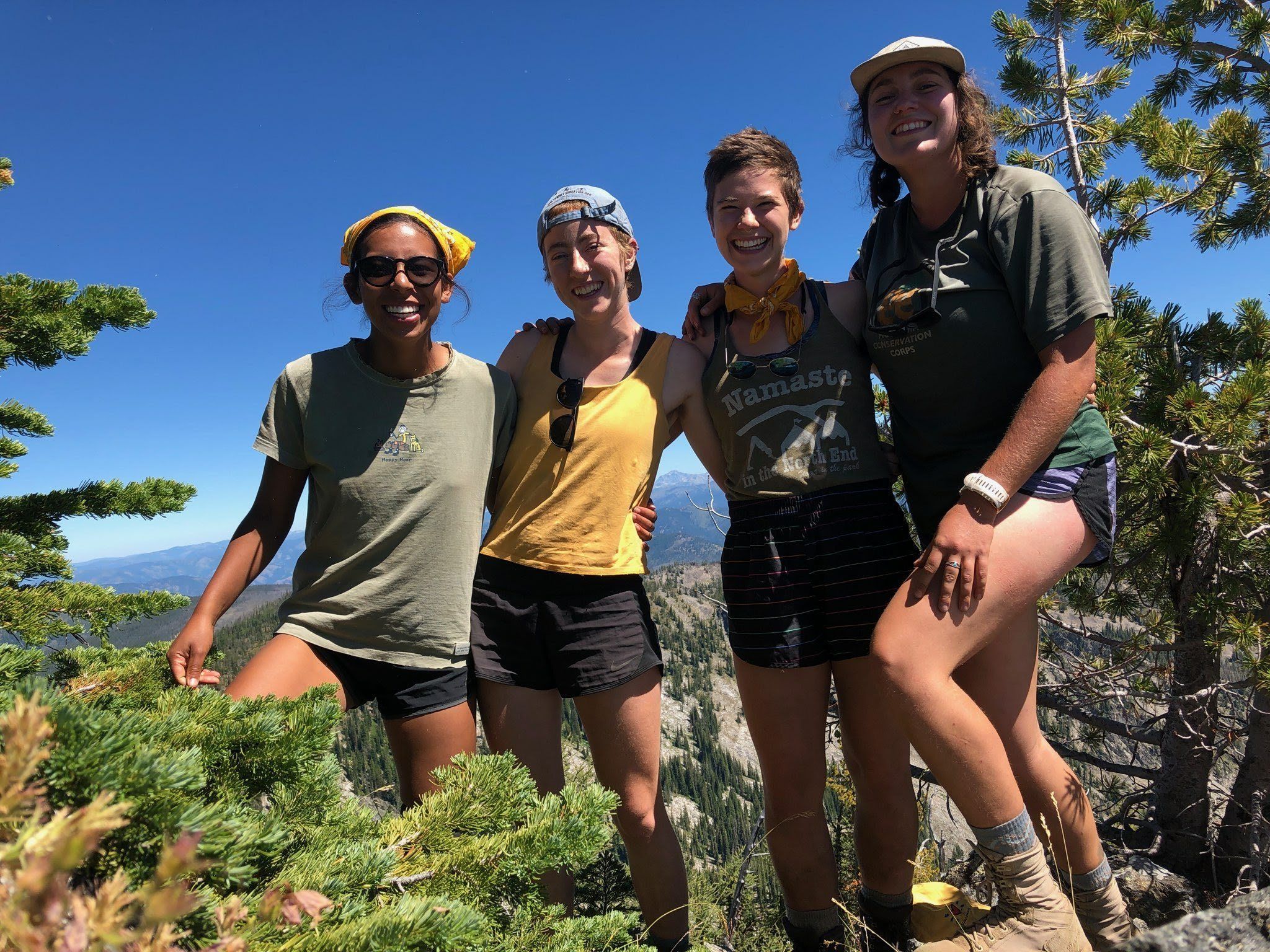 I first heard about MCC from my dear friend Natalie Hamel, who worked as a crew member in 2019. She recommended that I apply for the job and when I told her I had no qualifications for that kind of work she replied, "No problem, I was a Communications major, you'll be fine". This rang truer than I ever thought it would at that moment, here is a glimpse into the best summer I have experienced thus far.

We began our first hitch as timid strangers, eager to get to know one another, laughing easily and quickly as a crew. Haley Gamertsfelder, our fantastic leader, is from Maryland and has extensive experience with the outdoors and backpacking. I found myself quickly trying to mimic her and learn her ways of backcountry veganism. Madeline Swanberg and Zia Kloetzel are both from Ovando, MT and have been friends for most of their lives. They too have been going outside far longer than me and I felt timid to be in the presence of such seasoned backpackers. I had been backpacking one other time outside of our first hitch. I went on a one-night trip to Peterson Lake with some friends the Saturday before we shoved off that first Monday. Needless to say, I was severely out of my depth in more ways than one. We met with the glorious Mark Smith of the West Fork, he and I butt heads almost immediately. I found myself quickly feeling angry that he (the best sawyer in North America) should tell me (cutting my first tree ever) how to avoid the dreaded bottom bind. This feeling of anxious energy swelled for me, I wanted so much to be good at using the Cross Cut (later named Susan) right away, to be able to cut all the way through the tree without having to take a break. The girls encouraged me that this skill would take practice, as all things do. I didn't have instant oats for breakfast on that hitch, only whole oats that I had to laboriously chew before forcing it down my gullet, rinsing the grains down with my too-strong (but instant!) coffee that was sure to loosen my bowels before the day's work. I learned on this hitch that I had a lot left to learn.

Our second hitch was a whole other ball game, starting with what felt like a school trip to the West Fork Ranger Station. We teamed up with Ross and Haley's crew as well with Kris and Katie's crew (later Kris and Haley G.'s crew). The first day was full of relearning OHLEC and newly learning how the radios work with Steve Bull and Mark, mostly appreciating their dynamic as coworkers and friends. We went up to Magruder Ranger Station to begin our work down the Selway River trail from there. We didn't know it at the time, but Magruder would come to have a very special significance to us as the summer went on. We would often eat our various dinners looking over the pristine vista that is the horse pasture and foot bridge from the main office area. Mark had decided to bring a team of mules and a horse along with us so we spent a lot of time loving on them after our work days, Ross was especially close with them. After a few days of this blissful scout trip, our crew went back down the West Fork road to work on the Scimitar trail from Cayuse Cr. campground. As we began up the treacherously steep mountain face at around noon that day, I found myself thinking "are you f***ing kidding me? I can't do this! This cross cut weighs as much as I do and these boots are cementing me into the trail and I'm sweating every ounce of water from my body and it's only the beginning of JUNE!!" This first day on Scimitar ended with Madeline and Haley going to town on this easily 24 inch tree that took so long to finish. As Zia and I sat together watching them get after it, sweaty and exhausted, we began to laugh and talk as if we'd been the best of comrades for many years. This experience of closeness became a very common one for me as the summer went on. We were nearly delirious from the heat and as we all had one of our first uncontrollable laughing fits as a whole crew, I felt some of my anxieties melt away and a wave of comfort swell around me. When we went up the trail at 7 am the next morning (straight up, again) we got caught in a huge rainstorm during lunch that turned into a crazy 45 minute electric storm. We huddled beneath our rain gear at the top of this mountain, very aware of our closeness to the powerful clouds above us. The storm drove us down the mountain and when we came back up the next morning to fight again, we were met with not rain, lightning, or blistering heat, but snow. As we made our way to our stashed tools, our soaking wet Carhartts plastered to our legs and leaching any body heat we had, we sang Christmas songs to pacify the discomfort, and we laughed. The best part of this morning of work was it was our first encounters with smaller pile ups that we could just tear through. In our alphabet, I remember we chose diseases that day and made it at least to Malaria for small trees. I almost forgot to mention our technical difficulties of this hitch! Before we left Magruder, we discovered our sweet rig (Jessie Lee) had died, could be from us always opening her doors and leaving them open, but who's to say? We had to jump her with Ross and Haley's rig, which was alright to get us to the campground, but then we got up to our same old habits and by the time we wanted to go home, she was dead again. Because of the other crews being so close to us, we decided to wait for Ross and Haley to come and jump us again, but that ended up not being until about 12:30. We had expected to be jumped around 9 and had been waiting in Jessie Lee (hereafter affectionately known as the Rank Mobile) for about a half an hour before we began to realize they weren't getting us "in the morning". Lots of bonding time in the rig this hitch, I learned that I am capable of finding happiness and joy in a wider range of discomforts than I ever thought possible.
On our third hitch, I found myself able to cut way more trees each day, eat way more trail mix than I ever thought I could, and sleeping sounder than any night back in Missoula. It was on this hitch that I began to really notice an inextricable connection between the four of us. This particular hitch was the most challenging, I think, for our crew. We were car camping up the West Fork road at the Deep Creek campground, working our way up the Deek Creek trail and Scimitar trail. These trails are the longest and steepest I have ever seen, much less to work on. We would be pushed to our physical limits every single day, I often felt irritable and weak even in the face of my growth. I have often been anxious in my life about failure and this manifests in a deep frustration that can be difficult for me to articulate in a healthy way to others. This weakness in myself was met with nothing but grace and love from my crew mates and my crew leader. Although I felt I couldn't always trust my exhausted and strained emotions, I knew I could always trust my body and my crew members' strengths. We ended up finishing the Scimitar trail in one long 12 hour day; that was an important milestone for us, I think. We were nearly jogging down the trail at times, not rushing our cuts (of course, safety first), but we wanted to rid ourselves of that daily uphill hike (productivity second). Finishing Scimitar was a great accomplishment and we celebrated as we came to where the trail crossed the Beaver Jack trail that connects Scimitar to Deep Creek. The next morning though, we were met with an even harder challenge: Deep Creek trail. This trail was even steeper and far longer than Scimitar, an uphill climb for nearly 3 miles. One of my favourite moments of the entire summer was our second day of working on this trail, after we had stashed our tools the day before, and had to just walk the uphill without stopping for trees. Madeline and I were in front of Haley and Zia, and as we came to some switchbacks about ¾ of the way up, I found myself really feeding off of Madeline's energy. We didn't talk much at all as we gasped to get up the hill, but I felt a really important connection to her, and I had a renewed value for her strength. This hitch was an important reality check for our crew, that if we worked together and kept our spirits up and took care of ourselves and one another, we could truly complete any task that was set to us. We also finished Deep Creek and set off back to Magruder to begin Trail 47 that shoots off from the main Selway trail. Going was slow and muddy as the rain continued to pour down on us for the rest of the hitch. We were just coming to a stopping point for lunch one day when we got an InReach from Darcy Smith back in Missoula that we were to turn around immediately and come home. We were panicked but also incredibly relieved. We only had a day left before we had to come home anyways, and we were reaching the end of our bad weather bandwidth so to speak. Turns out she just wanted us to come home because of the rain to give us a break, which was very nice of them. On this hitch I learned that I am strongest when I encourage the strength in others and see them encourage the same in me. This hitch is when we began to really feel like a family unit.
Our fourth hitch was without a doubt the most interpersonally difficult for me. At this point, I had a lot of expectations for myself and I felt like I often fell short of those expectations and that I failed the expectations of my crew mates. We began this hitch at the top of Hell's Half Acre, working down the trail and then hiking back up at night to our camp. This was our first hitch that we didn't car camp the whole time which was an entirely new experience. We were not packed in and on our third day of work for the week we carried ourselves, our bursting packs, and our tools down to a clearing that in my journal I've called "Hell's ½ Acre Saddle Campground Kind Of". We had been without a natural water source for 3 days and being able to finally wash off after a day of hard backpacking and work was magnificent. It was so magical being away from our rig and truly out in the Wilderness. I found myself feeling physically exhausted when I would wake up every single morning and although I found relief from my anxiety in the work itself, I would quickly become frustrated, short, and irritated with my crew mates. I did a pretty good job of keeping the inner turmoil inside, but my mates would absolutely say this was obviously my most moody hitch. Zia and I had a small spat that she'd apologized for and, like the b*tch I was feeling like, I told her I didn't like her apology, to make a long story short. This weighed on me the whole evening and the next day, we had a heart to heart and since then, she remains one of my dearest friends. After this point in this hitch, I distinctly remember feeling so much better for the rest of the summer. I felt safe, taken care of, and really truly loved and valued as a part of the team. I remember working with Haley at the beginning of our last day of work and felt especially connected with her that day, we talked about our parents. I began to see myself in each of my crew mates and connect with them beyond just laughing through the pain of our work, but really coming to deeply love and understand one another. Our final breakfast of that hitch nourished us for the grueling hike back up to the Rank Mobile that lay ahead. It was very slow going, but we covered all 3.5 of those miles with some of the heaviest packs we'd carry all season, summiting the saddle once and for all. On this hitch, I learned that when you just shut the f*** up and allow yourself the space to fail and be anxious and to feel inadequate, you are taken care of by the people who are willing to put in the work for you, as my mates were able to in spades.

The fifth hitch (who knew I'd be going through each of these individually? Not me!) was so exciting and the best hitch for me in some ways. The POWERFUL AND AMAZING Michelle Barton and Darcy Smith accompanied us for the first couple of days for this hitch which was like having your fun older cousins over for a sleepover. But like a sleepover where you all are sawing trees the entire time and getting eaten alive by mosquitoes. They are both so gosh dang funny and I know we'd all agree they really put a glide in our stride and a dip in our hip. We went back down along the Selway River Trail out of Magruder, only this time we got packed in! We camped about 5 miles from the Ranger Station and it really was something special having this troupe of 6 womxn trek down the trail, laughing and shoveling as many huckleberries in our mouths as we could. I remember that the biggest struggle of that night was putting up the g-dang bear hang (what else is new?). We probably spent 4 hours on that thing when all was said and done. Work the next morning felt so different and full of possibilities with two new people in the rotation! We got lost part way through the day and had to bushwhack straight down a hill to find the trail again, all part of the fun. After Michelle and Darcy left, we had a long day to finish trail 12 that would eventually connect to what we'd done on Hell's ½ Acre. The only kicker is that the rest of the trail extends over the Selway river and up the mountain that way. So for the rest of the hitch, we had to cross the frigid Selway with our packs before doing anything else. The water was deep enough that we had to take off our pants to cross, this made for a comical scene of the four of us crossing one at a time with no bottoms on. The first time we made the crossing, Haley forgot one of her socks across the river and had to cross over and back again before we could start work. This hitch was full of lopping and trail finding, the way was often either completely overgrown by Ceanothus or there was a smaller game trail that we would think was the right way and then end up cutting trees we didn't have to. We made it to the end of our assigned work on Trail 12 and then began work on Grass Ridge, a trail just a bit further up the main Selway trail. The sign looked like Ass Ridge, which gave us all a good laugh on our last day of work on this hitch. When we hiked out to where the Rank Mobile was parked at Magruder, several things went awry. The biggest of which were two tree messes. Zia and I left Haley and Madeline to work on the first tree while we continued on. Zia and I then came to a fairly big pile up that required both of us to set our packs down and get after it with our Katana Boys. We finished and were confused why the others still hadn't caught up with us. It turns out that Haley had twisted her ankle with her full pack on and it was pretty bad. We took it slow back to Magruder and were all very grateful we hadn't suffered an injury earlier in the week. I learned on this hitch that life goes a lot better when things are stressful if you take stock of all you're grateful for, especially in a place as magical as the Selway River.

Our sixth and final hitch was like one long dream that I didn't want to end. We got to go somewhere completely new, all the way up to Salmon Mtn and hiked about 2 miles down to the Gold Pan Lake drainage. The mosquitoes at this campsite were wholly unprecedented, I mean holy shit it was bad. We also had a tough time with the bear hang on this one, and one of the most absurd moments we had this summer was the four of us clustered around the tree, either actively trying to throw the bear hang, trying to poke a stick at the stuck rock, laying on the ground to shield our backs from the ravenous mosquitoes, or running around to keep the insects at bay. We only stayed at this campground for two days because we basically finished all Mark told us to in one work day. On the way back from work the first day, Haley twisted her ankle again and we decided it would be best for us to finish the trail and get our tools while she stayed back. We got back to camp by lunch time and then decided to go ahead and break camp that very day rather than sit around all day. The trip back up was very physically intense for us and we had to stop several times with our leader's tender ankle. The rest of the hitch was the most mild trail we'd seen all summer. We worked on Trail 89 out of the Bitterroot Outfitters' camp and also slashed that requirement in just a couple of days, with about 4 creek crossings total each day. We camped at a scenic overlook spot off of the main road and ate our remaining dinners taking in the expanse of the Bitterroots. We were able to identify the Hell's Half Acre Lookout across the way, where the cute fire lookout Austin lived, and many other landmarks from previous hitches. These quiet evenings together were some of the best bonding times for us as we all sensed our summers coming to an end. We decided to bump our camp for the last night of hitch, back down to the Magruder Ranger Station where we'd spent so many good nights over the summer. We met Neil and Hillary, an older couple from Bainbridge Island, WA who were camping around Montana in their RV. As we told them how we'd spent our summer, they became so engrossed in our stories and our work and thanked us several times. We had probably seen 5 people total besides this couple and it was such a special time to receive this recognition and gratitude for our time and work on our last night of our last hitch. It was overwhelming to pack our things for the last time the next morning, I remember drinking in the views as we ate our breakfasts. The rolling green pasture and the pole fence that leads to the bridge over the rushing Selway below. The towering rocky crags on either side of the canyon, yawning wide through the mountains I had come to feel so welcome in. The paths we traveled so often, along the river, up to Hell's Half Acre, across the river and up the other side, our path back to Missoula. On this hitch I learned that I had progressed so much in my life of going outside, and that I will never again remain indoors as long as I live.
This summer was nothing short of immense for me, even now I feel tears sting my eyes as I fondly recall the growing pains, physical and otherwise, from this experience. I have been forever changed, changed from someone who is anxious when alone and piles on schoolwork, to someone who likes to drop everything and go outside. Thank you to Darcy Smith, Michelle Barton, Dylan Barbash, Bobby Grillo, and all of the staff at MCC Missoula. Thank you to Mark Smith and Steve Bull of the West Fork Ranger Station. Thank you most of all to Haley Gamertsfelder, Zia Kloetzel, and Madeline (Melon) Swanberg for the greatest growing summer of my life.